If you're now looking of a unique race to join in the next few months, take a look at the Clark Animo Marathon set for March 12, 2017. With distances from 2.5K to 42K, there's something for every fitness level.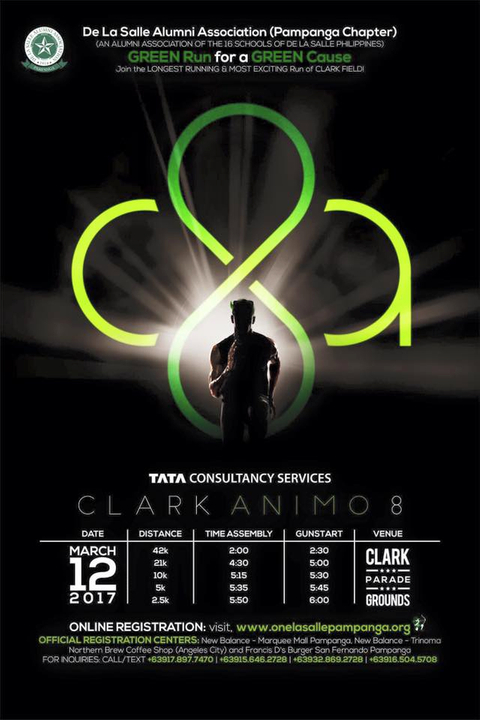 Organized by the De La Salle Alumni Association – Pampanga Chapter, this is the 7th edition of the race, previously named the Clark Animo Run. It's the third year featuring a marathon distance. This will also be the second year to feature a route passing through the Clark International Airport grounds. (With more flights departing from and arriving into Clark in the coming years, this is going to become a more rare occurrence. Run here while you can ;D)
The gunstarts are quite early, so I recommend taking your family or friends to Clark for the weekend, arriving the day before. Pampanga and especially Clark has some really great restaurants for food-trippers. Kids will have a ball at the Fontana waterpark (even if the casinos are temporarily closed; sorry, grownups!). Nayong Pilipino is also in the area, as are a few other Clark tourist attractions.
The race is expected to host at least 4,000 running enthusiasts, making it one of the biggest running events in Pampanga. Registration ends on February 1, 2017. Marathon and half-marathon participants will receive finisher medals, while marathon participants will also get a finisher shirt.
The Clark Animo Marathon has always supported charitable causes. Its theme this year is "A Green Run for a Green Cause", with proceeds from the event benefiting the Angeles City Watershed.
For more information, log onto their Facebook Page – Clark Animo Marathon.
Race: Clark Animo Marathon
Date: March 12, 2017
Venue: Clark Freeport Zone, Clark, Pampanga
Reg Fees: P400 (2.5K) / P550 (5K) / P700 (10K) / P900 (21K) / P1600 (42K)
Online Registration: onelasallepampanga.org
In-Store Registration: New Balance (Marquee Mall and Trinoma); Nepo Mall Angeles; Northern Brew Coffee Shop, Angeles;  Francis D's All In Burgers, San Fernando, Pampanga; Cycles & Brew by Hubble, Clark.