With the entry of so many different products into the endurance market these days, it's a great time to be out there trying things out for yourself. Everyone is unique, especially when it comes to which food or drink supplement works best for them.
I first was able to try out SOS Rehydrate last May, when my Kiwi boss sent me home from Phuket with a box to try out. He said SOS Rehydrate was something three-time world champion Terenzo Bozzone adds to his drinking water, despite not being a formal endorser of the product. Intriguing.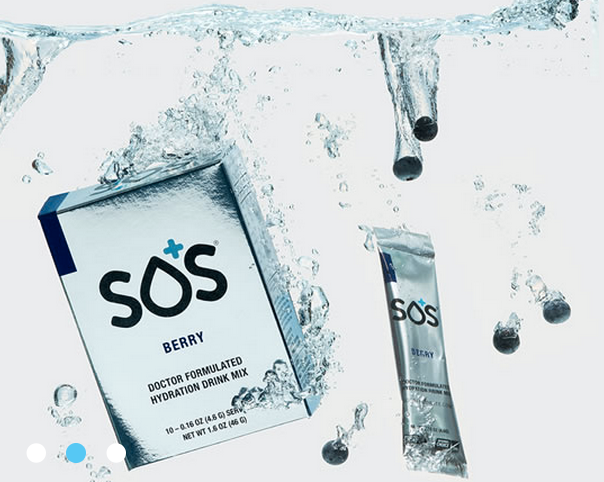 So what is SOS Rehydrate? Among the many electrolyte and sports drinks out there, it claims to adhere to the global standard for rehydration set by the World Health Organization. It also is a "hypotonic drink" with a lower osmolarity (balance between sodium and water), which allows the body to absorb water faster.
"SOS Osmolarity is 20% lower than the average hydration drink, 25% lower than the average coconut water, 50% lower than the average sports drink, and over 80% lower than the average soda.
SOS Rehydrate also has three times more electrolytes and 75% fewer carbohydrates than other sports drinks. It is likened to an IV drip, supposedly able to treat mild to moderate dehydration.
I have found through repeated field tests how my body best absorbs calories and electrolytes — this field testing meant numerous toilet stops in the early stages! My digestive system absorbs nutrients best when I keep my calories separate from fluids, so in the past I've had success with eating gels or bars for food, and drinking water and non-caloric electrolyte drinks — success meaning no bathroom pit stops!
I initially used that first box of SOS to help me rehydrate after tough workouts. It was awesome and helped me get down so much more water because it tasted good when cold (at room temperature you can taste the saltiness of the electrolytes more).
Then last July I received another box from the Philippine distributor! Of course I was thrilled that this product was now available locally. I decided I would try it out in the lead-up to Ironman 70.3 Philippines.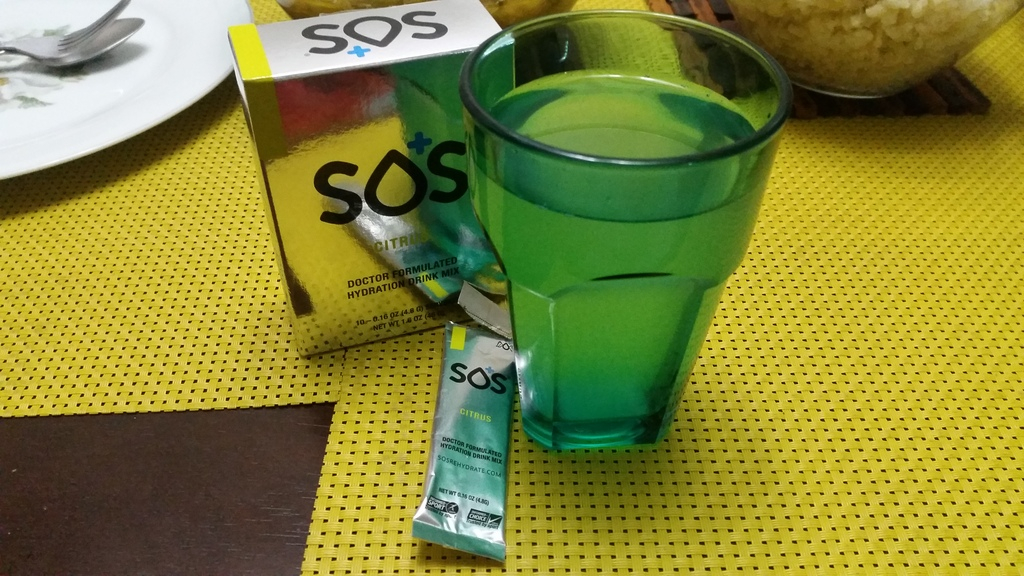 This time, I had SOS as part of my race week hydration, adding a sachet to a glass of water whenever I could. I was front-loading electrolytes, especially potassium and magnesium, instead of just drinking plain water and then peeing and flushing out all my stored electrolytes.
I also had one bottle of SOS + water with me when I started the bike leg on race day. My other bottle contained a different electrolyte drink. I absolutely had no issues while consuming SOS plus E-gels during the first half of my ride. Unfortunately, I ran out of that first bottle, had to resort to the other bottle and water, and then ran out of gels which kind of led to the beginning of cramps on the tail end of my ride. (Rookie mistake, I know!)
The great thing about having SOS Rehydrate officially in the Philippines is that I can easily order so I can field test some more and actually have enough to use the whole way through a race.
You can order on their Philippine website with free shipping anywhere in Metro Manila. You can also find them at The Brick Multisport Store and Primo Cycles!
If you're still on the fence about SOS Rehydrate, here's your chance to get a free box shipped to you! I really enjoyed using SOS Rehydrate these past few days so I asked them to share SOS with my readers as well!
Simply share this post about SOS Rehydrate before October 1, 2015 and I'll pick 3 lucky folks to get 3 boxes of SOS shipped to them anywhere in the Philippines!
Mechanics
Click the "Share" link to post it to your wall.
Go to your wall and check that your visibility setting for the shared post is set to Public.
From September 7-30 I will track all the public shares of the post and will enter your names into a raffle.
On October 1, I will draw three winners at random who will each receive three boxes of SOS Rehydrate.
For more information about SOS Rehydrate Philippines or if you have any further questions or inquiries about the product, head over to the SOS Rehydrate PH Facebook page.