Going into last Sunday's Yakult 10-Miler, I knew I was in for another first. I had never done this classic race ever in my 5 years of joining races. Next to Milo Marathon, the Yakult 10-Miler is one of the oldest running events in the Philippines, and this year was its 25th staging.
I got my race bib thanks to Mizuno, which was one of the sponsors of the event. I was also tasked to lead the pre-race warm-up, which I was glad to do because I was trying my hardest to get into the mental state I need to run, and going through the warm-up motions helps with that.
There are times I struggle to find the desire to run. It's fine when this strikes before a long run, because I can just try to get through the distance at any pace I feel like doing, and I can even cut the run short if I really don't feel up to it. I can't do that at a race; it's either I start the race and give it everything I have, or I don't start at all. Call me competitive but I can't stand having a slow race result when I know I could have done much better on the day. The Globe Run For Home 21K I ran very slowly in 2010 (I was pacing a friend and was experimenting with marathon pace) still haunts me to this day.
So even when I finished the warm-up and joined my fellow participants at the starting line, I was still on the fence about running at all. My energy was low and I felt a little sore in my throat. Maybe I wasn't recovered enough from the Run United 21K the previous weekend. Maybe my bike ride the day before was too intense. Maybe I just hadn't gotten enough sleep the past week. And I still had to teach a running class after the race! All these thoughts were buzzing around in my head as the clock counted down to the gunstart.


trying to get my head in the game (photo from Red Knight)
I fought these thoughts hard. If you'll notice, I positioned myself right at the front of the pack to ensure there was no way out for me. No turning back now. In 5, 4, 3, 2, 1…
Off we went. I was pacing with a friend, Lemuel So (guy in the yellow shirt in the photo above), and we'd counted how many elite Filipino runners and Kenyans were present so we knew I wasn't going to get on the podium that morning. I just wanted a consistent pace: a slightly faster average pace than what I'd held at Run United.
The Yakult 10-Miler is a classic race, with a route that has barely changed in decades. It starts on the side road between the Aliw Theater and CCP ramp, turns right onto Roxas Boulevard and continues until the U-turn near NAIA Road. Then you come back the same way you came, run past the CCP and make a U-turn at Luneta Park, then head for the start/finish line. It's a flat course (false flats galore!) with only the Buendia and EDSA flyovers to climb, but these are short and sharp "hills" you can still be aggressive on.
Though my Strava data doesn't show it, I was struggling for most of the race. It was tough not to compare how I was feeling at that point to how I felt during Run United. I was flying the previous week, but now my legs were heavy, it took more effort to run, and I was being left in the dust by Lem, who said he hadn't been training but had suddenly pulled ahead of me at just the 2-kilometer mark.
I was in a dark hole physically and mentally. Then I had a lightbulb moment: this was the perfect time to practice mental techniques that would pull me out of that hole. The human body's limits have been explored and pushed repeatedly and studies have shown that we quit mentally way before we reach our physical limits. Was I feeling bad because I was physically doing poorly, or was it because I thought I was doing poorly?
I started thinking, "What a great race to be at. It's the 25th anniversary and you're making history." I consciously made myself aware of the sense of freedom zooming down a road closed to vehicles, the sky gradually brightening in the sunrise, the sound of my feet hitting pavement, the rhythm of breath. I was accepting the experience without passing judgment; I stopped analyzing, becoming aware that even just thinking required energy. (There's a time for thinking, and a time to tell your mind to shut up and run.) The only thought I allowed to remain in my head was this word: GO.
After a while, my body started responding. I felt a little less tired. I started breathing easier, as if my body had suddenly let go of its tension. Though it still took effort to keep pace (it was the long ride the day before that sapped my legs) I was no longer thinking about copping out. It took a while, but at that consistent pace, I was able to run up onto Lem's heels. He had gotten a side stitch from the blistering pace he'd started with.


up the flyover (photo from Team aRUNkada)
trying to hold pace (photo from Mike Martinez)
I think part of my struggle was not getting my head around the distance before I started the race. As Filipinos we're so used to thinking in kilometers, so when someone says "10 MILES" we don't realize that a mile is 1.6 kilometers. My brain kept thinking I only had to run 10 kilometers. That 600 meters difference between a mile and a kilometer — it's a BIG difference.
flat out on Roxas Boulevard (photo from Red Knight)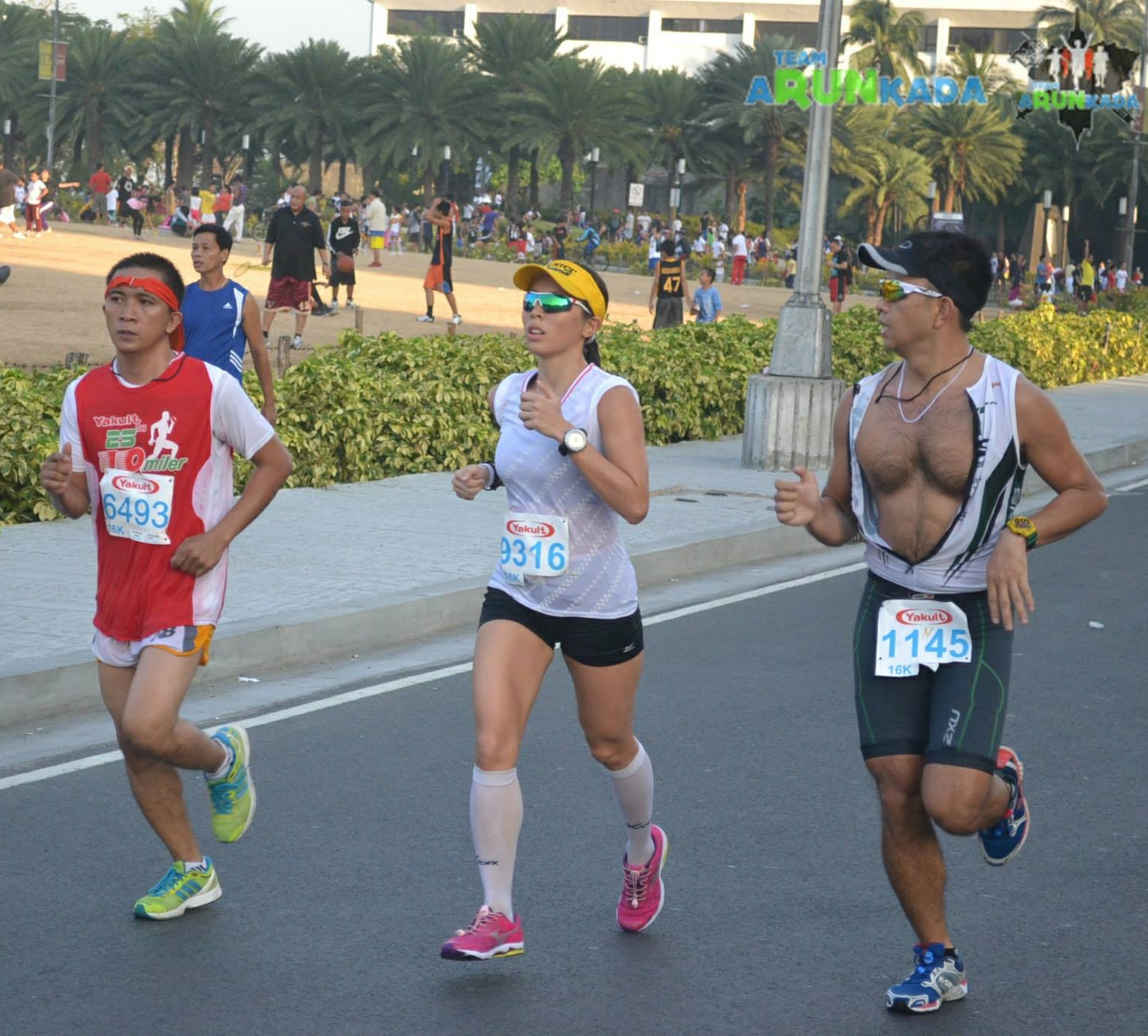 almost there! (photo from Team aRUNkada)
In the end, I got through the race. I finished in 1:16:57, about a minute ahead of Lem who was able to set a new PR for himself. Although my GPS says it was 15.6 kilometers, I will be quite content to call it 10 miles just because it felt that hard!
From RunningShield's blog post about the Yakult 10-Miler, the race under Rudy Biscocho has managed to keep its old-school, no-frills feel through the years: water at the aid stations, a classic course, a finisher shirt and a bottle of Yakult at the finish line. I think the big difference is now there are timing chips, which should make the race organizer's job of publishing results easier.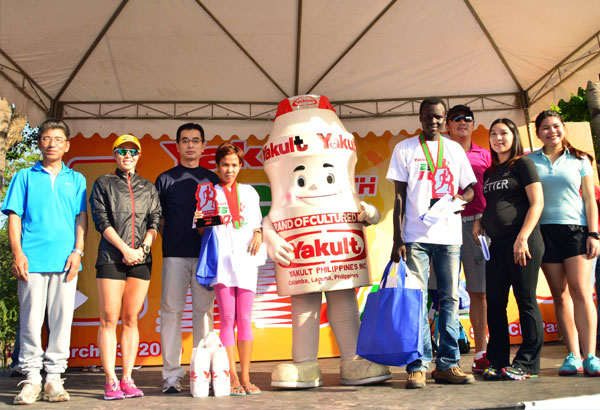 photo from The Philippine Star
As Mizuno ambassador, I stayed to help award the winners' prizes. It was great seeing the young kids at the 3K distance, which had age group awards. I hope they continue to run as they get older, not because it will make them money (the 16K had cash prizes for the top 3), but because they enjoy running and the feeling of accomplishment it gives them.
I definitely felt proud of myself for getting through that race not just physically, but even more so mentally. Next year, I'm starting the Yakult 10-Miler on fresh legs and a positive mindset. Let's see how I do then. 🙂
Liked this post? Share it!