Everyone knows I have a not-so-secret preference for pink. Right before Ironman 70.3 Philippines this year, when Mizuno gave me the first pair of Wave Sayonara in the Philippines — and it happened to be pink. I fell in love!
Mizuno Wave Sayonara
The Mizuno Wave Sayonara is one of the newest models introduced to the market. It's meant to be a transition shoe between a training shoe like the Wave Rider and a racing flat like the Wave Universe or Wave Musha. It's marked as a neutral shoe, but can still give some support to people like myself with a slight ankle roll on just one foot. It's got a heel-to-toe drop of 10mm, has a new midsole material called U4ic that offers cushioning at a lighter weight (women's model weighs 7.1 ounces), and has a relatively flat sole which keeps the shoe from picking up too much mud or loose stones when running on less than ideally paved roads.
the Wave Sayonara is sturdy enough for long runs and light enough for fast races
I've been moving away from heavy support in shoes like the Wave Inspire and have been using the Wave Elixir for the past two racing seasons. This year, I tried using the Wave Rider, a neutral shoe. It worked very well for me in both training runs and races, and I didn't feel any aches and pains I have associated with not getting enough support. However, the Rider still feels a bit chunky for race day, so I decided to test if the Sayonara could get me through races faster.
I initially was hesitant to use the Sayonara as race shoe because of one thing: breathability. Whenever I did a tempo run wearing them, my feet would be drenched by the time I finished. This is probably due to its finer mesh upper, which doesn't allow as much ventilation or drainage as the Elixir with its more open mesh material. But then after a few more training runs in them, I discovered that the secret to not having drenched feet is to keep them moving, not allowing sweat to trickle down my legs into the shoe (which happened whenever I just stood around).
The roomy toebox makes the shoe comfortable to wear even during longer sessions when feet tend to expand. It also allows toes to spread out, which is healthier for the feet. Lacing is a bit off-center on purpose to allow the shoe to hug the top of the foot better. The shoe itself is very plush to run in (despite there not being too much cushioning in the forefoot), giving a very smooth ride. However, I still get a lot of feel for the ground beneath my feet.
I love my Sayonaras because they makes me feel like I can run forever. They are my favorite pair for long runs, but now that I've started using them for races it just feels wrong to subject them to too much mileage before I've gotten a season or two out of them.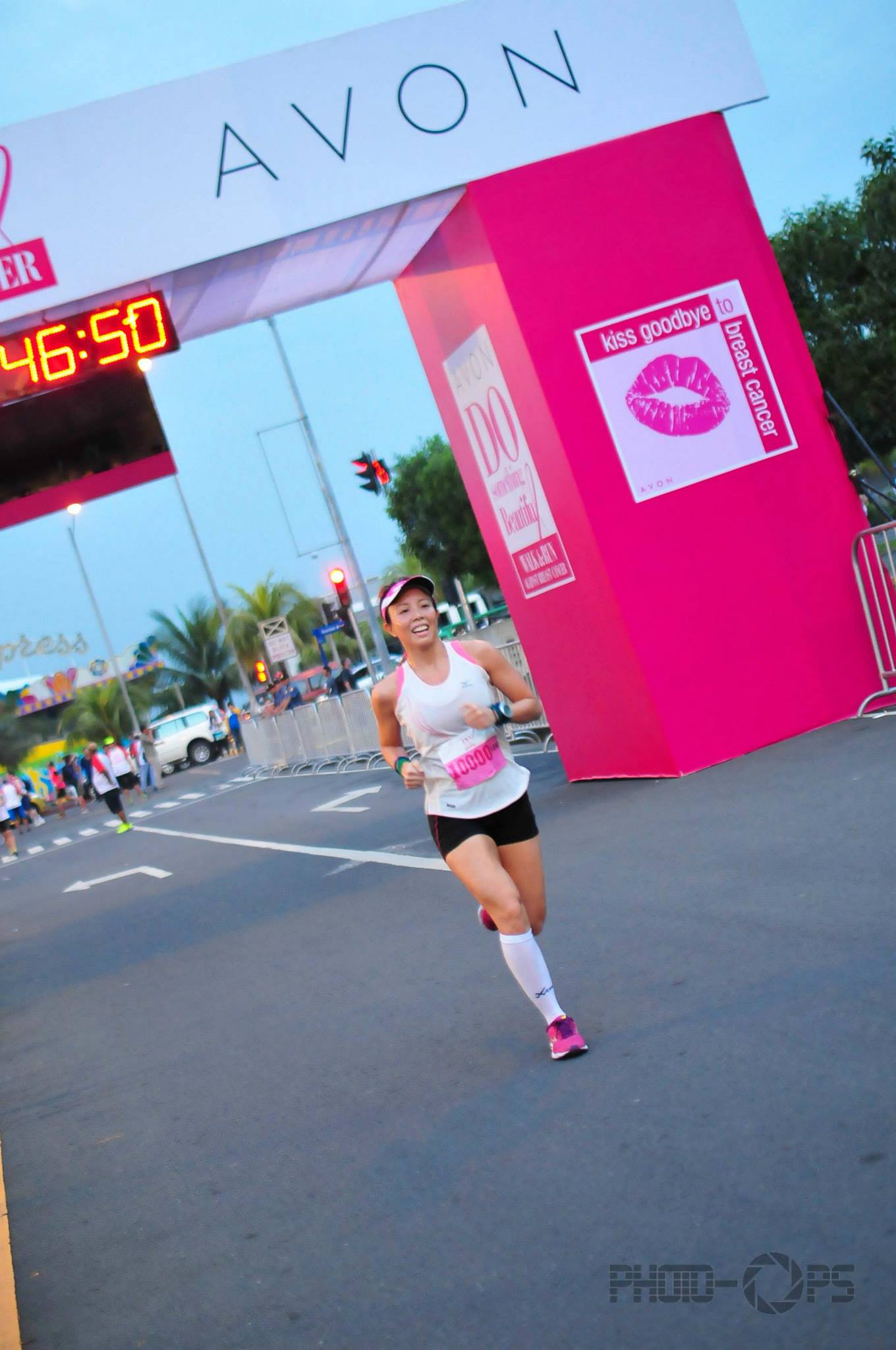 2nd place finish at the Avon Run
1st place at the Subic Invitational Triathlon
I wore my Sayonaras at the Laguna Phuket Triathlon, and there was a grassy field we had to run through at the start of each of the two loops of the run course. Because it had rained so much in the days before the race, that field was a muddy, soppy mess. The amazing thing is whenever I'd get back on paved road, the mud fell off the shoe easily and didn't cake on the soles.
I love my Sayonaras and will probably pick up a second pair before the year ends. Still debating with myself whether to get the pink version again, or go with a white-and-blue one.
No, I'm definitely going with the pink again. 🙂