Last Saturday I took the opportunity to ride the Challenge Philippines bike course with a few tri teams. It would be a great long ride, and from reports I've heard about the course, a recon ride is a definite must-do.
I almost always try to ride on the bike route of any triathlon I do. It's a sound strategy because you learn the gears you should be in at certain points, you can practice technical descents and corners, and spot potential hazards you should avoid on race day.
with Mayan and Nino of FitPlus
my hydration strategy (thanks Lightwater!)
We had a sizeable group of about 19 people departing from Camayan Beach Resort. Not all of us planned to complete the ride, so we had some support vehicles following us in case anyone wanted to bail out.
We would be able to recon 80 kilometers of the 90-kilometer course; that missing 10 kilometers was inside the Bataan Nuclear Power Plant complex, which has very tight security and normally does not open its gates to unauthorized personnel.
The signature feature of the Challenge Philippines bike course is… it's hilly. The official website has a nice write-up on the seven hills of Bataan. Maybe mountainous is a better term; if you check out the topographical view of our ride, you'll see that the road runs alongside Mt. Natib, an extinct volcano, so there are plenty of ridges and peaks to be ridden over.
my Strava record of the ride until turnaround point
Kenneth Romero from Challenge Philippines would guide us throughout the ride. He's been training on the course through several of its revisions, and at various points during the ride I would ask him, "Wala na bang ibang dadaanan?!" — Is there no other route? Nope; through all the iterations, this final course was the best one.
pre-ride briefing from Kenneth Romero
We left a bit later than planned, but that was fine because it simulated race conditions. The swim start would be at 7am (or later, depending on wave starts), so most people would get on their bikes around 8am. Now we would see how our legs would fare on those hills, and whether after them we could still think about running a half-marathon.
The first few kilometers from Camayan are a little bit of a warm-up, although there's already an uphill coming out of transition. Then we turned right onto the road leading to Anvaya Cove, and that's where the real climbing began. Although my companions were strong cyclists and I was constantly getting dropped, I went at my own pace. The primary thought in my head was, "It's a long way to the U-turn, and a long hilly ride back. Conserve." Instead of focusing on speed, I used the time to study the road's twists and turns, where there were huge potholes to avoid (hopefully those will be patched up by race day), and kept my legs just spinning instead of mashing up the hills.
at turn to nuclear power plant
You get a nice flat section around kilometer 34 riding through some rice fields, but it's a very short one (especially if you're powering through on your aero bars) and then you have to begin more climbs.
The descents were just as memorable as the ascents. They were technical, with hairpin bends and blind corners. What if there was a cliff I couldn't keep from going over because I was going too fast? I just coasted and slalomed down, my heart in my throat and my hands on my brakes.
Finally we reached a scheduled stop at the gates of the Bataan Nuclear Power Plant. The course would turn right off the highway downhill into the complex (and of course you'd need to climb that hill going back up).
nothing but road and bikes
We had a few refreshments care of FitPlus's support, and further down the road we would periodically make stops at sari-sari stores to buy water and Mountain Dew.
My memory is now a little hazy on how many hills we had to negotiate on the ride out toward the U-turn. (I think this is why triathletes repeatedly sign up for races that they say kicked their asses?) But I knew we were a long way from home and had a long way to go, especially when we regrouped at the Bagac municipality arch and some people packed up their bikes and got in their cars.
Bagac arch
I was determined to see this ride through; and besides, there was no room in the support vehicles for Mako and myself. 😉
After one last very long downhill, we finally reached the turnaround point. On race day, this would have a picnic area and a turo-turo store type of aid station with real food like adobo, rice, pancit, and other stuff most recreational cyclists consume on their long rides. This is where the special needs bags would also be transported. Trust me when I say you will need some serious refueling at this point.
turnaround point with view of Mt. Mariveles
That's because that very long downhill I just mentioned is something you will need to grind up again. It just seems never-ending; I actually sobbed and shed a few tears at one point because I just felt sorry for myself. Of course, I caught myself and snapped out of it. A few minutes later, I reached the top of that climb: the boundary line between Bagac and Morong.
Morong arch
But then of course it was far from over, as we had to climb up every downhill we'd passed. If you had gone hard on the outbound section, you would feel the pinch very much here. Because I'd conserved my muscles, I found my level of physical exertion on the way back was tolerable and not too high. And always, at the end of every climb was some recovery.
There's a fork in the course heading back which took us up into the Bataan Techno Park, which was a former Vietnamese refugee camp. I found this place to be one of the prettiest we passed through, and aside from a pockmarked section of road, the pavement was pretty smooth and a joy to ride on.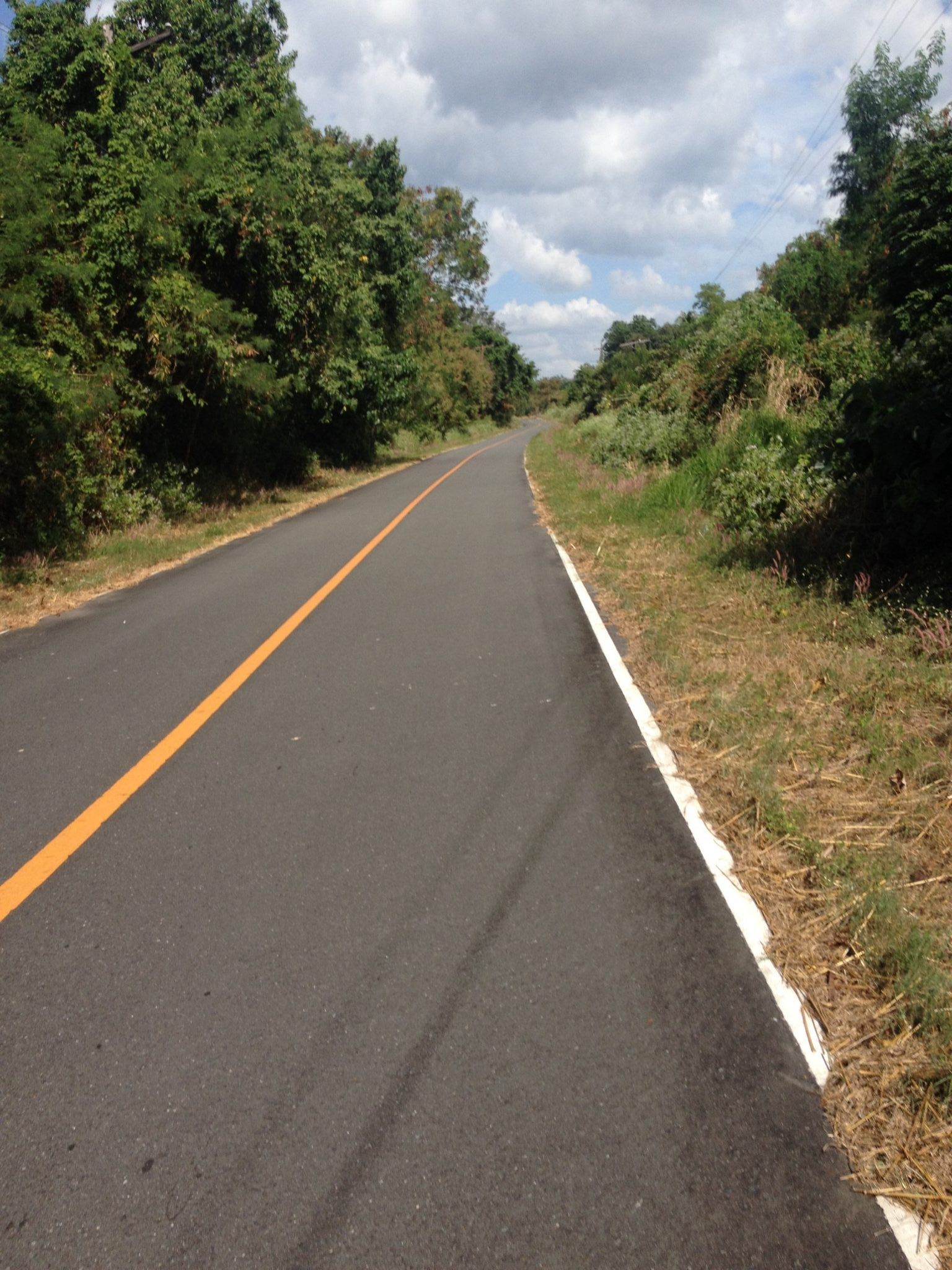 one of the few flat stretches of road
the road goes ever on and on
This section contains what we call Karaoke Hill, but it's a secret why it's called that. 😉 After Karaoke Hill there is a very long and steep downhill; if you're not careful, you could reach 80kph on it, oversteer, and crash (ouch). This may be a yellow-flag zone on race day and they might implement a speed limit on it.
After that, there was just one more hill — Manang's Special. Kenneth remarked to me before starting the climb, "I've ridden this course about a hundred times, but I still find this hard!" Some of our fellow riders had dismounted because someone had already started cramping on both his quads and hamstrings. They would try to find a way to fit him into the support vehicle.
Oh, crap. Here goes.
It was a tough climb, but because I'd braced myself mentally for it, I didn't break (unlike that climb up from the turnaround point). Sure there was pain in my legs, but no hint of cramping, so I knew I could hang on for however long it took to get to the top. "Just keep spinning, just keep spinning…" went the song in my head.
And before I knew it, we'd reached that little sari-sari store owned by Manang Gloria that marked the end of the climb, and the start of some gentle rollers and descents that would bring us back to Camayan.
It's a tougher ride back.
I managed not to be the last one up those last few hills, which means my pacing strategy had helped me survive my maiden ride on the course. Of course, my legs weren't very fresh when I got back to Camayan, and I didn't bring any running shoes anyway, so I'll save that brick run for the next time I ride the course.
The Challenge Philippines bike course is definitely a challenge! But I have been told it's on par with some European courses — and everyone knows Europeans are great cyclists because it's just hilly (nay, mountainous) on the continent.
From this first try, I have a few bits of insight to share:
Recon, recon, recon. If you can recon the course several times before race day, do so! Not only will you reap the physical adaptations of doing so many climbs, but you will be able to anticipate the climbs and strategize how to approach certain ascents and descents. You will get a better handle of how to pace yourself and control your exertion level so you still have something left for the run.
Bike setup is important. If you can climb and descend properly using a time trial bike, kudos to you! If you do have an option though, all the coaches I've spoken to who have done the course have recommended a road bike with drop bars and clip-on aerobars. They say this setup handles better on the technical course.
Eat. I took a bottle of EFS with me as my nutrition plan for the ride, but I got very hungry right before we turned toward BTPI. Good thing we stopped over at a roadside eatery (an aforementioned turo-turo) and I ordered some adobo, rice, and a banana. I don't know if I could have made it over the last few hills otherwise. While we were eating, we all discussed what we'd put into our special-needs bags for the race. As true-blooded Filipinos are wont to do, we all had some form of rice meal in mind!
Approach with a positive mindset. Do not ever, ever get down on yourself on this course. After every uphill, there is a downhill. After every effort, there is recovery. After the bike ride, there's a beautiful forest triple-canopy run waiting for you. 😀 (Can't wait to go on a test run there in a few weeks.)
I'll be back on that course in two weeks to give it another go. We're very blessed to live only a few hours away from this course so we can train on it often. I'm determined to be at my fittest in February!
For more information on Challenge Philippines, visit the official website ChallengePhilippines.com.ph, like the Facebook Page, and follow @challenge_ph on Twitter and Instagram.