I don't even know how to begin telling the story of my Century Tuna 5150 Triathlon weekend. I registered for it as a lead-in for Ironman 70.3 Philippines in August, but it turned out to be so much more than a training race.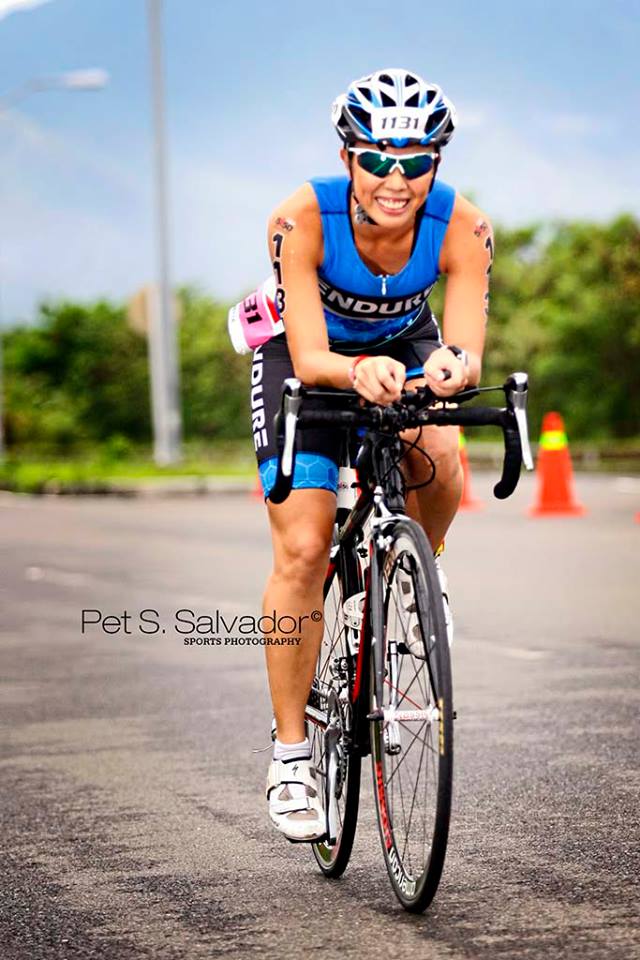 Century Tuna 5150 Triathlon (photo by Pet Salvador)
Heading into the weekend, things weren't looking so good. I could feel the anxiety coming and going in waves, so I knew I was going to have to be on top of my mental game. It had been raining most days, I hadn't gotten on my bike since our training weekend in Subic two weeks previously, and… I got my period on Thursday. #sharkbait #diyahe
I started the weekend with breakfast and an easy morning drive from Manila, convoying with my swim coach Nonoy Basa and his girlfriend Eva. Noy was also heading up to 5150 as a last-minute swap for a relay team's swimmer. I was blasting tunes and semi-dancing inside my car, which helped me switch over from "anxious" to "excited". In fact, I was so in the zone that while we were driving on SCTEX, Noy texted, "Bukas pa ang karera." Hahaha!
We arrived in Subic near lunchtime, and the Posedown Posse (formerly known as the Breakfast Club) were already in attendance. I had a nice big lunch with them, then went to the Subic Bay Exhibition and Convention Center for final race registration. There I picked up my race kit which contained a swim cap, stickers for my bike and helmet, transition bags, my race bib, timing chip and strap, and race number temporary tattoo.
[instagram url=http://instagr.am/p/a2lEj8veA4/ size=medium addlink=yes]
first time in the Philippines!
I felt pretty badass walking around with my race numbers on me the day before the race, but they had a tendency to stick to fabric and other exposed skin, so the numbers on the back of my calves were nearly erased by the end of the day. Maybe next time they could stick it on the outside of the leg.
After leaving my running shoes and cap in the Transition 2 bag drop-off, I hightailed it to the Cargo Terminal (which was the swim exit) about ten kilometers away to check in my bike, shoes, and helmet at Transition 1. After wrapping my bike in a shower curtain to protect it from any rain, I left just as droves of people started arriving to check in their own stuff.
I got back to the convention center just in time for the Meet the Pros presscon. We'd be sharing the course with international pros and Filipino elites (who of course would finish in half the amount of time we'd take) and it's always thrilling to see the big names that make the trip.

Meet the Pros presscon
Luke McKenzie just recently won Ironman Cairns. Ben Allen is a multiple XTERRA champion. Belinda Granger is the defending champion at 5150 and won Ironman 70.3 Hawaii. And our very own Monica Torres was making her local debut as a pro (instead of as Filipino Elite).
The biggest name, of course, was Chris "Macca" McCormack, a two-time Ironman World Champion whose book I'm Here to Win I devoured last year right after I'd signed up for the 70.3 in Cebu. Unfortunately, he hadn't arrived in Subic yet by presscon time.

with big media names Drew Arellano and Ivan Mayrina
It was raining heavily outside by that time, but Kuya Kim Atienza gave us a live weather forecast (in his jaunty explorer hat!) that the next day would dawn cool with just a light drizzle at most.

"Ang buhay ay weather-weather lang!"
Kim was supposed to join the race, but he told me before the briefing that he was pulling out due to stomach problems. 🙁 (He'll be back in fighting form in two weeks at Tri United 2, though.)
I met up with Team ENDURE at the race briefing. There would be five of us racing the next day, and four of us supporting. It was nice to have so many of us in one place again since I've been racing solo the past two triathlons.

with Al and Jun Neri, Raffger Sese, and Gerard Cinco
We had an early lights out at the hotel, which was good because I planned to be up and about by 3:30am to be able to use the shower and bathroom first. 😉
After a longsilog breakfast, it was time to go to T1 to put hydration and nutrition on our bikes, then ride a jeepney shuttle to the swim start. One of the signature features of the Century Tuna 5150 is the point-to-point swim: we'd jump off the pier at Hanjin Port for a deep-water start, then swim toward the Cargo Terminal 1.5 kilometers away (in an L-shaped course) with only a buoy line and canoes as our guides. This was what had stopped me from registering for this race last year, but thanks to Noy's training I went into the water with a lot more confidence in my swim.
There were going to be two wave starts: Wave A would contain the pros, Filipino elites, and males aged 30-44. Wave B starting 10 minutes later would contain all women age-groupers, relay swimmers, and the rest of the male age-groupers. So after seeing Wave A start, that was the only time we were allowed onto the pier and to get into the water.
I want to thank my college swim instructor for teaching me how to jump into deep water and not submerge too deeply: just before hitting the water, scissor my legs and throw my arms downwards. As I jumped into the green murkiness, I felt like I was in my element, and swam quickly to the starting buoy.
Then we were off: I found myself slipping forward between bodies thrashing in the water, my breathing calm, my stroke and kicks unhurried. I found my rhythm, sighting occasionally to make sure I was still heading in the right direction. And so I swam the long part of the L. Then it was time to turn left. It was here I started feeling the difficulty; there was a current pulling me sideways toward shore and I hit the buoy line several times before finding a way to compensate and swim in a straight line.
Finally, the swim exit! I stripped off my swim cap and goggles and ran to my bike. I didn't feel tired at all though it felt like I'd been in the water a while. My Suunto Ambit 2S read "35 minutes" as I exited T1. Not bad!
The bike leg was uneventful. Though it had rained heavily the previous day, the roads had drained off most of the moisture already. Funny thing is it felt easier than what we'd done in training, which is always a good thing! I entered T2 at just slightly past 2 hours on the Ambit. There was nothing left to do but slip on my Mizunos and visor and RUN!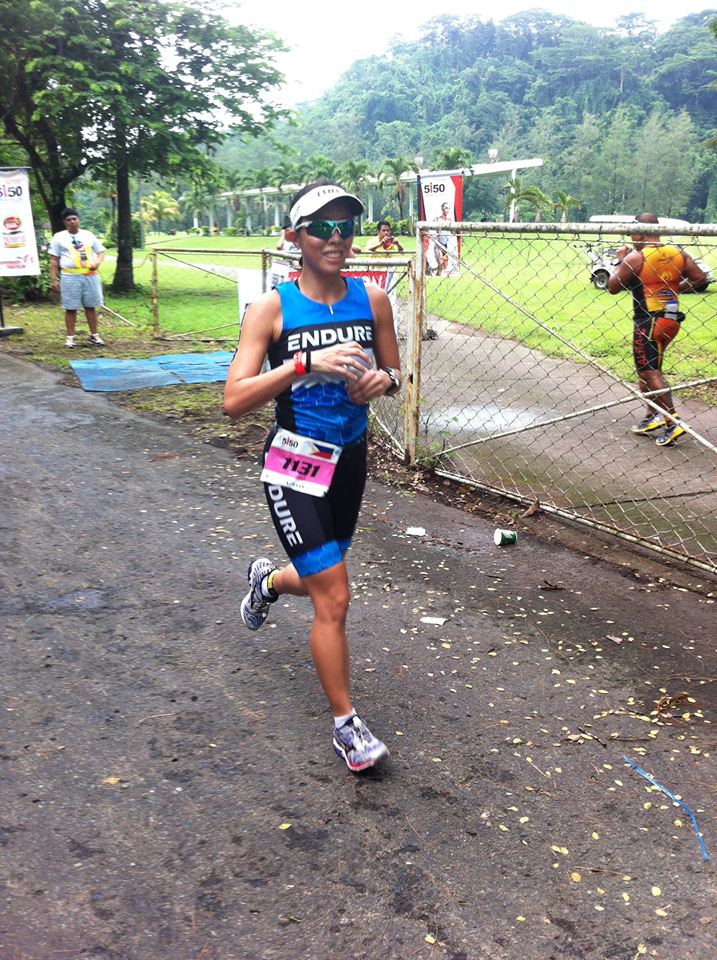 taking on some nutrition on the run (photo by Gino David)
Maybe it was the new Retul bike position. Maybe it was the run training with the Posedown Posse. Maybe it was the cool weather. Maybe it was my new nutrition strategy (I love EFS!). Whatever it was, I was flying. I didn't even feel the rolling terrain.
Before I knew it, I was about to cross the finish line. I allowed Greg Banzon, who I had been pacing with, to go ahead so that I could have the finish chute all to myself. 😉 My finish time was 3 hours, 2 minutes, 2 seconds — 9 minutes better than my time two months earlier at SuBIT/ASTC. Even better, I'd logged my fastest 10-kilometer run off the bike: 48 minutes. I'd never done that before!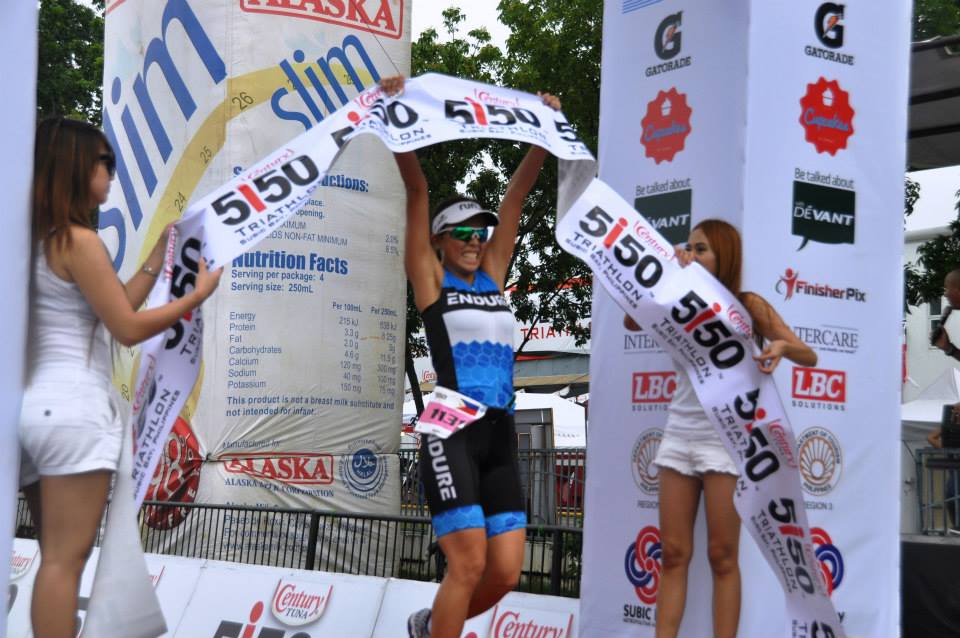 YES!
Post-race we were treated to ice pools, massages, even beer! It was the perfect way to chill. I think I hung out at the ice pool for 30 minutes! Tanggal lahat ng cramps.

"Let me just get into this ice bathAAAAAGH THAT'S FREEZING!!!"
I eventually summoned up the strength to start packing up my bike and transition bags and get ready for the awarding ceremony. Even if I didn't think I had a podium finish in my age group, I was still nominated for the Century Tuna Superbods 5150 award. Winners would be decided by votes cast by race participants, so I wanted to hang around for that.

getting pro race results from host Jinno Rufino
http://instagr.am/p/a4yoyGF-Iy/
post-race pack-up with running blogger/Alaska media guy Jared

with Women's Health editor-in-chief Lara Parpan and Coach Dan Brown. Lara's successfully come back from ACL surgery!
Lunch was served before the awarding. Just as I was stuffing my face, Macca walked by! He'd started the race, but DNF'ed due to mechanical problems on the bike leg. I couldn't resist asking for a pic with him.

IT'S MACCA!!!!!!!!
My day was already made after that, but then they started announcing the winners for the Superbods award. I ended up in third place, winning a cool P5,000 (definitely awesome motivation to stay fit, BTW). Posedown Posse bro Raoul Floresca earned himself the top spot on the podium.

Posedown! (photo by Sid Maderazo)
I was also called onstage and awarded third place in my age group. The trophy was a unique hand-carved bamboo piece, beautiful in its own rustic way. I stood there for several seconds wondering if I really was in third place since I'd seen three other women in my age group blast past me on the run.
After the ceremony, when my teammates and I were on our way to Harbor Point Mall to celebrate my Superbods win, I received a call from Princess Galura of Sunrise (the organizers behind 5150). She explained very nicely that there was a problem with the results. Anna Stroh had gone into the water to warm up before Wave A was released, which triggered the timing system to record that she had started with Wave A. Because of this, when the results were generated she'd been penalized ten minutes for starting with the wrong wave. A marshal however attested that she'd gotten out of the water and had started correctly with Wave B. Her adjusted time put her in first place, bumping Joyette Jopson and Toby Mandel down to second and third place, respectively.
Princess said it wasn't my fault, and as a consolation they'd have a 4th place trophy made for me. When I met up with her later on to return the trophy, I told her it wasn't necessary but it would be appreciated. She also offered to have a copy of Macca's book autographed for me. Though I was disappointed that I'd finished just outside the top 3 in my age group again, I was still very pleased with my performance at the race. And of course the autographed book sent me over the moon.

one last photo op with Macca
Thank you to Mizuno, Lightwater, Spyder, Globe, Salice, Yurbuds, and Arena for the support. The Century Tuna 5150 Triathlon was exciting, exhilarating, completely amazing and I'd definitely do it again next year.
Up next, Ironman 70.3 Philippines!