Happy New Year, runners! If you weren't at the Color Manila Run last Sunday, you missed out on a great way to start your running year. (I wrote a wrap-up about Color Manila Run for Solar Sports Desk.)
I remember when Jay Em of Proactive started picking my brain about a race concept he was developing. This was in June 2012, and after hearing his idea I could barely restrain myself from talking about it. Secret muna. I'm so glad the race turned out as wonderful as it did.
Jay Em, the brains behind Color Manila Run
Gotta say kudos to @jayrunshills. Color Manila Run was his idea, his baby, and she's all grown up 😀

— Noelle De Guzman (@KikayRunner) January 6, 2013

If you'll recall, I haven't had a race since November 30 last year so I was raring to go. I even woke up super early because I was unsure what time my 5K would start. I chose to run only that distance because I knew I wouldn't be in tiptop shape after the holidays.
I'm gonna have fun!
I'm thankful I had the foresight to do that because my foot, which had been recovering quite nicely from the break I gave it in December, suddenly acted up pre-race while I was just walking around the venue. (Just to clarify: this isn't a running-related injury. I sustained it by walking around the malls during my holiday break.)
This wasn't really a race, anyway, since no winners based on who finishes first would be announced. The bibs were there to identify us as registered runners and so that Proactive could tag our photos afterward. (Check out the Color Manila Run photos! Most of this post's photos are from there.) Still, what was the harm in running at my top 5K pace?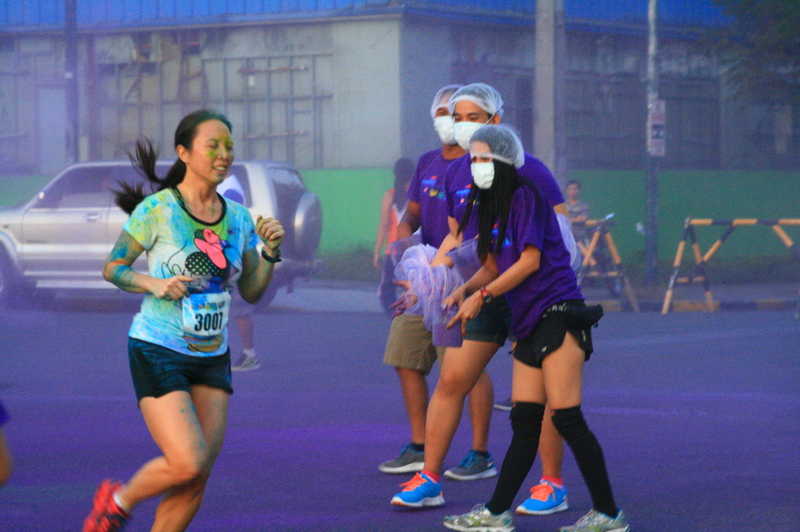 Purple is my second favorite color.
I breezed past the first station, which was a mistake because I didn't get a lot of Pink powder thrown on me. I slowed down for the next stations so I could get color on my shirt (I bought it especially for the race). Yellow was fun but then I realized since I was smiling so much, I had yellow powder in my teeth! At the Blue station, I told the color marshals there was a spot on the side of my shirt that hadn't been colored yet. Purple was great but most of the powder thrown at me ended up on the road. Green station made sure I was covered in powder. I ended up looking like She-Hulk and the color stuck in my skin for a day!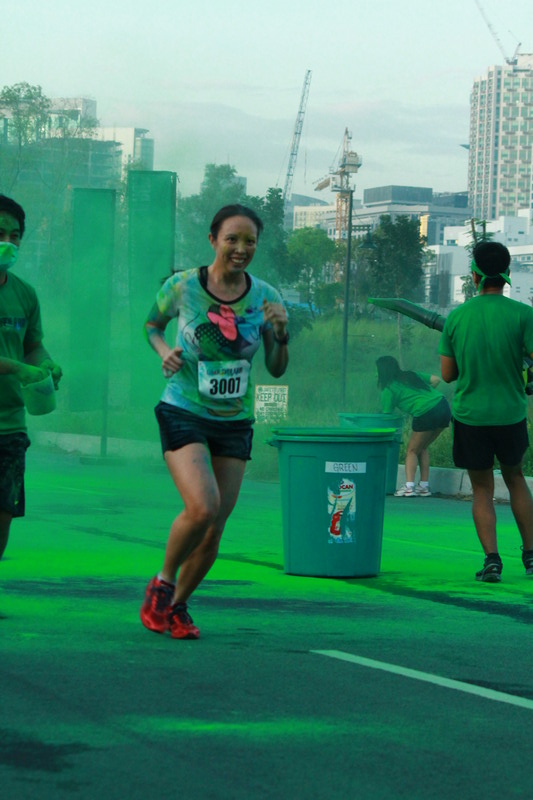 She-Hulk. Thank God she's not angry.
All the while, I'd overtaken two women, one of them a track athlete. (I knew this because she was wearing her bib on the back of her shirt.) As I slowed down at the finish arc, suddenly Ms. Track Athlete sprinted past me. I think we crossed the finish line together, but since the race wasn't being timed anyway…
getting out-sprinted
I finished in 25++ minutes, but who was keeping track? I had more important things in mind, like: "How am I supposed to wash all this powder off?"
"Unicorns threw up on us."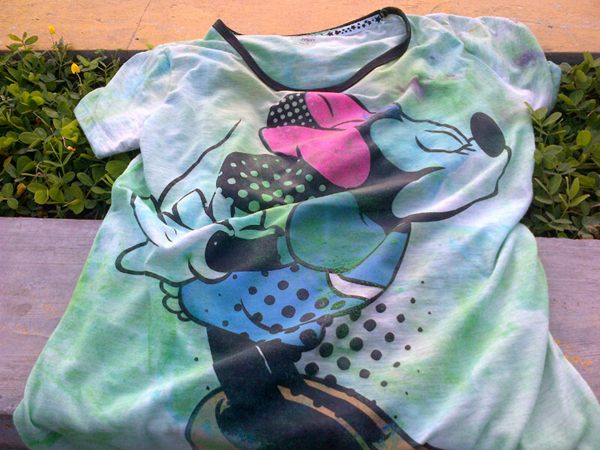 That's gonna stain. 🙂
Through some weird foresight, I had brought a really old towel to wipe myself down. Even though I managed to get most of the powder off, I still had some patches of color on my arms. At least I brought a black shirt to change into so I wouldn't have to worry about staining.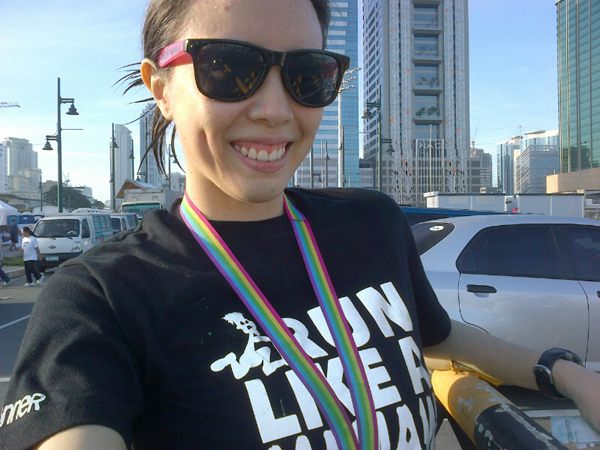 Black "Run Like a Mamaw" shirt from SafeTEES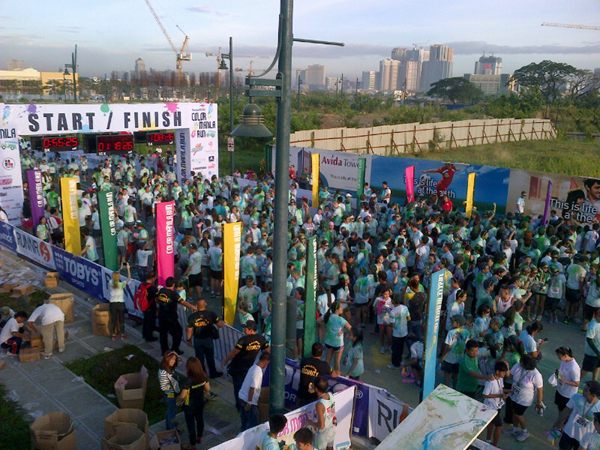 Color Manila Run finishers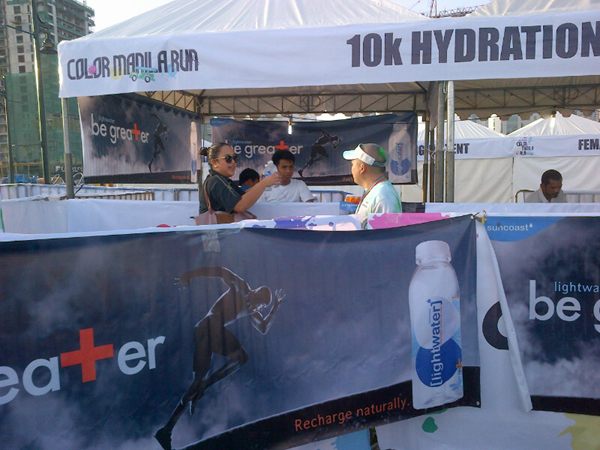 Lightwater for 10K finishers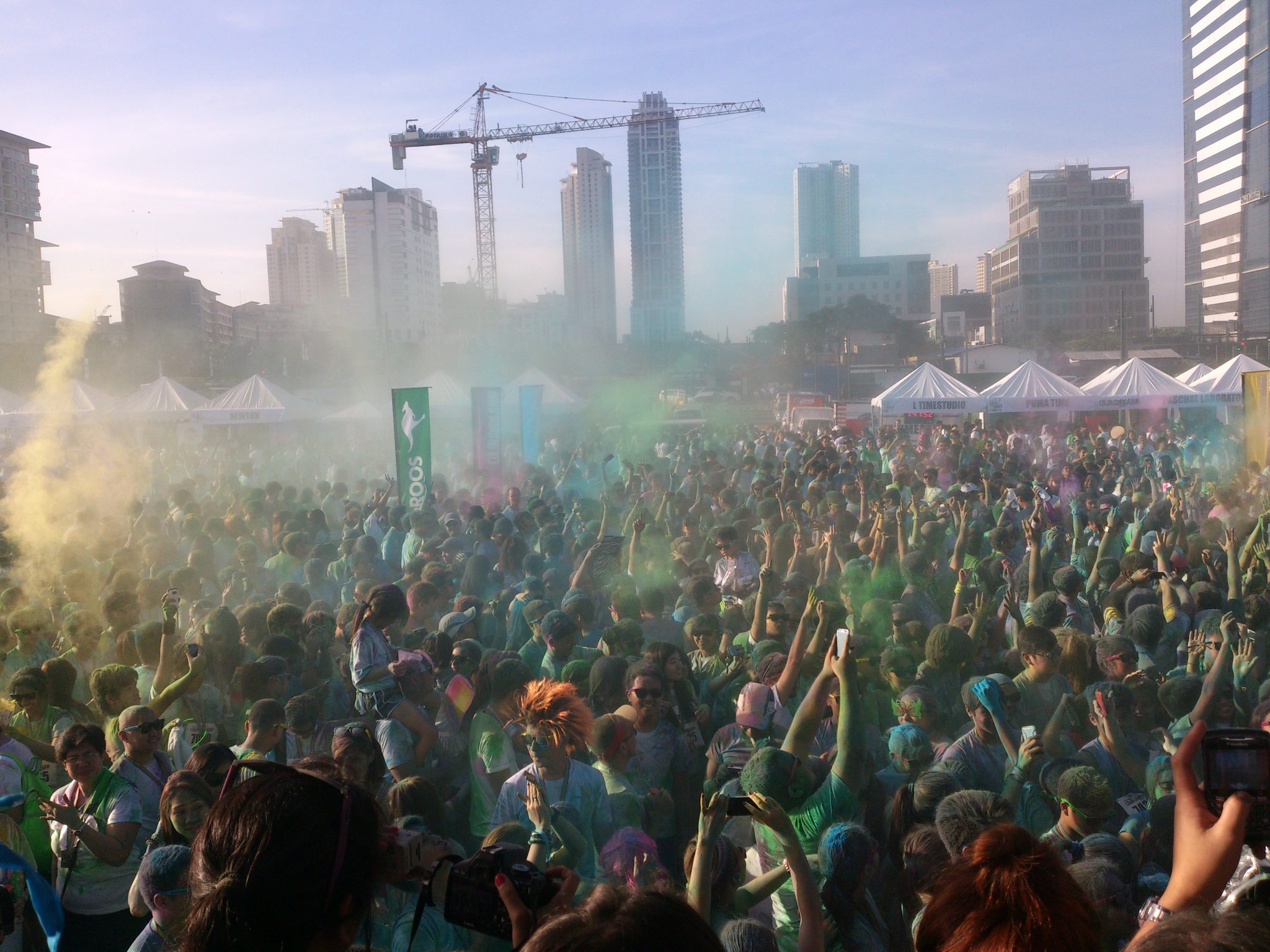 The color festival!
This was a fun run in every sense of the word, and was just the thing I needed to start 2013 right.
2013 here I come!
Liked this post? Share it!