I did two unscheduled races last weekend: the United Colors of 88 Run and the New Balance Power Run. I haven't been running as much as I want to lately, and I've been using races as the means of getting some run mileage in.
Thanks so much to Mizuno for getting me a kit to the United Colors of 88 Run; Mizuno was a registration partner for the race. 🙂 At the Midnight Run two weeks ago, I had to hold back my pace for fear of re-injuring my ankle. So for Colors of 88, I picked the 5.88 kilometer distance to go full out and see if my ankle would hold up.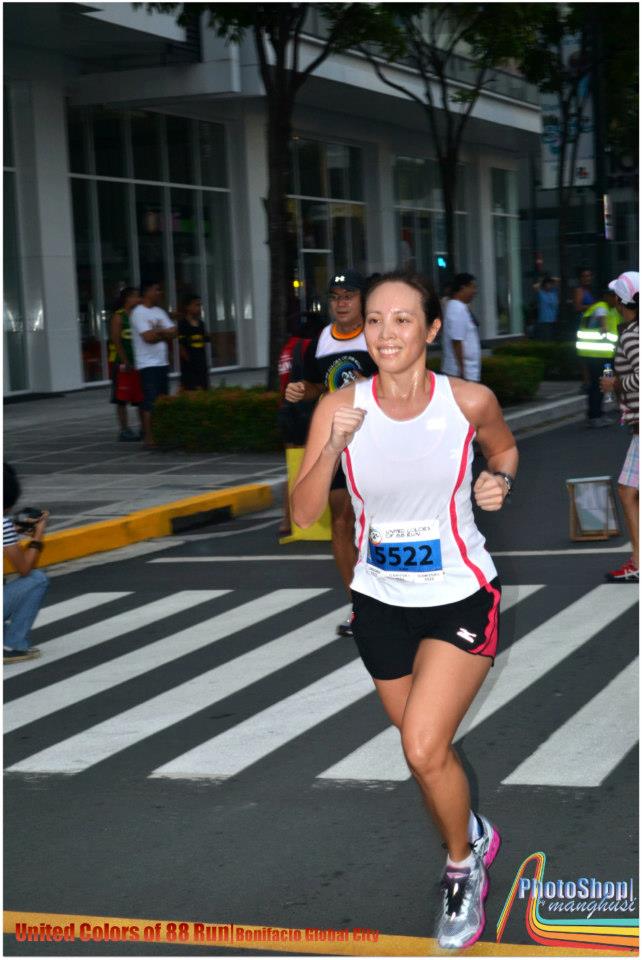 Feeling really good here (photo from Greentennial)
It was a nice family-oriented run. When I arrived, I could see parents and children milling around waiting for their respective gunstarts. The 21.88K category had just been set loose, so I had some time before my own gunstart to claim my kit, pin my bib, and size up the field. I guessed that the strong runners had chosen the longer distances.
What I didn't count on were the runners who slipped under my radar — under, literally, because at the gunstart this little girl who couldn't have been any taller than my chest shot forward. She was running alongside her father, and their speed quickly separated us by about 100 meters. "No worries," I thought. "She could run out of gas soon — unless she's been trained well."
As the race went on (which took us on Kalayaan Flyover to Buendia and back), it quickly became apparent that her father had trained her well as she put on more speed after the U-turn. I lost sight of the two of them as our paths merged with other runners, but then I thought I saw the girl slowing down by the side of the road. I took the opportunity to step on the gas and finish ahead of her. The marshals hung a "1st place winner" ID tag around my neck and took my name.
I hung out with some friends while waiting for the award ceremony, all the while thinking I had won. Then, finally, when our names were called, I was surprised as the girl's family swarmed toward me and insisted that she had come in first place. I was just thankful that I hadn't gone up on stage to accept the prize yet, because I had begun to doubt whether the girl I saw slowing down was her anyway. In any case, I was happy to accept second place, although I wish the father had told the marshals to take her name and number down right when they crossed the finish line. It would have saved us all the embarrassment. But yeah, I acknowledge that she was faster than me. Consider my ego sufficiently bruised. 😉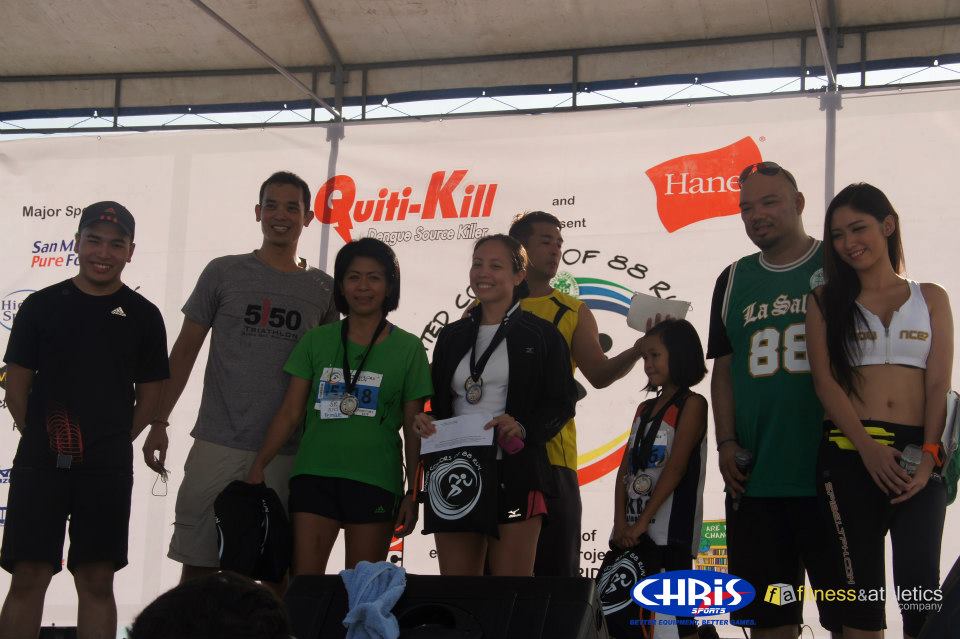 I got beaten by a kid! (photo from Fitness & Athletics)
Race in Review
Route: This was the first time I'd done a 5K that had taken me onto the Kalayaan Flyover. I like that it was mostly out-and-back because it saved me the mental work of looking for a turn sign.
Traffic Management: Given the intimate field of participants (a little under 2,000 total), there was no crowding on the streets or at the finish line. Vehicle traffic was also at a minimum during the race.
Hydration: The official sports drink for the race offered whole bottles at their aid stations, which is a trademark for them. I had my fill of cold, clean water at the other stations, which were stationed very efficiently (not too close together, not too far apart).
Package: The bibs had B-tags on them for the shorter distance categories, while the 10.88K and 21.88K had D-tags to attach to shoes. I'm not sure how successful the computerized timing system was at capturing finishers and their splits, though (because we could have avoided the whole awarding hubbub that happened). Great medal, though.
Freebies: I loved, loved that the loot bags contained cracker chips, and that as one of the first few finishers of my distance I got a Sausage McMuffin. I hadn't had breakfast, so I was ravenous!
This race had room for a lot more runners, and it had great value for its price (from P500 to P800, with medals for all). I appreciate also how five different schools (Xavier, St. Scholastica, Maryknoll, Ateneo, and La Salle) banded together to produce a healthy activity for whole families to engage in, and to draw in new runners. I only wish there had been more new runners (the ones that run 3K or 5K) that day. FOUR KIKAY PINKIE FINGERS out of FIVE.
Liked this post? Share it!