Last Friday I was all set for the United Colors of 88 Run on Saturday. Then I got a text message from Kuya Kim Atienza (yes, THE Kuya Kim) asking if I were interested in running 25K at the New Balance Power Run on Sunday.
Silly me, I said yes. *facepalm* It brought back memories of doing the 21K run leg in Camsur Ironman 70.3 last year on impulse without any run training. After that 21K run last year, I got pretty sick for a while; with all my injury time this last half of the year, sick or injured was the last thing I wanted to be. If I didn't take enough care, it was going to be painful and my body would hate me for it.
But silly me, I went through with the 25K anyway. I've already run twice before with Kuya Kim and Team Gotta, the tri team he belongs to. I have to say, these guys love pushing the pace. I'm a sucker when it comes to running with a group of friends. I always think it'll be a steady and easy run pace (about 6 minutes per kilometer). Then, before I know it, they're sprinting away from me.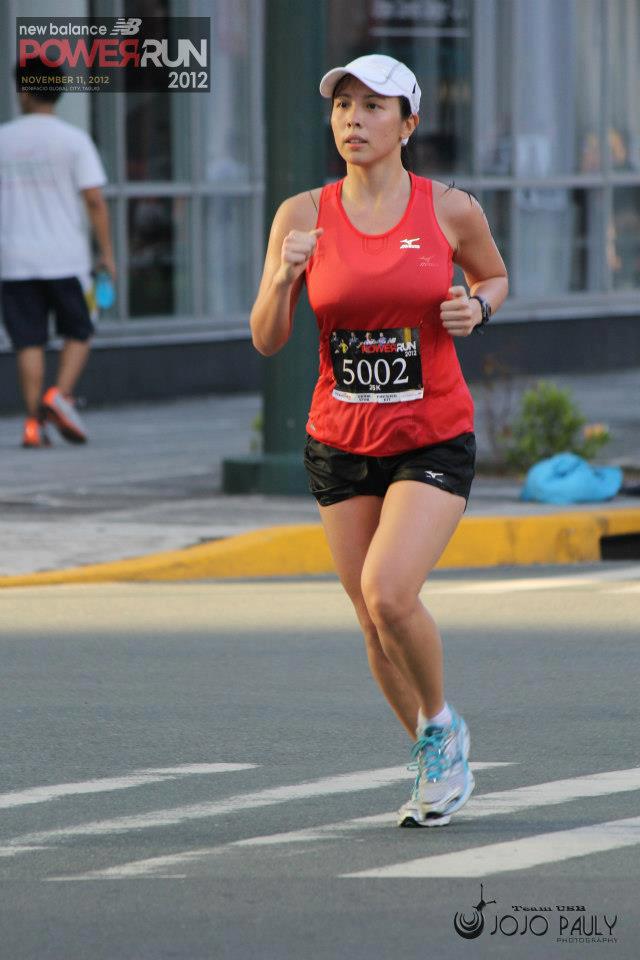 at the NB Power Run 2012 (photo by Jojo Pauly/Team USB)
I got to BGC at 3:30am, with enough time before the gunstart to snag a coffee from the Starbucks drive-thru. It was a sort of reward to myself for getting up that early for a race, and it woke up my entire body which was perfect.
It was time to stop being silly, because 25K is no joke especially to the un(der)trained. I created a race plan in my head: I would run the first 10 or 11 kilometers with Kuya Kim and Secondwind's Hector Yuzon at their planned pace of 11kph (about 5:30 minutes per kilometer). That would be a nice aerobic pace for me, since I would still be able to breathe through my nose instead of gasping at the mouth. After that, if I still felt good, I would start walking through the aid stations and try to finish before 2 hours and 30 minutes — an average of 6 minutes per kilometer, my desired training pace.
There were so many runners in the 25K category. We positioned ourselves somewhere near the front, but as the gun fired many runners jackrabbited their way past us in an opening sprint. It takes a certain self-discipline not to get carried away; the skill of pacing oneself is learned through countless training runs that teach you when to step on the gas and when to back off. We treated the first few kilometers as a warm-up, then started moving up once we'd gotten the blood flowing and the muscles warmed.
There's a certain dynamic when runners of similar speeds pace each other; you can get pushed to run faster if you're leading the group, or pulled forward to run faster if you're trailing the group. It made for a blistering 11 kilometers (at 5 minutes per kilometer!) with Kim and Hec. Then, of course, those two guys with plenty of 21K long runs under their belts sped forward, while I implemented phase 2 of my race day plan.
Good thing, too. I started feeling the all-too-familiar ankle twinge and knew I had once again pushed it to beyond its current limits. I hadn't learned my lesson from that painful 16.8K at adidas KOTR. The one thing that made it just a little better was that at NB Power Run, I used a tried-and-tested shoe instead of trying to break in a new pair like I did at KOTR. My Inspire 7's, though more than a year old, were like supportive old friends. Just like they'd carried me through that 21K at Camsur, they carried me through the 25K to the finish line in 2 hours and 27 minutes.
Receiving that beautiful finisher's medal made me feel a little less silly for attempting the distance. There was also little to no muscle pain immediately post-race and I felt positively perky and energetic. (DOMS happened the next day, but it happens with any long run.)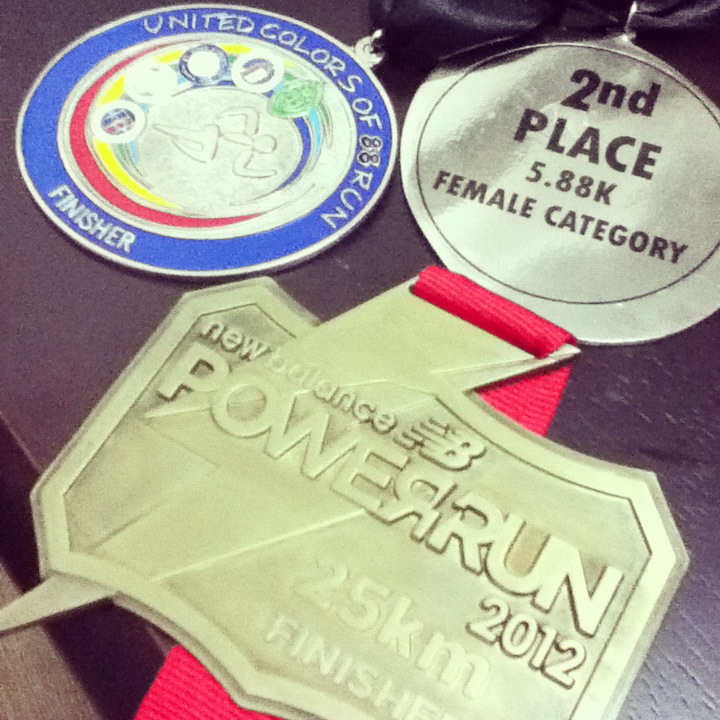 weekend medal haul
Race in Review
Route: The first 10 kilometers was rolling but the downhills were longer, which contributed to our fast times. Good thing we paid attention to the route graphic before the gun start, because we learned that the Bayani Road section (part of the original race route) had been eliminated and we'd be running a longer distance on Buendia. Some people who didn't know about this change conserved their energy along Buendia, so when they crossed the finish line nabitin sila. Mental note: never ask an ultrarunner if the U-turn is still a long way off. It's all "near" to them. 😉
Traffic Management: The directional signs and marshals were great inside BGC, although when we took Kalayaan Flyover into Makati territory we knew we'd face some angry and hurried motorists. I took the little stops as rest breaks; the only time this was a bummer was when I was feeling good and going fast, so I lost momentum.
Hydration: Stations were long (about 6 tables long) placed well, and the hydration staff were very helpful, telling approaching runners that water was on the first few tables and sports drink was at the end table. I loved the waste meshes you could shoot your used cup into.
Package: The NB runner's shirt is eyecatching and distinctive. Just yesterday I spotted someone wearing it in a mall from about 100 feet away and knew immediately what the shirt was. The results based off the B-tags were available within 3 days, just as expected from a Runrio race. And yes, that medal with a lightning bolt design is so worth running 25K.
Thank you Kuya Kim for the race kit and opportunity to run this race. I give this race FOUR-AND-A-HALF KIKAY PINKIE FINGERS out of FIVE.