When I was injured on July 2, I knew the 35th Milo Marathon was on the 31st, only four weeks away. I decided that if I recovered well from my injury, I would join the support station Takbo.ph always sets up. It would be a way to thank the Philippine running community for the support they've always shown towards me and other runners struggling to get through the 42.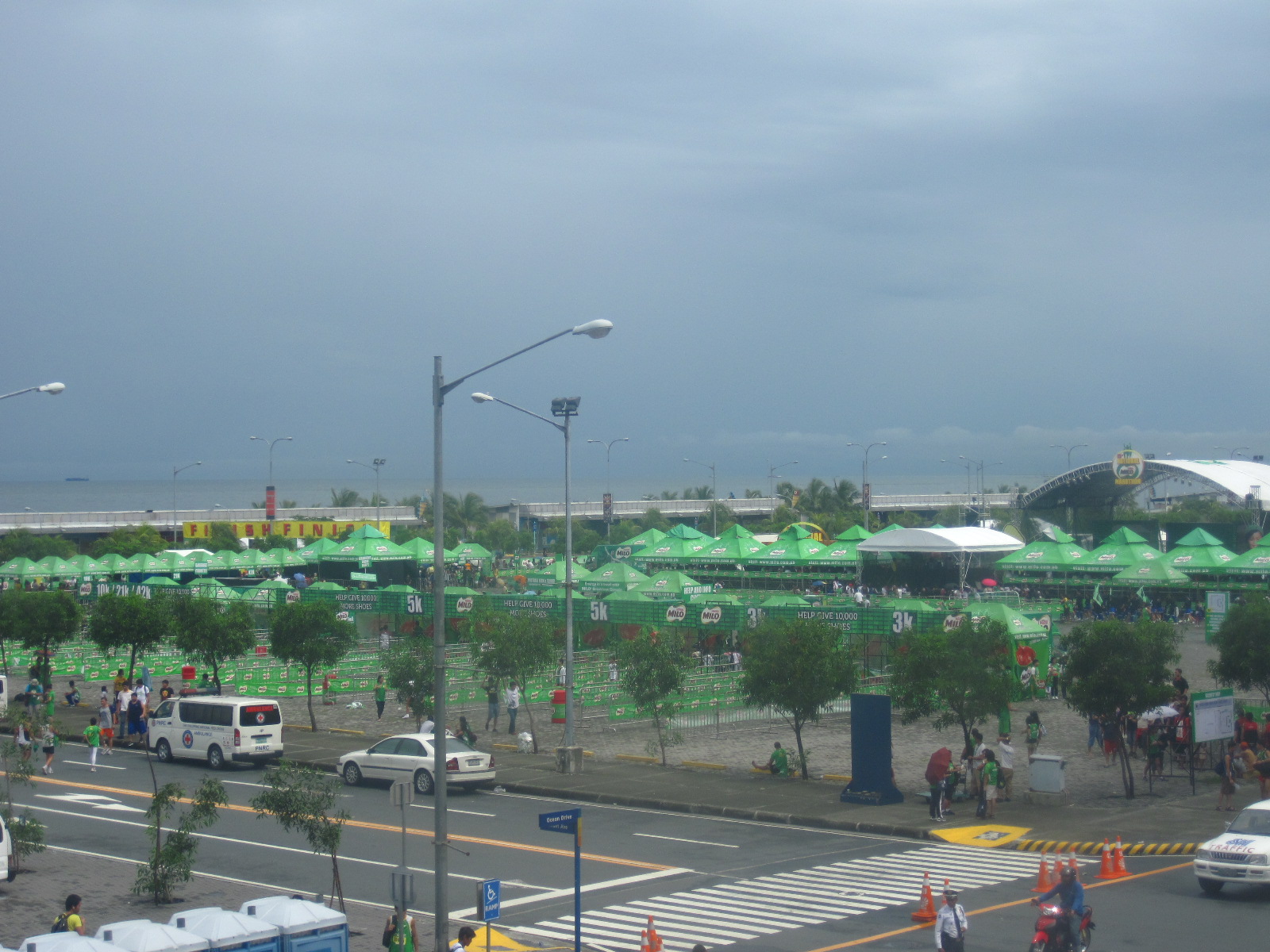 A sea of green beside the sea.
When that Sunday dawned, it was one hell of a run. In stark contrast to their sweat from last year's heat and humidity, runners were drenched in constant rainfall that soaked them through to their socks.
This calls for John Lloyd and a Sun Dance.
I thought the plans for the support station would be abandoned due to the weather, but lo and behold, at 4 AM members of Takbo.ph and sub-group Hang Out Buddies were standing under umbrellas, shaking pompoms, and cheering at the top of their lungs. Having been on the receiving end of such efforts, i knew how much even just a smile and a wave would mean to a runner under normal circumstances. Our cheers would be even more important in these conditions.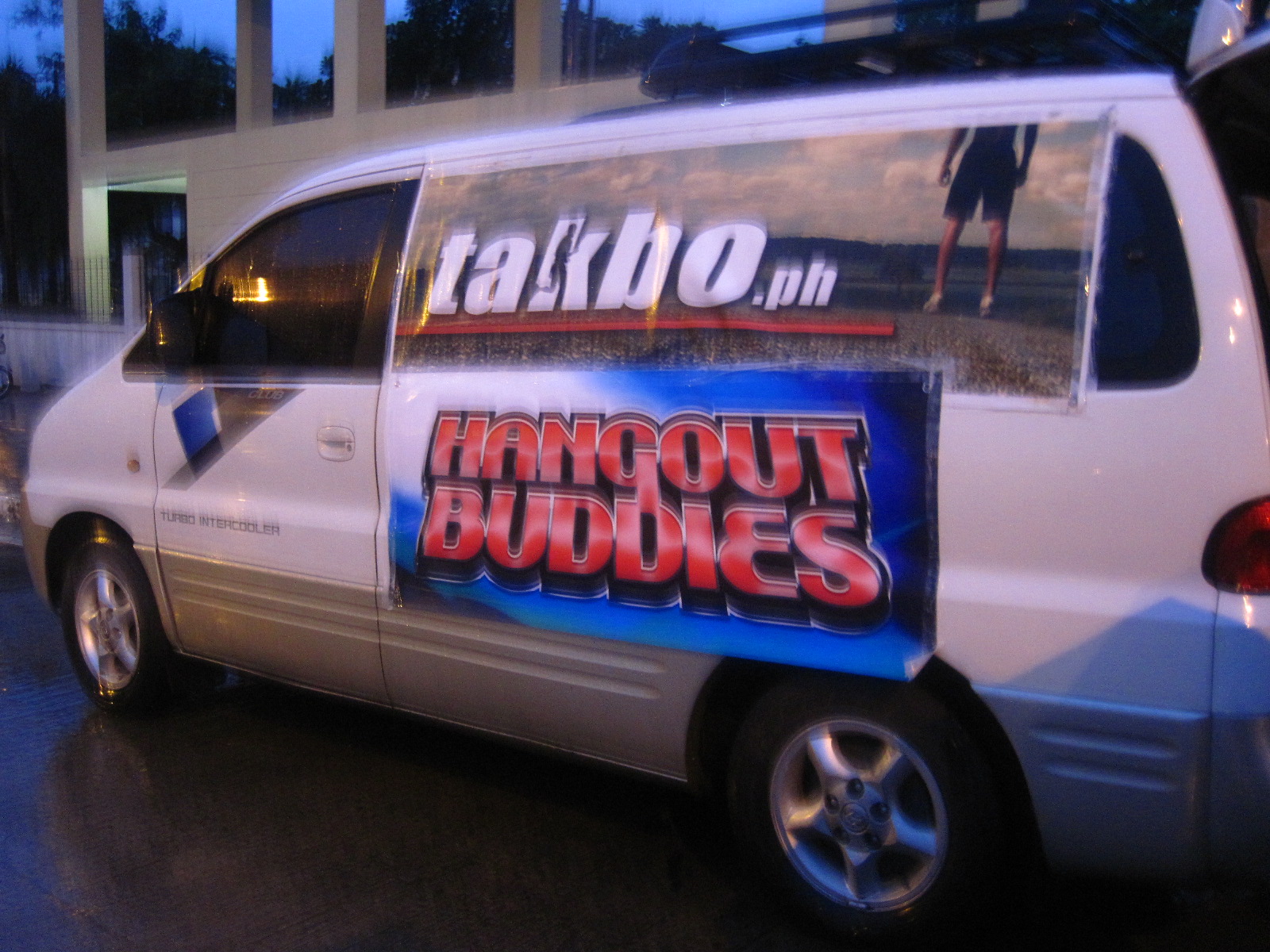 Rain or shine!
We were stationed at the corner of CCP and Buendia, where the 10K, 21K, and 42K runners would pass twice on their out-and-back routes. (In case you passed there and didn't recognize me, I was wearing a white-and-blue Mizuno jacket, shorts, a cap, and was standing under a giant red umbrella.) We had bananas and boiled eggs to be distributed to 21K and 42K runners, with some of us willing to act as masseuses and rub liniment on cramping runners' legs. I still don't know how we managed to keep the energy up for that amount of time; I didn't even feel the time pass by until we saw the RunRio crew start packing up the cones.
For the marathoners, a six-hour cut-off was in effect. But when one guy wearing a RunRio shirt started folding up the directional signs at 9 AM, we protested, telling him, "Leave that sign up until the cut-off time. What if runners miss this turn because the sign is gone?" There was also a temporary hole in traffic marshalling as the Roxas-Buendia flyover was reopened to traffic. Due to the lack of cones, two taxis almost drove into Buendia ilalim at full speed, where dozens of runners were still plodding along. I knew how important it was to protect the runners, who would be tired and a little bit disoriented. We chased those cabs down right alongside the policeman who should have been on top of the situation. Thankfully after that incident the police and marshals took control of the traffic, and it didn't happen again.
Running a race definitely gives me a sense of accomplishment. But you know what? Being part of a cheer & support crew at a race like this — so important to many runners — gives me a different kind of high. We didn't get any material thing out of doing this, but I will tell you seeing the smiles of runners and seeing them perk up and pick up their pace after passing our station was worth the sore throat and stiff legs. Try it some time, and give back to the community!
You get a smile, a cheer, and a picture (hopefully).