I thought that I wouldn't be able to join this year's TAKBO.PH Runfest, which was the second edition after last year's successful event. Right after my injury I was demoralized and couldn't even consider running any sort of distance. But when the cast came off and I started rehabbing my elbow, I felt that familiar itch, and after running about during Tri United I was positive I could handle a 5K run.
Unfortunately, I hadn't registered for the Runfest, so I was thankful and delighted that Powerade sponsored my race kit.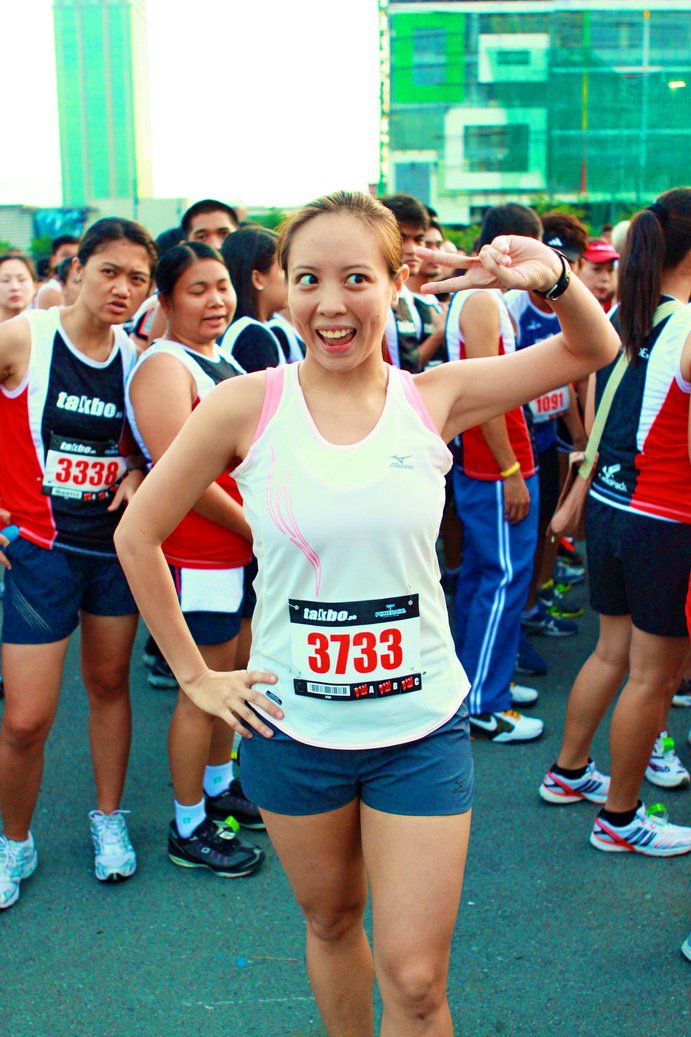 I'm back!


I was glad that Powerade (and Viva Mineral Water) had continued to sponsor the Runfest's hydration needs. It was one of the things that had made last year's Runfest such a success, since there is always plenty of Powerade and water at long hydration tables, and a bottle of cold Powerade awaits at the finish line. (Two bottles, if you make pa-cute to the models manning the table. Hee hee.)
I went into this 5K race after a two-week layoff. Although I'd had some aerobic activity at the gym using a stationary bike and elliptical trainer, that was only once the week before. I had swum twice the week before the race, but that only resulted in me being slightly sniffly with a cold during the race itself.
Obviously, this year I wasn't as fit as I was last year, so I relied a lot more on hydration just to keep me motivated and to keep my legs going. My strategy was basically just to make it from hydration table to hydration table, where I would take walk breaks and assess how I felt. I mean, I didn't want to get sidelined again just as I was coming back.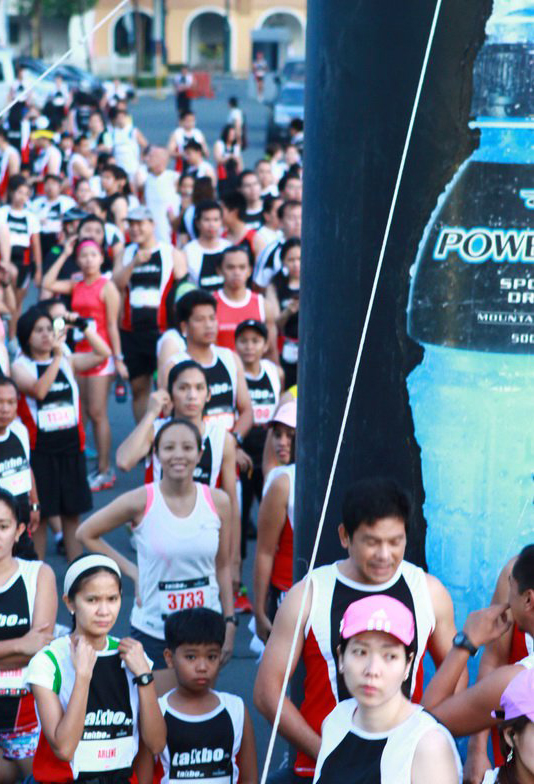 Looking forward to a good run
Well, I survived the 5K, although it is my slowest since my recovery run from my first marathon last year. My elbow felt heavy and I couldn't really swing my arms (in short-distance races, upper body rotation and arm swing contribute a lot to speed), but my legs felt good and it was just great to sweat again. And at least, with Powerade in my tank, I got that energy boost I needed to get me across the finish line. I was surprised when they told me I was the 5th female to cross.
I spent the next two hours chatting and getting photos taken with TAKBO.PH friends I hadn't seen in a while (three weekends is an eternity in the running world!).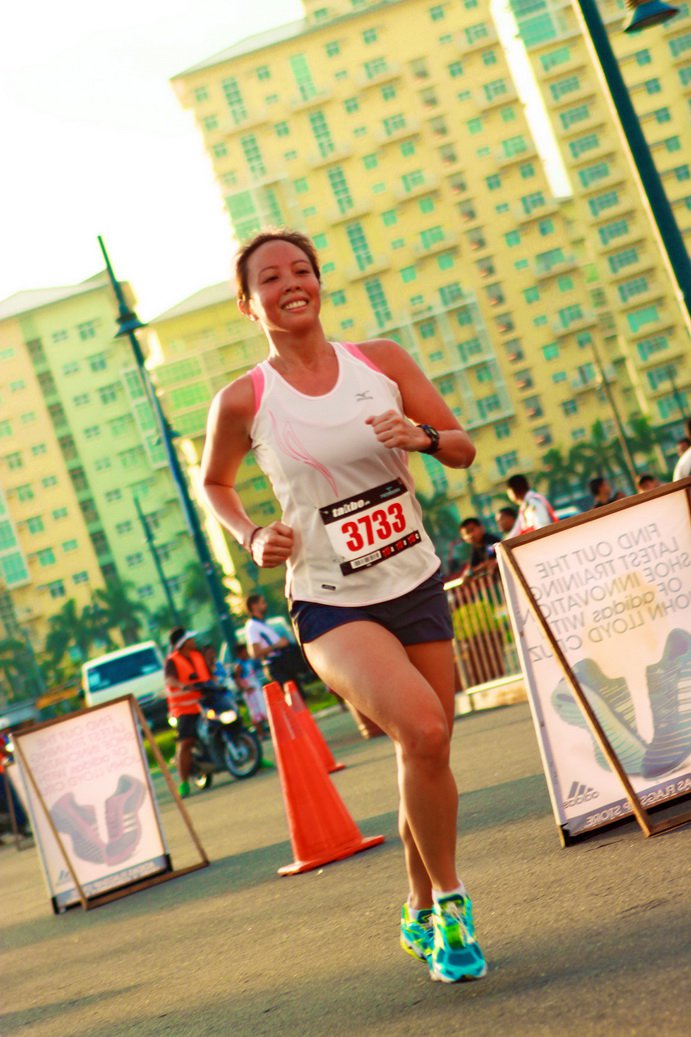 Sprint to the finish
Race in Review
Route: The 5K was simple enough, with a loop around Home Depot, British School, University Parkway back to the staging grounds behind NBC Tent. It was last year's route with a few embellishments thrown in, such as the newly opened road beside the University Parkway. I liked that I didn't encounter too many 10K runners as I headed back into the corral. As a matter of fact, as I entered my chute, the first 10K runner was being escorted to the finish. The new race distance of 16K also split the attendance further (for those long-distance addicts), leading to a less jampacked experience for all.
Hydration: Like I said earlier, Powerade was the hydration sponsor. I liked the fact that they used small paper cups and only filled them partway so there was less waste (less spilling, more drinking!). The hydration marshals were also very proactive about cleaning up used cups even as the race was ongoing. Hopefully the cups went to a recycling plant instead of a landfill.
Package: Early registrants had personalized bibs. All participants got the latest TAKBO.PH singlet and a race band (a D-TAG!) for timing purposes. And each finisher had a beautiful souvenir commemorative medal which shows the distance you ran. And the post-race ceremony was, of course, full of the trademark TAKBO.PH hijinks — we couldn't do without those!
Freebies: there were free Summit Media magazines (Men's Health, Women's Health, Runners' World) and free samples of Rogin-E. Participants were disciplined and patient enough to fall in line for their freebies (if they wanted them).
I loved making my comeback at this race event which means so much to me. (It's my running anniversary race!) It was wonderful to get such a warm welcome. Thumbs up to Leadpack for a well-organized race; I couldn't have asked for anything more. I give this race FIVE KIKAY PINKIE FINGERS out of FIVE!
photos by KB Photography
*This is a sponsored post for Powerade. View my disclosure policy.