I'm very careful about my running gear, so I only wear my running shoes during a run. After I'm done, I always take them off to allow them to breathe, and I slide on a pair of flipflops to allow my feet to breathe as well.
Of course, being Kikay Runner I'd like to be stylish even when I'm not running; flipflops may be comfortable, but they're not the most flattering footwear. When I attended the launch of the Ipanema Gisele Bundchen Hot Sands collection two weeks ago, I received a gift certificate to redeem a pair of my own.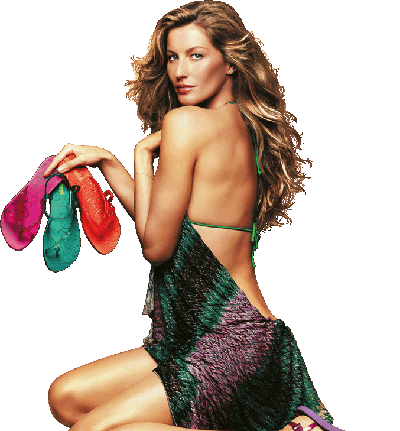 If these will make me look like her, why not?
There are different styles to choose from: flat thong, wedge, and a sandal with ankle straps. I chose a brown-and-gold combination, which matches most of my existing wardrobe.
I've been wearing my Hot Sands flat thongs the whole week: walking around after the weekend's race, attending blog events, going to the supermarket, or shuttling between the gym classes that I teach. They're really comfortable but don't make me look as if I've just stepped out of the house. They're also priced competitively with other high-end flipflops. But what I really like about my Hot Sands is they make my well-worn, veiny, callused runner's feet look pretty. Ü
Liked this post? Share it!