I almost didn't make it to my 10K at Run United 1. Given my enthusiasm for my upcoming SuBIT triathlon, I fell prey to the worst thing to happen to an athlete aside from injury: overtraining. After a nasty headache, a running nose, a low-grade fever, and fatigue leading up to Sunday, I was glad I'd only signed up for 10K. And since I still wasn't feeling 100 percent, I downgraded my ambitious goal from "set a new PR" to "finish under 50 minutes". It took the pressure off and set me up for a fun time on the race course.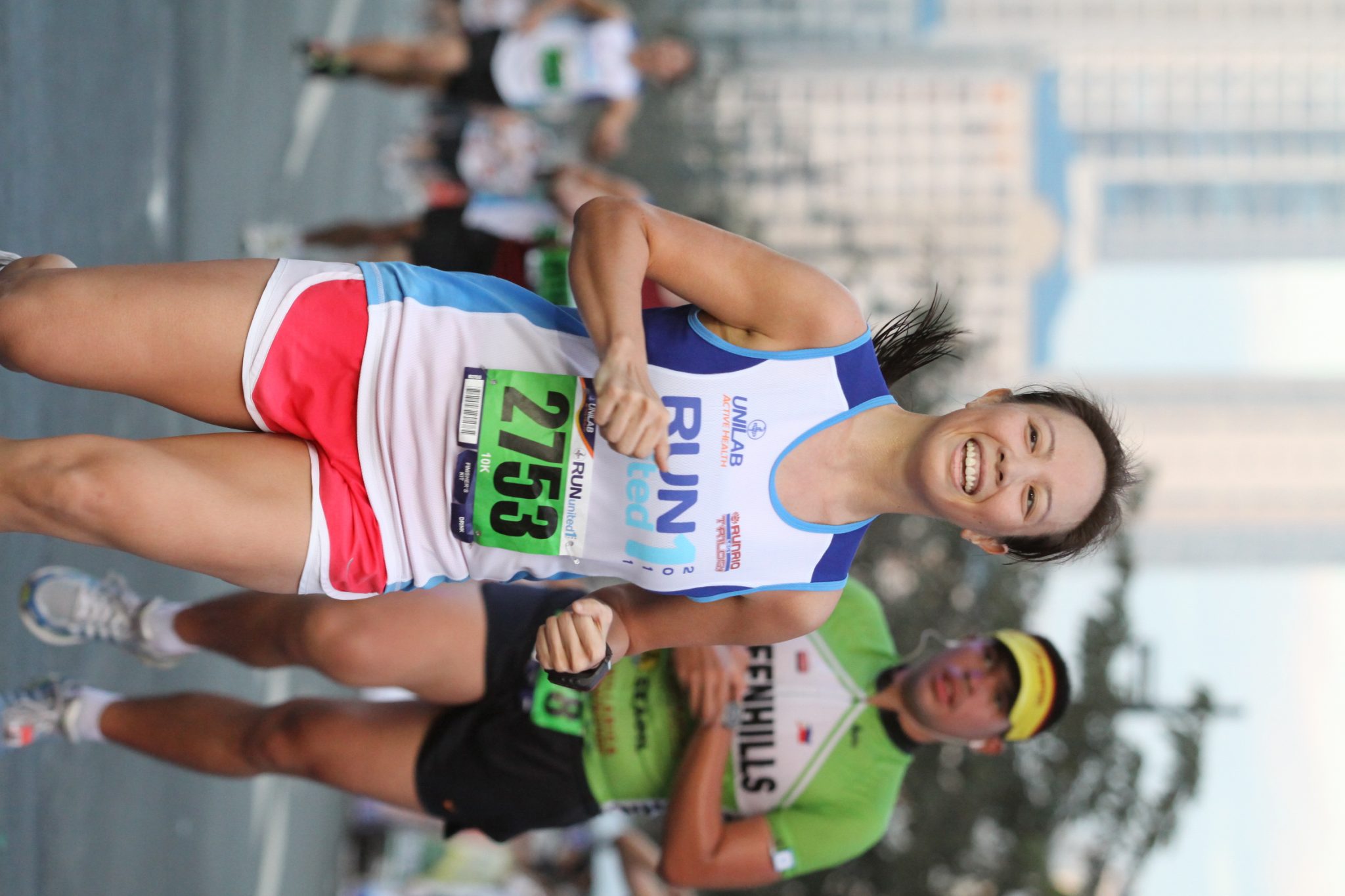 I was just happy to be there.

Given my 3rd-place finish last year, I really wanted to defend the title as well. So, I thought, I'll do the best I can and stay with the lead pack, but getting third place would just be a bonus if ever. (Yes, you can call me ambisyosa.)
With so many long-distance races in my recent memory, the 10K went by quite fast, even if I had to slow down and weave my way through the tail end of the 21K, which had been sent off late. When the 21K diverged from our course, and I saw how many 10K runners were actually ahead of me, we were already beyond the halfway mark. I knew the lead women were many minutes ahead of me when I couldn't see a single one of them. And then, I was done!
Not a PR, but a good race.
As I crossed the finish line one of the marshals asked for my name, and when I asked which place I was in, they answered that I was the fourth female in the 10K. Yay!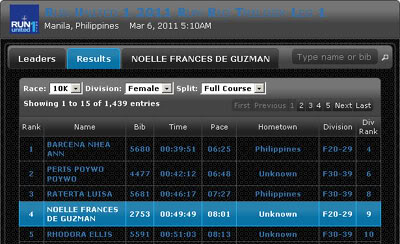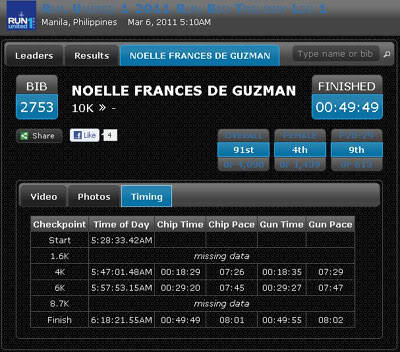 results and analysis by BazuSports
One of the charms of running a shorter distance is there's a lot of time post-race to enjoy the festival area. Sadly, I only had enough time to claim my Unilab ActiveHealth finisher's kit, change my shirt, and have a quick breakfast with my family before I had to leave to make it on time for a fitness workshop at 9 a.m. I missed seeing Rovilson host the post-race program and finding out that my co-worker Michelle Estuar won first place in the 21K. (And she showed up to our fitness workshop that same day too. Lakas talaga.)
Race in Review
Route: I can hardly remember where we passed; it was all such a blur trying to overtake runners, maintain speed, drink water, and then all of a sudden I was at the finish line. What? But it was a good mix of flats and rolling terrain. It had rained the previous night so there was a lot of moisture mixed with the asphalt. Kudos to RunRio for doing the prep work filling up potholes with sandbags so we didn't have to sidestep them or inadvertently fall into them. There should have been just a little more time between the release of 21K and 10K runners. Since we had to share a majority of our route with the tail end of the 21K, it was quite difficult to run at top speed.
Hydration: Since I was running only 10K, getting a cup of Powerade between my lips wasn't very important; water would suffice. (It's a different matter when the distance is longer, though.) Quantity was good; I skipped two stations towards the end of the race since I still felt OK to go on. It was difficult to determine if I was grabbing water or Powerade since the Powerade was randomly dispersed on sections along the long water tables. Perhaps Powerade should be towards the end of the table, and water at the beginning? But at least it was Powerade! Yum!
Package: This race heralded the start of RunRio's use of BazuSports rather than RunPix as the results analysis provider. (You can check results on the Unilab ActiveHealth website.) It's a different interface and we don't get the RunPix graphical representation of where we were on the race course, but BazuSports published the results in near-real time, automatically matching your profile with photos taken at the time you crossed the finish line. There are still some kinks to work out with BazuSports (it renders pace as minutes per mile rather than kilometer, and sorts age group ranking by chip time rather than gun time), but it looks more efficient.
Freebies: I wish I could have made use of the Unilab ActiveHealth Village post-race! There were freshen-up booths, massages, food sampling, fun games and demos…
As the first leg of this year's RunRio Trilogy, Run United 1 was a good start, introducing some innovations that will become standard in future RunRio races. The experience wasn't as smooth as last year's Run United 1, but it was definitely better than the Century Tuna Superbods Run (last year's RunRio Trilogy Leg 1). With 12,500 runners on the road for Run United 1 there were bound to be a few hitches, but nothing that can't be smoothed out. I give this race FOUR-AND-A-HALF KIKAY PINKIE FINGERS out of FIVE.
Liked this post? Share it!