The Men's Health Urbanathlon was a step into the unknown for me. While I've had my share of unconventional running activities (the stair climb challenge up the Enterprise Center springs to mind) and dirty trail runs, I still had never run a course like this. The only preparation I'd done was wear black so I wouldn't look too dirty at the finish line.
Since I had received my kit before additional registrants were accepted, I belonged to the second wave of 10K racers. Late registrants comprised the first wave and started first. Coming up to the start chute I couldn't keep my eyes off the eight-foot wall we would be scaling on our way back to the finish line. *gulp*
After a 20-minute wait from the first wave, we started out. Normally people sprint the first few hundred meters, but barely beyond the start we encountered the first obstacle: the tire dump. I'd gotten into the lead pack for the second wave so I didn't have to queue up and wait to tackle the tires. Very quickly we were clear of them and running to meet the second obstacle: the balance beam.
Initially I thought the beam would be flat on top and easy to walk, but I soon found out these were round beams. I fell off twice and had to return to the beam in the exact spot I'd fallen from so I wouldn't be penalized.
There was a long stretch of road between the balance beam and the next obstacle, so I enjoyed being able to pick up my pace and pass a few more runners. I was always on the lookout for female runners and would always try to pass them if I could. Since this wasn't a money race (no cash prize), the local elites and Kenyans hadn't shown up, so I had a very real chance of winning. Also, still ringing in my ear was a phone call I'd gotten while preparing for the race. "You better win," my caller had said.
It was then I became aware of a motorcyclist just keeping alongside me. I knew there were more women ahead of me, particularly in the first wave, so I thought he was a marshal on his way to escort the lead female. As the motorcyclist-marshal stayed with me though, it slowly dawned on me that this was my escort. Huh?
We arrived at the scaffolding maze, which was really just garters tied from metal frames. It was fun bobbing and weaving through them; it made me feel like Catherine Zeta-Jones in "Entrapment" when she had to slip through a maze of lasers.
After a few hundred meters, it was time to jump over some hurdles! I'd seen photos of them and to be honest this was the part I was scared of the most, next to the wall. I was afraid that as I jumped over the hurdles, I might catch my foot on them and tumble headfirst to the ground.
To my surprise it was quite easy; all I had to do was plant my right hand atop of a hurdle and swing both legs to my left side and over it. The last hurdle was the tallest, and this was the one I had to take one leg at a time, but I made it.
The difference between the 10K and 5K routes were that there was more distance to cover between obstacles. Now was the time to go for it with the run, since the last two obstacles were within two kilometers of the finish line. I had five kilometers to edge out any remaining female competition.
photo by Marco Montaos
With the roar of the marshal's motorcycle constantly in my ear, I locked onto the stronger male participants and tried to keep pace with them. It's not for nothing I say I chase the boys when I race; the fastest female finish times in the world were achieved with the help of a male pacer.
My friend Mr. F says I'm like the Terminator when I run — I'm very serious. It's true especially when I'm gunning for a win. But every so often, someone would yell "Go Noelle!" or "Go Kikay!" and it would really bring a smile to my face. The marshals were also familiar faces from Takbo.ph, so it was such a happy sight to see them. These lifted my spirits even as the lactic acid started making my legs heavy.
As I was running, another motorcycle came alongside me. It was Ian Alacar, one of the organizers of the race. He said, "For the record, the lead female from the first wave is 200 or 300 meters ahead." I tried not to celebrate too early, since there was still more distance to cover; instead I prayed for no injuries or mishaps to occur.
And then, finally Ian said, "She's right in front of you. Pick up the pace." This really fired up my competitive drive, and I was able to surge ahead and lap the first wave lead!
But the race wasn't over yet. I came to the most un-kikay obstacle: the low crawl. It was situated in a field, and the ground underfoot was muddy. While crossing towards one of the two crawl spaces, I landed my foot in a huge mud puddle. This was the obstacle where I lost my poise and scrambled just to get through it.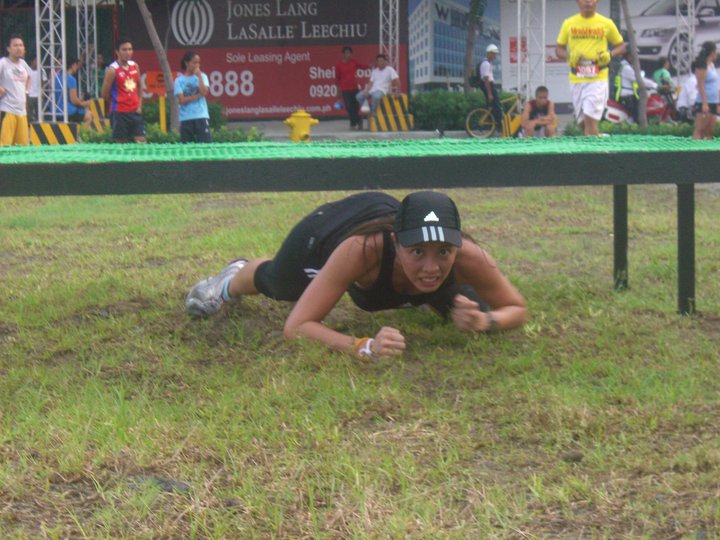 photo by Zaldy Santillan
After that there was a bit more of a run before the last obstacle. I already knew I was in the lead, but deep in the pit of my stomach I knew the Wall could make or break me. I'm scared of heights and I've never swarmed a wall that high. It took two attempts (and a marshal pushing me up) to get atop the wall. And then, I was stuck. My abs were cramping, my legs and arms were cramping, my mind was blank and all it could do was scream silently: "How do I get down?!"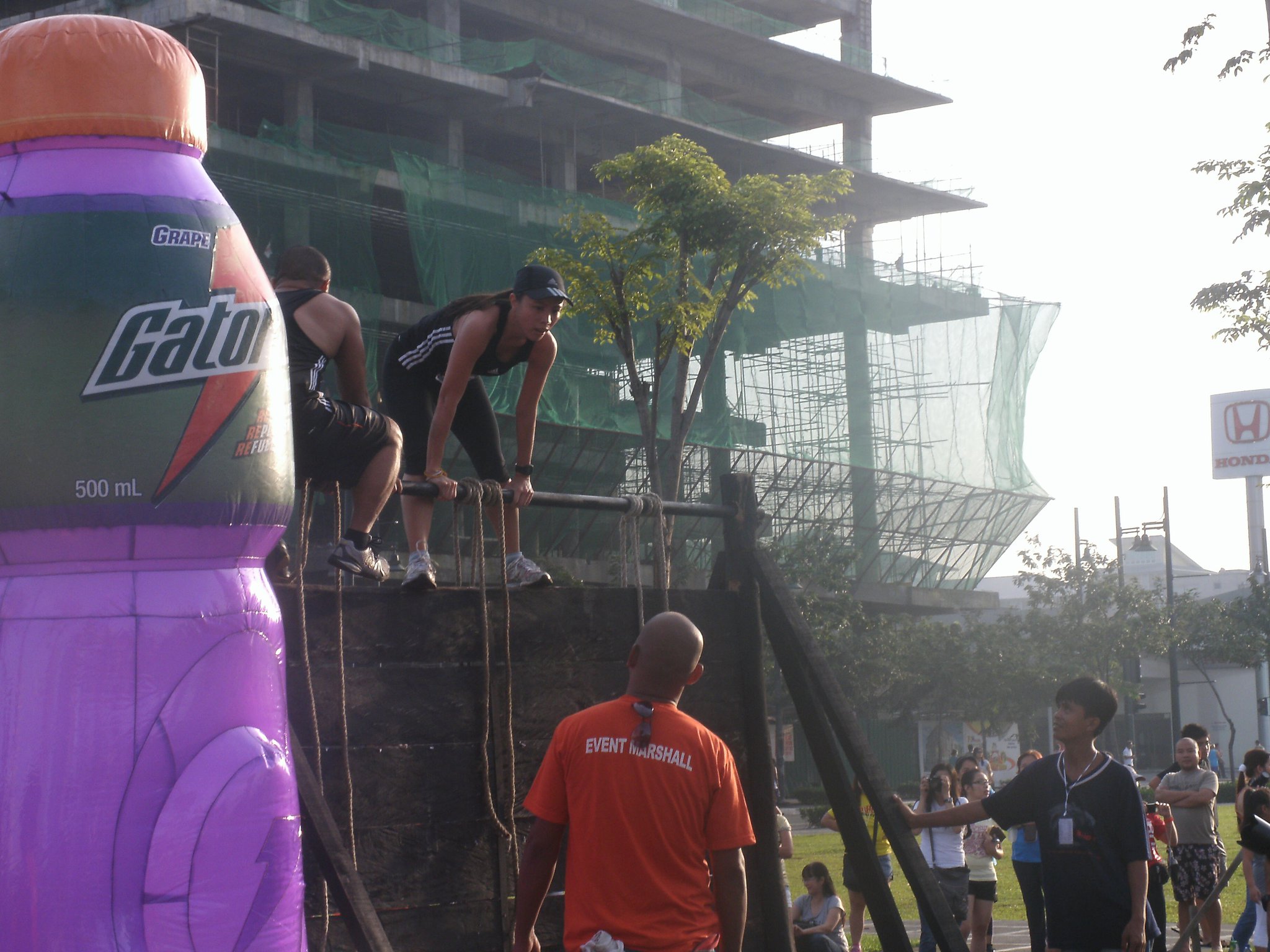 photo by Jason Masayon
Slowly, I brought one leg over, turned around and brought the other leg over. Now I was facing the wall, but didn't know how I'd bend down and reach the rope so I could climb down. Suddenly, I let go and was falling. I saw the ground rushing up to meet me.
BAM! I landed on my feet, stunned but uninjured. It took a second for my brain to process that I was all right and good to run, but when I finally realized it, I sprinted those last meters to the finish.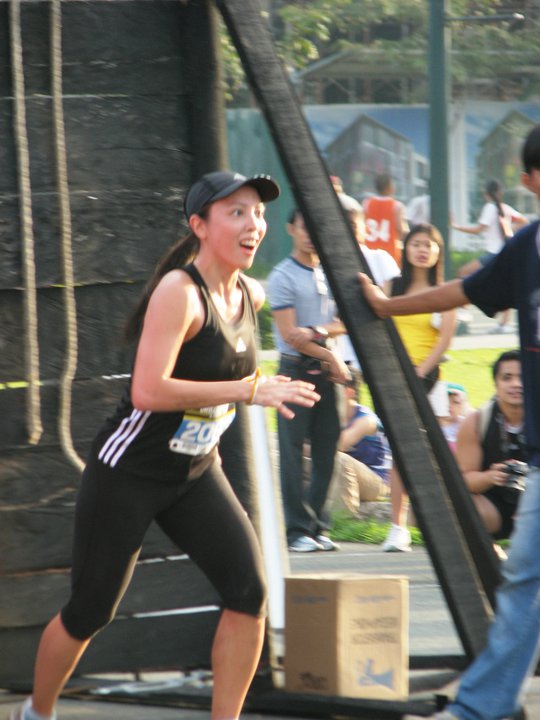 photo by Mark Alano
When I looked at the race clock, I was stunned. I'd finished the course in a little over 50 minutes? I was unofficially the first female? Even as I gave my full name to the finish marshal for verification, I held back from celebrating. Instead, I went through my regular post-race rituals, washing off the mud with water from the fire truck shower at the finish and changing into some dry clothes. I still had RunnerSpeak duties to perform, like interviewing Men's Health editor-in-chief Agu Paiso.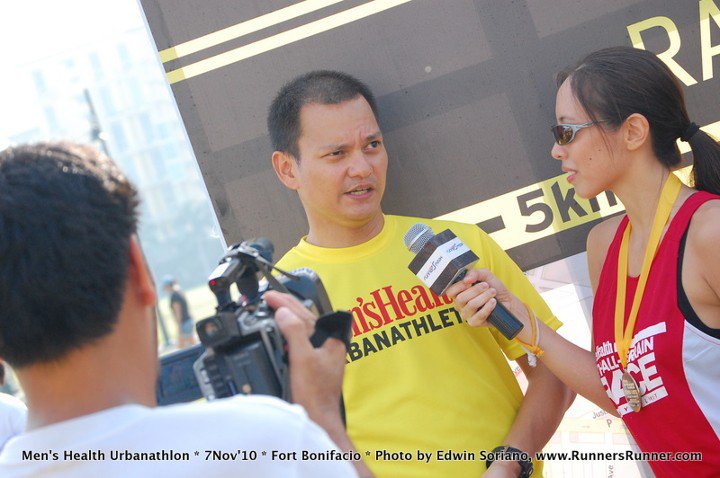 photo by Edwin Soriano (Runnersrunner.com)
I also wolfed down the breakfast provided by Century Tuna and wandered the festival grounds saying hello to friends. It was only when Boom Gonzalez, the host, called me to the stage to accept my prize that I could say definitively that I'd won the race.
photo by Vans Camannong
Many thanks to those who encouraged me and pushed me to win all throughout: my early-morning caller, my friends participating in and marshaling the race, Ian, etc. I'd never felt my killer winning instinct surface as strongly as it did during the race. I guess now I know how a Kenyan feels!
Race in Review
Route: This was quite a contained route for a race, making use of peripheral roads around Bonifacio High Street. Still, there was no sense of boredom because an obstacle was always just around the bend. As expected, logjams and long queues formed because runners were forced to slow down and go through the obstacles one at a time, but marshals did a pretty good job of managing the traffic flow. If you really want to avoid these queues, overtake, overtake!
Hydration: Initially I was concerned about the short length of the water tables provided by Manila Water. When I came upon the Gatorade tables, though, my doubts about hydration vanished. It was a well-hydrated race with tables conveniently located, especially at the finish line. My only wish is that the people manning the tables would stop overfilling the cups to the brim. It causes wastage because it's difficult to drink all that in one go.
Package: This race promised to offer a different challenge to runners, and it sure delivered! I enjoyed the obstacles, in a masochistic kind of way. Although I didn't wear the race singlet, most participants did; the eye-catching yellow color was all over the route and the festival grounds. Claiming the delicious and filling Century Tuna and Gatorade breakfast was very easy after exiting the finish chute.
The Men's Health Urbanathlon was an excellent and fun way to break up the monotony of running road races. Even though it was the most un-kikay I've been in a race, I didn't mind at all — I loved getting down and dirty! I am all praises for the organizers, Leadpack and Summit Media. I give this race FIVE KIKAY PINKIE FINGERS out of FIVE!
Liked this post? Share it!