When the registration for Adidas King Of The Road opened a few weeks ago, I thought that the P850 registration fee across the three race distances (5K/10K/21K) would deter many from joining. It turned out to have a surprising result in which distance category would fill up first.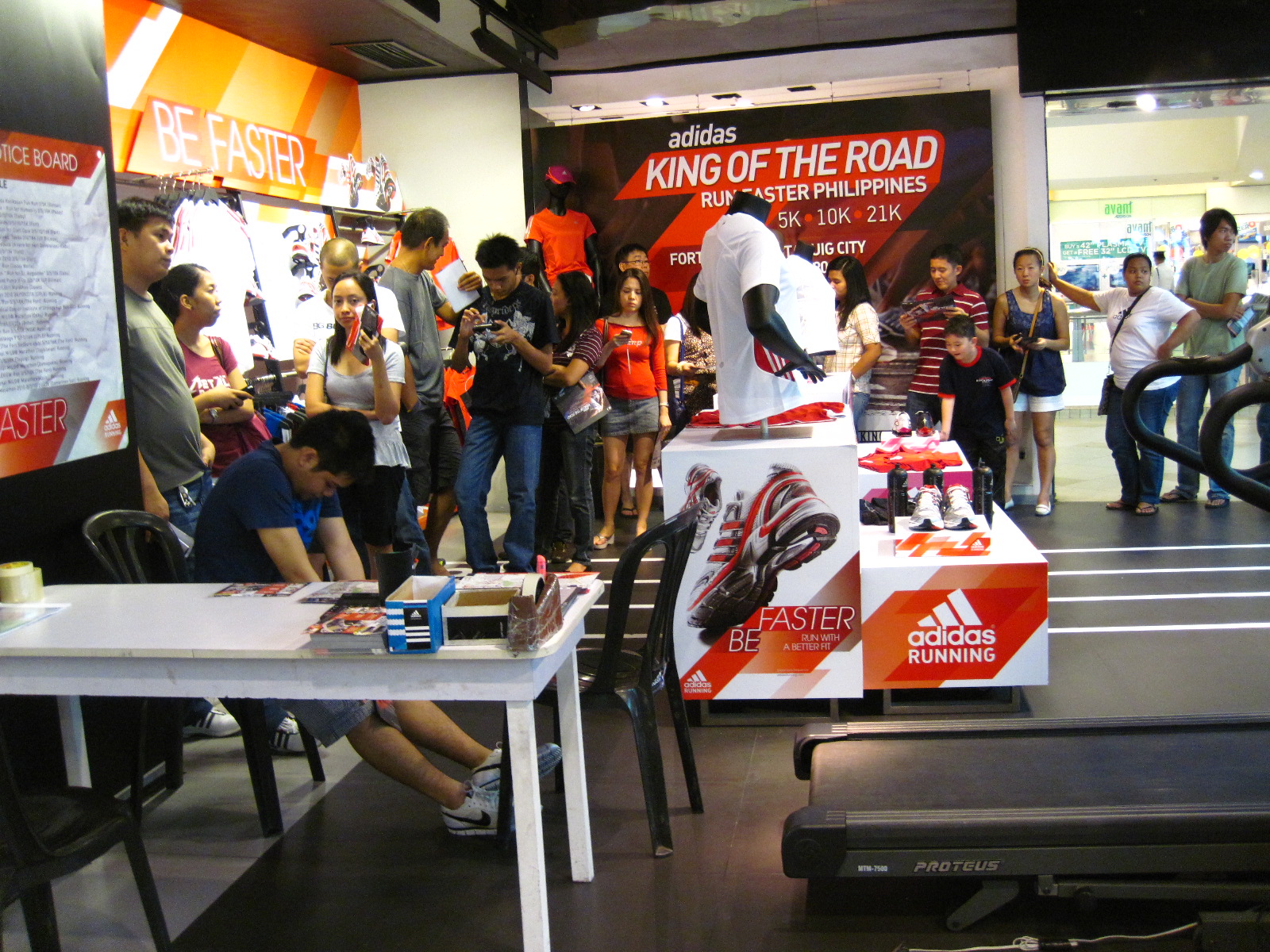 the third day of registration
I dropped by the Adidas store in Trinoma to help my sister get her race kit (since she's an adiNation member and had more than 11 stamps on her aNR card, she was entitled to a free kit), and we were surprised to find out that the store had many kits for 5 and 10K, but only 5 kits for the 21K. My sister's registration wasn't affected since she had chosen to run 5K, but she did snatch up the last women's singlet sized XS. And this was only on the third day of registration!
By middle of last week I was surprised to find out the 21K slots had all been taken, and the only singlet sizes still available were L and XL. Or maybe I shouldn't have been surprised. After all, KOTR is one of the most-awaited races every year. Actually, the only surprising part was that there were still plenty of 5K and 10K slots.
Perhaps a lot of people chose KOTR to make their half-marathon/Pikermi debut. Perhaps many chose the 21K because it included a finisher's medal. Due to the flat registration fee, the 21K was also the cheapest distance (pinaka-sulit) if cost per kilometer were computed. Whatever the reason for the upsurge in 21K runners, I do hope that each and every one of them have prepared for what is considered a challenging distance. I've only run three 21K races in my entire running career!
Hopefully, their shoes are also up to the challenge. If you find yourself hankering for some new gear, though, Adidas is running their "Refresh Your Gear" promo this entire month of October at participating stores. If you trade in your old (but still usable) athletic shoes of any brand, you can get a discount of P500 off Adidas shoes worth P1500 to P3499, and P1000 off Adidas shoes worth P3500 and above. Just in case you're thinking of using your new shoes for the race, though, make sure you've broken them in well.
See you on the road!
Liked this post? Share it!