At the Globe Run For Home 2010 all my usual race practices were turned upside down. As pacer to Rico and friends, I had to maintain a pace that would bring them home around 2 hours and 20 minutes after the 21K start. We also positioned ourselves about 10 meters away from the front of the pack at the starting line, which is something my competitive self doesn't like doing. However, the camaraderie with my Takbo.ph friends was more than enough to tame the beast. I settled back to enjoy the race for what it would be for me: a long run as part of my Milo marathon training. It would be an easy race where I could actually stop and smell the flowers, literally and figuratively.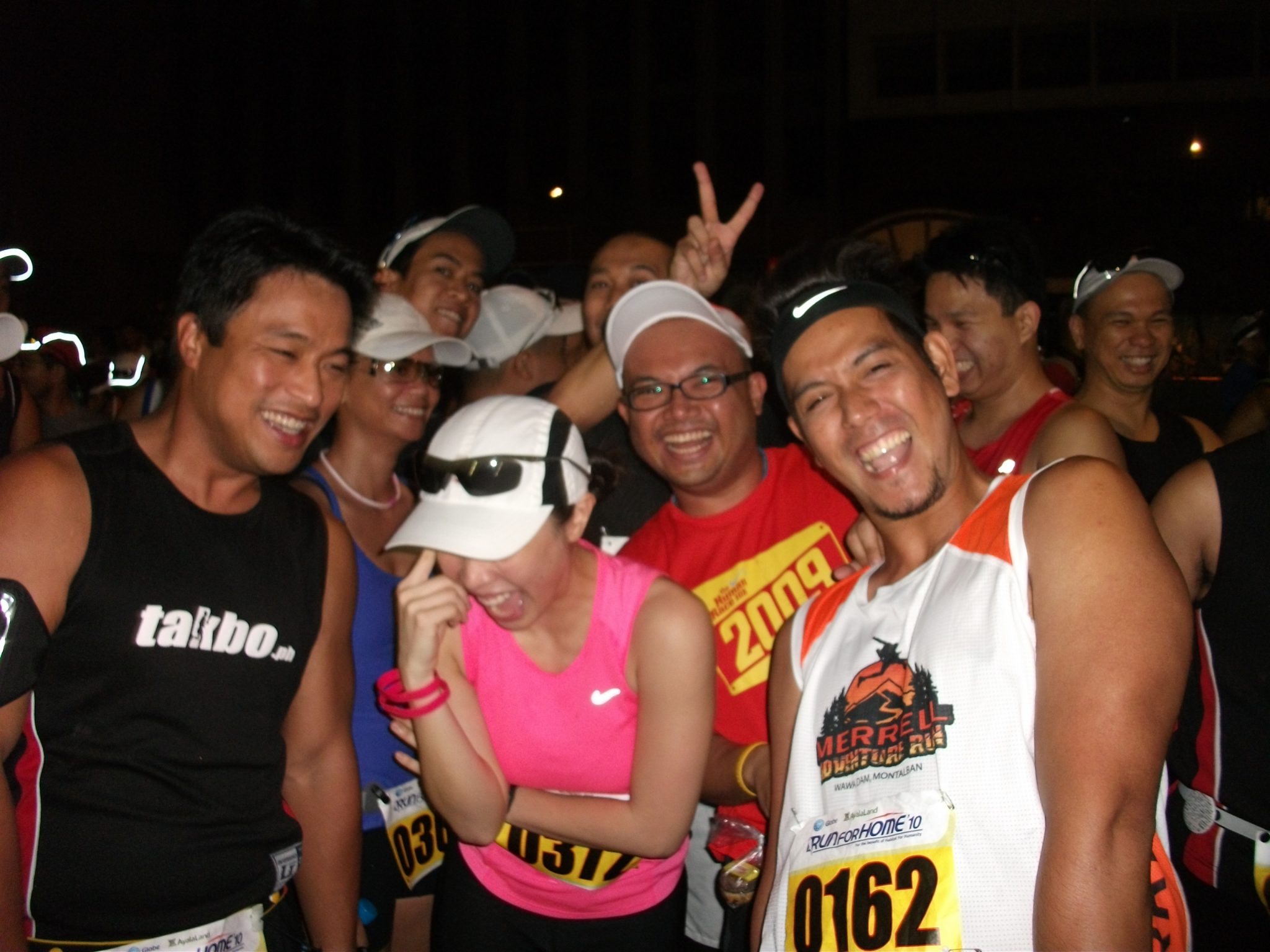 These guys are funny.
A New Route
The first part of our route wound through Greenbelt, taking us through two tunnels before releasing us back onto Makati Avenue on our way to the Kalayaan Flyover. I've never been on foot through that area of the Ayala Center and have never run through the Makati Central Business District before, so it was an exciting part of the route. Too bad Kiko was freaking out because of all the tall buildings, which messed up the GPS signal. In comparison to the kilometer markers along the route, Kiko's readings were off by at least 400 meters.
Tackling Kalayaan Flyover from the Makati side was easy, particularly since we had fresh legs in comparison with previous races beginning inside Fort which placed that part of the route at the end when our legs were already wasted. When we reached Rizal Drive, I commented to Sid, "Usually at this point patapos na ako eh." (I would be almost done with my race.) But no, the wonders of Bayani Road and Heritage Park still awaited us.
That was yet another part of the route I would be tackling for the first time. As we entered the cemetery, I jokingly asked Timmy if we had remembered to bring the candles and flowers. "Don't make this your final resting place," I quipped. "Make it out of Heritage Park alive." When we emerged from the cemetery, we came across Sam the Running Ninja, who had decided to DNF after feeling pain in his knee. In fairness to him, he had just finished the Bataan Death March Ultramarathon two weeks prior, so it was a wise decision to let this race go.
Fresh Legs, Bad Pacer
Rico was taking it slow and steady behind me, walking through his water breaks and generally dealing with the route his own way. (Later, he told me that the hilly course inside the park took a toll on him.) While this allowed me sometimes to take walk breaks, use a portalet (yes, I did along Lawton Avenue!), and chat with other friends, my legs began to itch to pull the trigger. I thought I'd killed their urge to sprint by participating in the adidas miCoach launch treadmill challenge the night before. But I had so much energy left over by the time we reached Bonifacio High Street.
Maybe it was the three Gu gels I'd taken over the course of the two hours and ten minutes we'd already been running. Maybe it was me being impatient. Yeah, it was mostly impatience. With three kilometers to go, I left Rico behind (bad pacer! bad bad bad!) and let my legs loose. I practically flew over Kalayaan heading back to Makati. I even sprinted to beat a guy to the finish line. I took those three kilometers in 14 minutes, but it still wasn't enough to match the time we'd aimed for. Finish time: 2 hours, 24 minutes.
I stuck around waiting for my friends to finish. I even managed to get interviewed by the Run For Home website live streaming hosts Chrina and Ryu (you'll find me 1 hour and 54 minutes into the saved video stream on the Run For Home website).
[youtube=http://www.youtube.com/watch?v=DiJFjXVDWPw&w=480&h=385]
Oh, you want to talk to me?
In all it was a race I enjoyed running not because I was aiming for a PR, but because I enjoyed the route and the company (and the race's advocacy). Maybe next time, when I pace someone again, I'll behave better. *wink*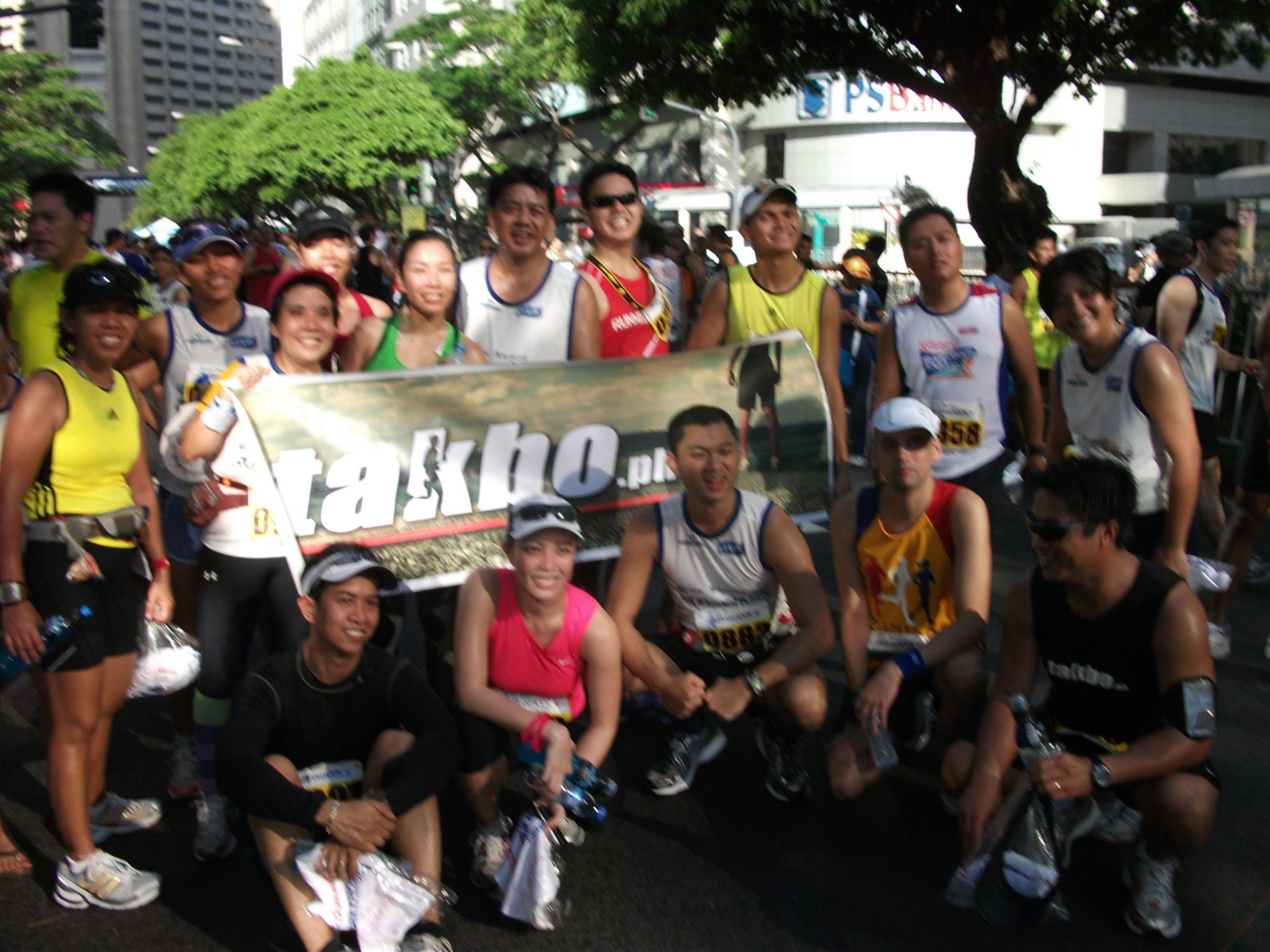 the customary class picture
Race in Review
Route: Big props to Globe and Finishline for coming up with unique routes for this event. It was quite challenging though, particularly for the 15K and 21K runners. The first published version of the routes didn't have Bayani Road-Heritage Park, so the change of routes with less than a week to go before the race irked many who had not trained for the hills. Perhaps a little more lead time next time, guys? And though I don't trust Kiko's distance reading for the route, Google Maps does say it still went over 21 kilometers.
Hydration: A station on every kilometer?! It kind of seems like overkill, but at least no one was dying of thirst. I loved that the energy drink was Powerade, so I could drink as much as I wanted without feeling bloated (I get gassy with carbonated energy drinks). However, there was one water station along Lawton that had no water anymore on our return. Good thing I was carrying a flask of Gu Brew with me, just in case.
Package & Freebies: Once I crossed the finish line a marshal waved us over to the tents on Paseo de Roxas where we were handed bottles of water and Powerade and a finisher's shirt. I appreciated all the items, but will probably never wear the shirt because the fabric is too thin and the fit is loose and nasty (though I'd already asked for the small size). Plenty of tents inside the Ayala Triangle activity area offered free stuff, if I'd bothered to line up for them.The value-added service of the Champion Chip also updating my Facebook status was good, but during the bloggers launch we were led to believe that it would update our status not just at the start and finish, but also when we passed the other waypoint mats. Other people who had added the app and had given the correct info on their registration forms didn't get updates. These are glitches that can be worked on for next time.
Though the provisional results haven't been released yet after 24 hours (unlike at the previous Finishline/Runrio races), I think overall the organizers have done a great job. I give it FOUR KIKAY PINKIE FINGERS out of FIVE. Ü
(Photos from Jazzrunner.)
Liked this post? Share it!