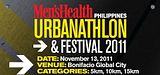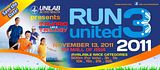 With all the races held these days, runners are spoiled for choice. Usually there are two or three per weekend; maybe one big race and one smaller race.
But come November 13, two of my favorite races from last year will commence on the same morning: Men's Health Urbanathlon and Unilab Run United 3. This really tears me apart because I'm defending 10K (with obstacles) champion at the Urbanathlon, but I also want to complete the Unilab/RunRio trilogy. It's like asking a parent which is their favorite child.
You might also have this same dilemma. Both are great races, each with their own challenges. So, to help you make your decision, I'm breaking down both races in one post. It's Choose Your Own Adventure time!
Men's Health Urbanathlon
Men's Health editions all over the world hold their own Urbanathlons; the Philippine edition always holds their Urbanathlon in November to coincide with the US Men's Health Urbanathlon, which is why they booked the Nov. 13 weekend way in advance.
In its fifth year, the Urbanathlon adds a bit more challenge for hardcore runners looking for more than just a regular race. Aside from the usual 5K and 10K distances, this year there's a 15K distance.
Of course, this being the Urbanathlon, there's a part of the race devoted to overcoming obstacles — literally. This year, there will be hurdles, monkey bars, a low crawl, a scaffolding maze, an 8-foot wall, and maybe a surprise obstacle depending on whether it's safe and large enough to bear the targeted number of runners.
Race Categories & Prices: 5K (P750), 10K/15K (P800)
Registration Venues: Crossfit MNL Eastwood, 360 Fitness Club Ortigas & Makati, Bike King, Fitness First Mall of Asia
Registration Dates: Sept. 16 – Oct. 16
Expected # of Runners: 1,600
Wow Factor: Finisher medals with the 2011 Urbanathlon ID lanyard, fun yet challenging obstacles
Unilab Run United 3 (RunRio 3)
Being the culmination of the RunRio Trilogy, Run United 3 promises to be a big affair. With seven race categories and a massive target number of runners, the Mall of Asia complex is its new home.
We've come to expect certain things from RunRio and Unilab races: timing chips, running photos, finisher medals, exciting post-race activities, loot bags… By this third race, Coach Rio is looking to smooth out the kinks of mounting a big race.
A majority of runners sign up for the 3K and 5K and it's usually my complaint that I end up having to weave through their tail end when I run longer distances. After listening to this feedback, Rio separated Run United 3's starting lines and routes for the short distances and long distances. Additionally, the 3K and 5K will be let out in waves, so that runners in those distances have enouh space to run freely on the roads.
There will also be a cut-off for starting in any particular distance category: latecomers (30 minutes after gun start) will not be allowed to run anymore. This will ensure the race finishes early and won't cause too much traffic for the non-running public.
Like THE Donald Trump says, it's gonna be huuuuuuuge.
Race Categories & Prices: 500-m (P250), 3K (P500), 5K/10K (P600), 15K (P700), 21K (P750), 32K (P900)
Registration Venues: Online, RUNNR BHS & Shangri-La, Planet Sports Glorietta & Trinoma, The Athlete's Foot Galleria & Alabang Town Center
Registration Dates: Oct. 7 – 30, 2011
Expected # of Runners: 12,000
Wow Factor: Finisher medals and shirts for 21K and 32K, cushy post-race Unilab Active Health Wellness Village
Which will you choose?
Did you like this post? Share it on your social networks!