Hot on the heels of last weekend's Pilipinas Duathlon Series race came the announcement that an international long-course duathlon brand was coming to the Philippines. I had been privy to some of the preparations behind this launch, so I'm happy the news about the Powerman Duathlon Pilipinas is finally out!
The Powerman Duathlon Pilipinas is set to take place on 14-15 November 2015 in the city of Balanga, Bataan.


Powerman Duathlon Pilipinas in Balanga, Bataan on 14-15 November 2015
For living in a country made of 7,107 islands and surrounded by water, most Filipinos don't know how to swim very well. However, the bicycle is a form of transportation most are familiar with, and it's juch easier to learn to ride a bike than to learn to swim. Thus, the path to entering multisport is more commonly trodden through duathlons, seen in the perennially popular Pilipinas Duathlon Series, Duaman (which even had an X2 race distance last year), and UL Active Health Duathlon.
Now, it's time to take duathlon in the Philippines to the next level. Powerman Duathlon Pilipinas aims to raise the level of competition in the Philippine Duathlon scene.
Powerman is a European brand very well known in the international duathlon scene. There used to be a Powerman in Malaysia where our Philippine national duathletes would compete and really excel, but that ended in 2013. Thus, Powerman Duathlon Pilipinas is now the only Powerman event in Asia, with qualification slots for the 2016 Powerman ITU Long Distance Duathlon World Championships in Zofingen, Switzerland.
While most duathlons in the Philippines use the Olympic distance duathlon format (10-kilometer run, 40-kilometer bike, 5-kilometer run), Powerman duathlons are long-course and the Classic distance is a 10-kilometer run, 40-kilometer bike, and 10-kilometer run at the end. Anyone who has done a duathlon knows how much harder they are on the legs than a triathlon, so this Powerman distance will really test your fitness, endurance, and grit!
Powerman Duathlon Pilipinas also features a sprint format of 5-kilometer run, 30-kilometer bike, and 5-kilometer run (which I most probably will join), and PowerKids, with age-appropriate distances.
No event would be without its own signature location, and the organizers have tapped the city of Balanga, the capital of the province of Bataan.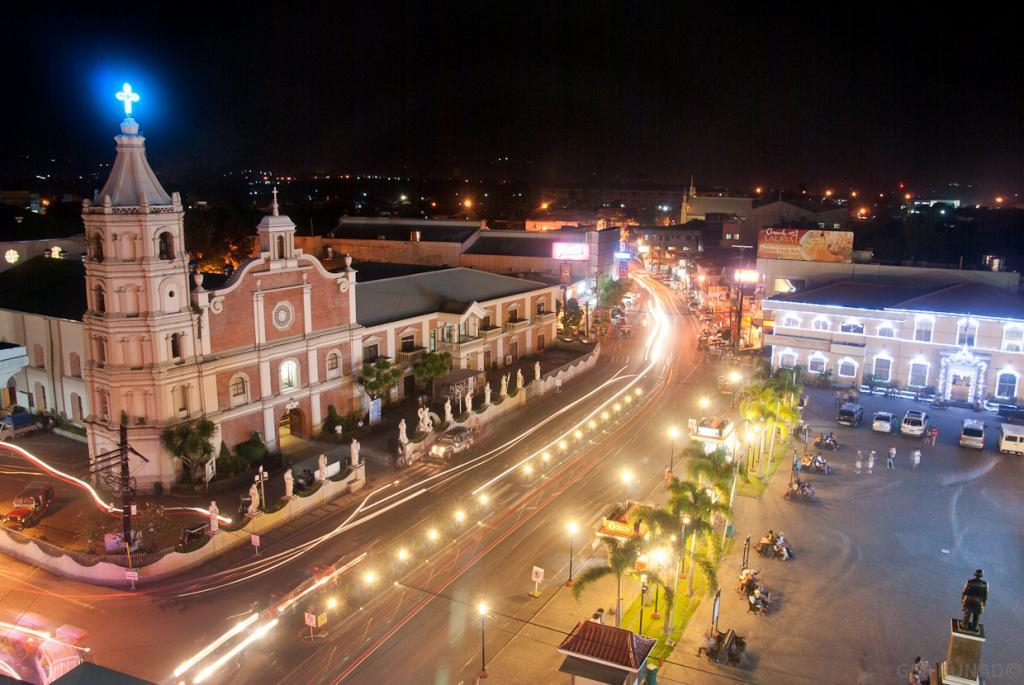 Balanga City (photo by Geb Bunado)
The race will start and finish at the Earthfield Center. The bike course will be on the Roman Superhighway (which will be completely closed to vehicles!) and the run course is 1 loop heading into the Provincial Capitol. The road surface is pretty smooth, but of course this being Bataan the terrain will be rolling.
What else can you do in Balanga? There's a fun family-friendly waterpark in Balanga called La Vista Balanga Inland Resort, with wave pools, giant slides, and the works — definitely something you and your family can do before or after the race. For World War II history buffs, this is Bataan, after all. The Balanga Cathedral was used during the Japanese invasion as an artillery emplacement to bombard Mt. Samat, where the American troops made their last stand. The Fall of Bataan marker and Bataan World War II museum are in the city. Balanga is also a jump-off point for tours to Mt. Samat, where a National Shrine was built in honor of the heroism and valor of the Filipino and American soldiers.
Aside from competitive age-group athletes and Filipino elites, many of the world's top professional duathletes have also expressed interest in coming to this inaugural event. In fact, the male Powerman ITU World Champion Gael le Bellec is already signed up!
Participants of the Pilipinas Duathlon Series of races get a registration discount as part of its partnership with Powerman Duathlon Pilipinas. Early-bird rates (until May 14) are as follows:
Powerman Classic solo: $70 for Philippine residents, $80 for foreign residents
Powerman Classic relay: $115
Powerman Short solo: $50 for Philippine residents, $60 for foreign residents
Power Kids (6-8, 9-10, 11-13): $17
These prices are some of the lowest on offer for Powerman races. In fact, they are the lowest on offer for an internationally-branded multisport event! And with Balanga only a 3-hour drive from Manila (take SCTEX and exit at Dinalupihan), it's easy to take just a day trip to the race.
For more information, log onto powermanph.com
Liked this post? Share it!