With all my focus on training for triathlon, I didn't realize I'd already gone a month without a pure run race. Although I've got the TAKBO.ph Runfest and adidas King of the Road on my schedule, those are happening next month. So what's a Kikay Runner to do?
I was supposed to be out of town this Sunday at Team Endure's tri camp, but had to abandon that plan due to work. A friend who bought a few too many race kits for his company offered me a 10K race kit for Run United 2. Although the name on the kit wouldn't be mine (it was registered to a man!), I jumped on the opportunity to do a 10K time trial. The last time I ran 10K was at Rip The Road 3 but I honestly felt I could have run that faster if I were just carrying a little less, uh, junk in the trunk. That was in April; I'm now several pounds lighter thanks to a more sensible diet and increased training volume. Could this translate into a faster time?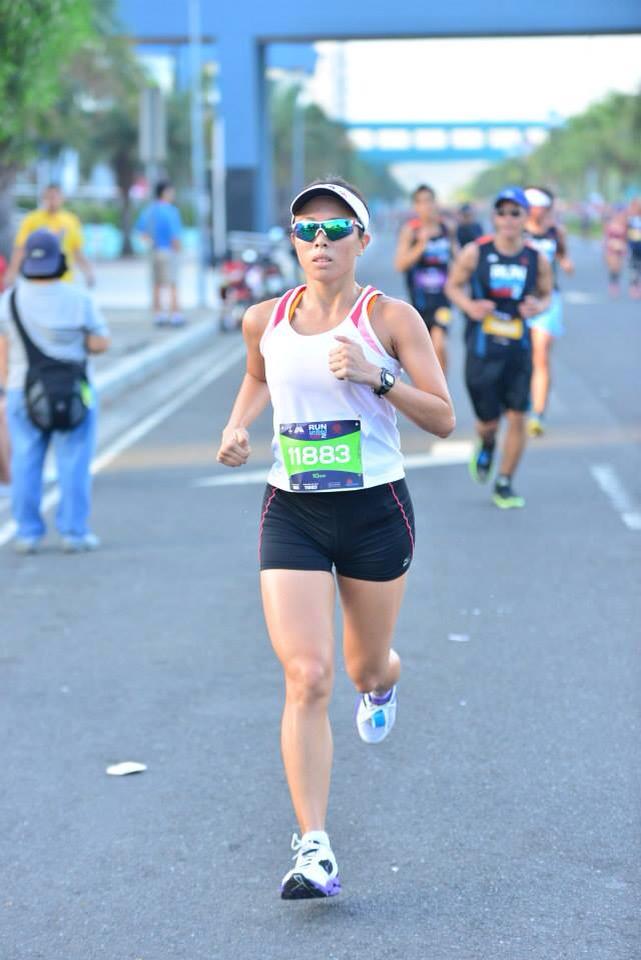 photo by Tong Pascua
I toed the starting line with thousands of 10K runners, many of whom had been induced to move up from 5K because RU2 didn't offer the shorter distance.
I slowly edged my way to the front of the pack to give myself a better chance at running without weaving through slower runners. This, of course, put me right behind Coach Ani de Leon-Brown and national triathlete Kim Mangrobang. I planned to keep them in sight as long as possible because this could pull me toward a faster finish. I greeted them both, of course. Coach Ani said she would try to hold her pace back to finish 10K around 50 minutes because she's flying off to do an Ironman this coming week. In the back of my mind, I knew she wouldn't be able to help herself. Haha 🙂
So I tried to stick close from the gunstart, but they were fast off the blocks! I settled into a more realistic and even pace. The route was flat, which meant no recovery on downhills. I needed to push all the way! But I was making good time, and before I knew it I'd passed Kim, who was suffering from a side stitch. Coach Ani was still way ahead.
The finish line was in sight! But no, it was on the other side of the road. We'd have to run past it and take a U-turn to complete the route. Huhuhu. And just as I finally neared the finish line, I sensed a male runner picking up speed attempting to outsprint me. But I still had a little bit left exactly for that moment.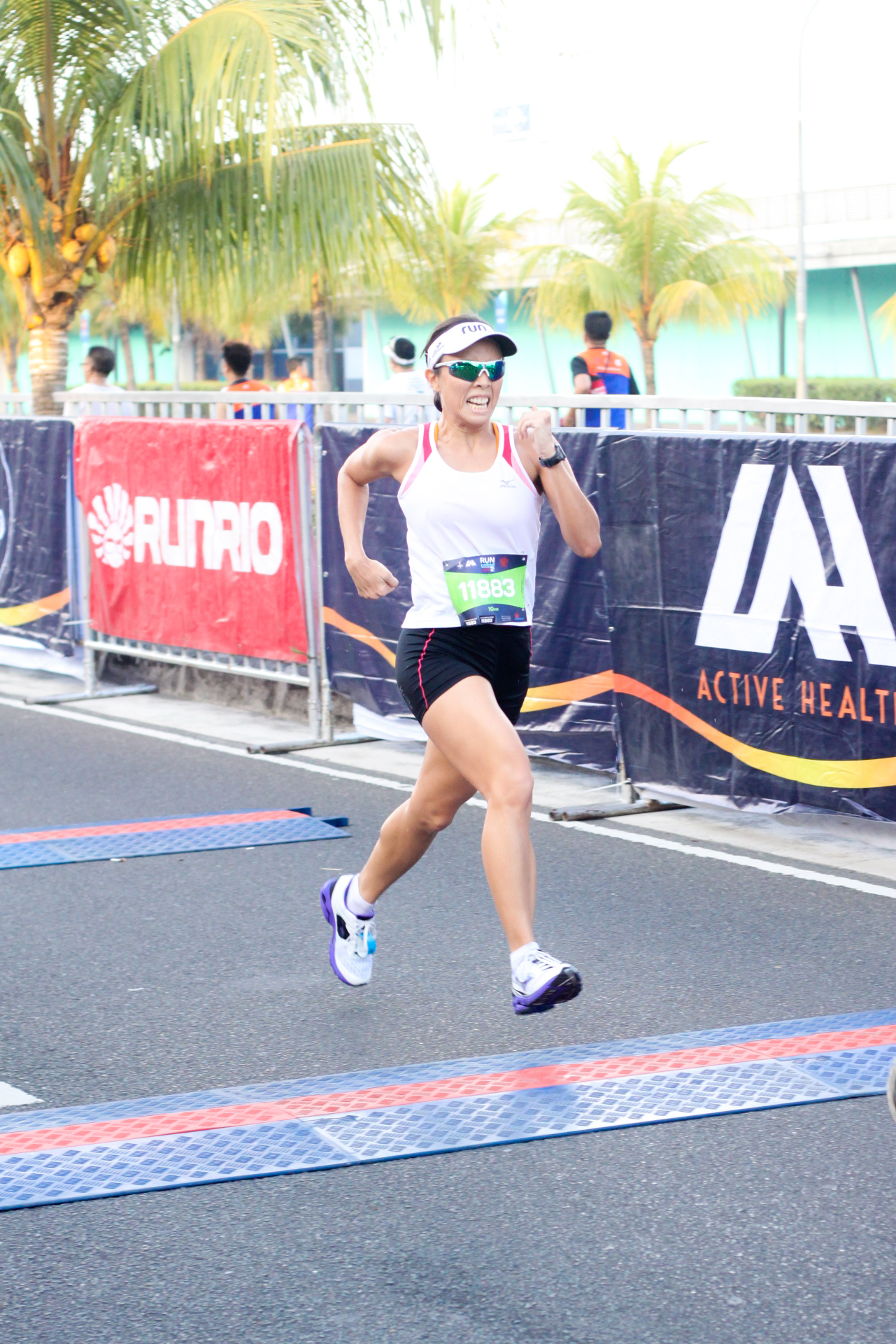 Chicked by a chick with a man's bib. What? (photo by Lemuel So)
My finish time of 48:55 isn't a PR, but it's my fastest in a while. I stuck around the finish line to shake Kim's hand and ask how she was. (This is probably the only time ever that I'd finish ahead of Kim Mangrobang. Pagbigyan na nyo ako.) Meanwhile, Coach Ani had already finished and was transitioning for her Hydrite talk.
I met up with another Kim (Atienza) and friends for breakfast. The gang had all done 21 kilometers, including Isabelle Daza who conquered her first half-marathon with a time of 2:29. Nice!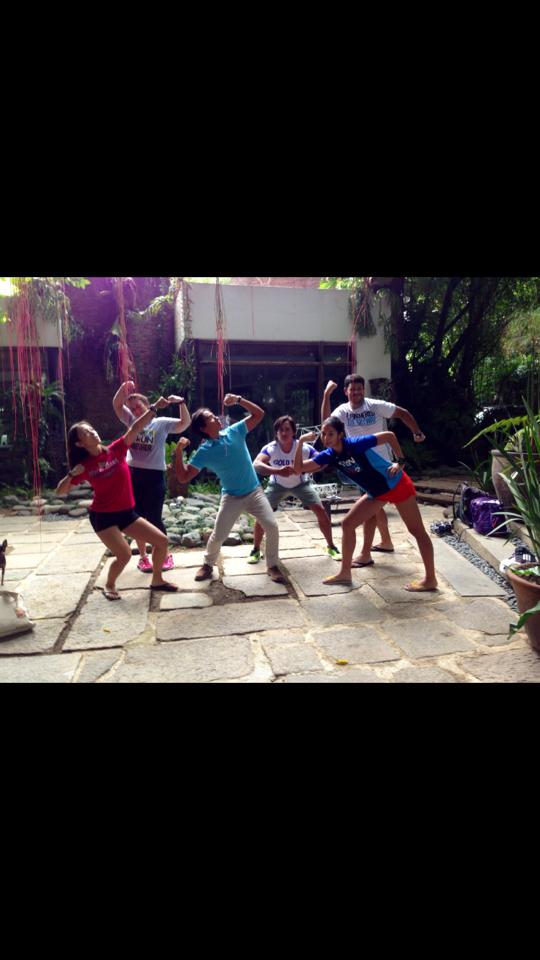 Posedown posedown din pag may time.
Race in Review
Route: Mall of Asia – Macapagal – CCP – Roxas Boulevard and back is a simple and fast course (the last time I did that was at Milo last year). As I said, it was mostly flat, and mostly straight. You could shut off your brain and put your body on autopilot.
Traffic Management: Be careful with autopilot, though. Crossing Buendia heading into CCP a runner and I had to dodge cars. There was probably a miscommunication there because the marshals on one side of the street had waved us through, but the marshals on the other side of the street had waved cars through, too. Yikes! On the way back in, the route merged with the 21K and 32K, and at that point there were a lot of runners. I coped by running on the sidewalk most of the time. There's a subconscious slowing down when you're running amid others going at a slower pace, and I didn't want that to happen to me.
Hydration: The stations were spaced every 2 or 2.5 kilometers apart. I was thankful I'd hydrated a lot before the race (thanks, Lightwater!) so I wasn't dying for a drink by the first station. I also attempted to shoot all my used cups into the rubbish bins.
Package: They used a disposable D-tag to record time, and it was this D-tag you'd have to surrender to claim your finisher's loot bag which was full of super useful products from Unilab. I especially liked the pack of Enervon Activ vitamins because I take them every day!
Like past Unilab Active Health/Runrio races, Run United 2 was excellent. Congratulations to all finishers, especially those who moved up in distance. I give this race FIVE KIKAY PINKIE FINGERS out of FIVE!
Liked this post? Share it!