Late last year, my cousin signed me up for a 10K at Stride for Hope, the family fun run organized by Makati Hope Christian School, where his son goes. Now I've been so busy lately with work at the gym that I haven't had the time to do any serious running, let alone run my first 10K. So the race date crept up on me, and did I feel rusty!
With a little more than a thousand runners in attendance (mostly from MHCS), this was an intimate race so I didn't feel much pressure coming off the blocks. Most of the serious runners were at Subic for the Subic International Marathon, or doing long runs preparing for Condura Skyway Marathon, or basta, somewhere else. I did find kindred spirits among the 10K runners who were in this race for a good workout. (Hello Team 24/7!)
[youtube url=http://youtu.be/f-aomb1d4IU]
Only a few roads around 34th Street and University Parkway were closed for the race, which meant that the course would loop. We had to collect six loop cords of different colors to verify that we had run the entire distance. I took the lead female position about 300 meters into the race and tried to keep the lead men in sight. I was constantly looking for the next turn marker or marshal, paranoid that I would get lost. I didn't want to run more than 10 kilometers that day, really.
It was quiet on those roads before dawn, and I was alone with my thoughts. Land light. Pick up your feet. Breathe. Brace that core. Where's the turn? False flat. Up-HELL. Drink. Go. Go. Go.
I kept my pace easy-ish, looking for signs my foot injury was about to flare up. It didn't, thank God! When I crossed the finish line in 52 minutes and 30 seconds, I felt relieved.
After a bit of a mix-up at the finish line because another female runner had come in before me, the marshals verified that she'd gotten lost on the course and missed a section. I was awarded first place. Incidentally, my nephew won second place at the 500-meter dash. Looks like it runs in the family. 😉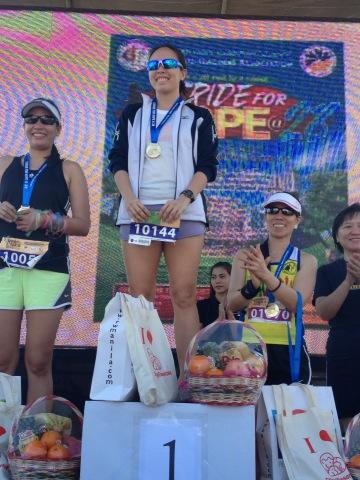 photo by Trixie Torralba
Race in Review
Route: This race would have benefited from a more straightforward route for the 10K. There were two sections we had to pass twice, with different-colored loop cords being given. Confusing! Also, some of the signboards had been recycled from the logistics organizer's (Shadowfax) earlier races, so there were signs that said "10/16K this way" or were pointing the wrong way.
Traffic Management: Because the race started and ended so early, there weren't too many vehicles passing through. There were some motorcycles speeding through the course, and some marshals would say "Keep Right" when they really meant "Keep Left"!
Hydration: The water was cold and they even had bananas. I had to tell one of the hydration stations that had placed full water bottles on the front of their tables to move the bottles to the back. Runners like me who were just looking for a quick drink from a cup would just knock those bottles over, wasting water.
Package and Freebies: On the con side, timing was recorded manually and there were some snafus at the awarding (male winners kept getting called for the women's categories). On the pro side, there were two loot bags, a photobooth, and Sante Barley drinks.
I'm sure the families and faculty of MHCS had a great time, and I'm glad they were able to raise funds for the school. As for me, I was able to assess my running fitness and pick up a fruit basket for my efforts. Not bad. THREE-AND-A-HALF kikay pinkie fingers out of FIVE.