Have you ever been in a situation where everything is going against you, but in hindsight it was actually good for you? Well, that's exactly what happened to me at the 500-Smile Run last Sunday.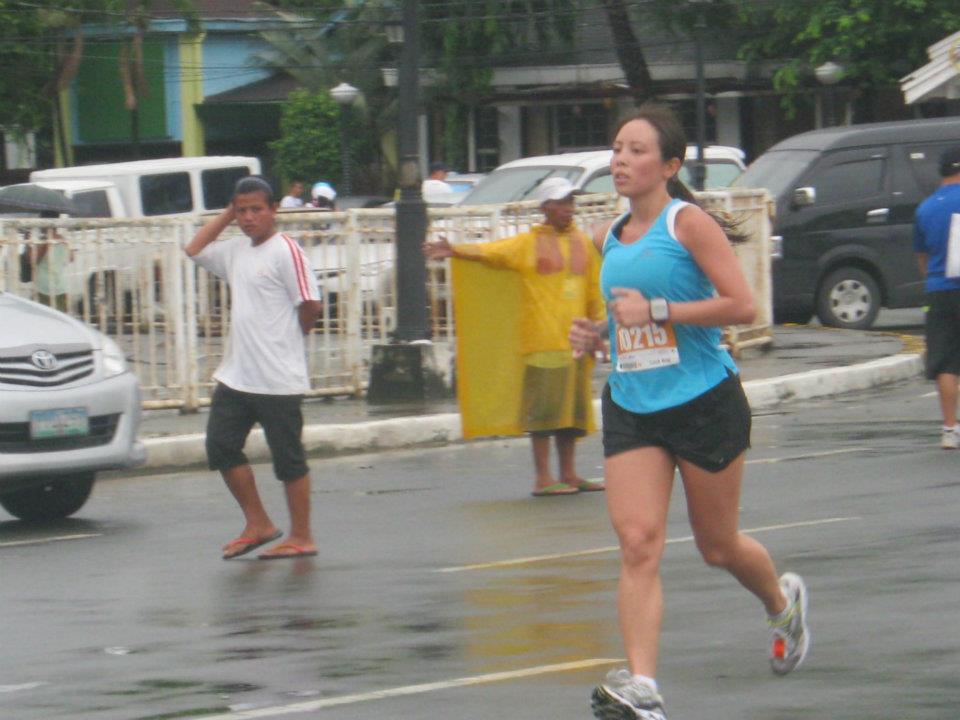 photo by Jema Dee
The morning started out wet and miserable with a strong drizzle that had lasted through the previous night. There were still plenty of runners who made their way to Quirino Grandstand for the race, though. For some reason that wasn't explained to us, the first gun (for 16K participants) fired late, shortly before 6am, with my 10K following shortly after.
Given that it was a cold start (I didn't warm up because I didn't want to be out in the rain!), I started cramping on the first kilometer and had to run-walk until my body warmed up enough to loosen my side stitch. It was a good thing I wasn't targeting a 10K PR; in fact, I was due for at least a 15-kilometer long run that weekend so I was supposed to tack on an additional 5 kilometers after the race.
I felt good enough to speed up to my usual 10K pace at kilometers 4 to 6 when I realized something had gone awry. The race route was supposed to be a simple there-and-back on Roxas Boulevard, and according to my Garmin I had already logged 5 kilometers just past Buendia flyover. However, the U-turn was still nowhere in sight!
As I ran over EDSA flyover, I saw a U-turn marker in the far distance. As I reached it though, it read "16K U-turn". Where was the 10K U-turn? I kept going until I finally reached the marker near Coastal Mall, which was 2 kilometers past the EDSA flyover. Then all I had to do was run back to the finish line.
All the while, my emotions were playing games with me. I was by turns furious, pensive, demoralized, and laughing at myself for feeling that way. My right knee started to give out on me by kilometer 12, so I walked until some people I had passed earlier overtook me. By then pride kicked in and I hauled my lazy ass over the finish line in 1 hour and 32 minutes, logging a total of 15.2 kilometers. I was confused how to feel. Annoyed at the surprise surplus FIVE KILOMETERS, or accomplished because I had done a much-needed long run in preparation for a 21K at Run United 3?
Race in Review
Route: What would have been a simple there-and-back flat route (begging for a PR) turned into something out of my running nightmares. The excess five kilometers could be explained by the U-turn marker inexplicably ill-placed at the end of Roxas Boulevard instead of just before the EDSA flyover. Thank God I'd started out slow, or else I wouldn't have made it back to the finish line.
Traffic Management: I appreciated that the seaside lane of Roxas was closed to vehicular traffic (in some sections at least two lanes were dedicated to runners). The logistics for this should be commended since it involves coordinating with the cities Pasay and Manila, causing more congestion in peripheral roads. I'm impressed the road closure remained unchanged even with the decreased number of runners.
Hydration: No sports drinks were served at the hydration tables, but at least there were long tables filled with cups of water every 2.5 kilometers. Since the drizzle continued throughout the race, some rainwater unavoidably got into the drinking water. My stomach was rumbling by the time I neared the finish line.
Package: Most runners wore the distinctive singlet bearing the Operation Smile logo, and the D-tag allowed chip time to be recorded per runner. (The provisional results for the 500-Smile Run can be found at Takbo.ph.)
Freebies: Freebies were given out to early bird finishers (obviously, not me), but ran out. Oh well, they're freebies anyway!
In the end, this race turned out well for me, a blessing in disguise (or as we like to say, a blessing "in the skies" hehe). And in a strange twist of fate, according to the race results I came in third place. I give this race THREE KIKAY PINKIE FINGERS out of FIVE.
Liked this post? Share it!