There's this stereotypical image of colegialas (women from all-girl private schools) as kikay, but it wasn't immediately obvious to me the happy coincidence of the Kikay Runner attending the Assumption Run last Sunday, January 31 at the Mall of Asia. Ü
Our start and finish line was positioned near the church beside the SMX Convention Center. Several other runs had been scheduled on that day, with one other run happening at MOA as well (with a different route). However the marshals from both runs in MOA kept everyone surprisingly well-contained. We did have some people from the other run queued up at our portalets (2 stalls for women, 2 for men) but since there weren't a lot of people registered for the Assumption Run anyway, the portalets never overflowed.
When I met up with Mr. F to run the 15K, we realized quickly the elite professional runners were all in Fort for the Book Run (which had a cash prize). At the Assumption Run, the serious recreational runners looking intimidating in their CWX tights were all entered in the 21K category. For the 15K, about 30 people showed up at gun start. The 3K and 5K were populated with families, teen girls from Assumption, and people walking their very cute dogs.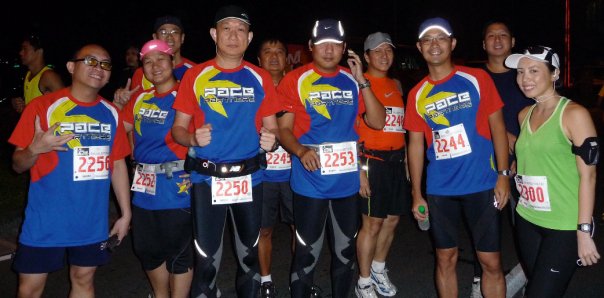 I'm the Kikay in Green
Still, it remained to be seen whether we would still rise to the top of the heap in our category; it was my first 15K ever and I didn't know what to expect from my body.
The gun went off at 5:50am for us. It was a good race route for 15K, flat for most of the way except for Buendia flyover. There were three u-turns going back and forth along Roxas Blvd though, which had runners retracing their steps several times before making the final 3KM back through Macapagal. Marshals were clearly visible and flagged us through the route well, but there were no kilometer markers. I had to content myself with taking notice of landmarks to help me gauge how far it was to the finish.
As Mr. F and I ran alongside each other for the first 2.5 kilometers, I realized that we were in the lead pack, with about five other runners ahead of us visually. But I tried to keep my expectations in check and told myself, "One step at a time. One runner at a time." I lost visual of Mr. F several times, but he'd already helped set my pace. By the last U-turn, I heard the marshals say "Pangalawang babae" (second female) about me.
So where was the woman in front of me? I almost didn't spot her. She was tall and lanky, with long strides and a compression brace around her left knee. I caught up with her on Macapagal and paced alongside her for about 300 meters. Then, to my surprise, she dropped back.
At the finish chute itself there were separate queues for each distance, and since there weren't a lot of people passing through at any one point in time and getting bunched up, results will be reliable once they are posted (we were told that results would be posted on Takbo.ph). There was a digital clock at the left column of the finish line, but it displayed time elapsed for the 21K only. I crossed the line with 1 hour and 21 minutes elapsed, by my watch. The photographers were waving at me and yelling, "first place!" My jaw dropped. I couldn't believe it until my friends from the Pace Partners running club confirmed that I was the first female 15Ker to cross the finish line.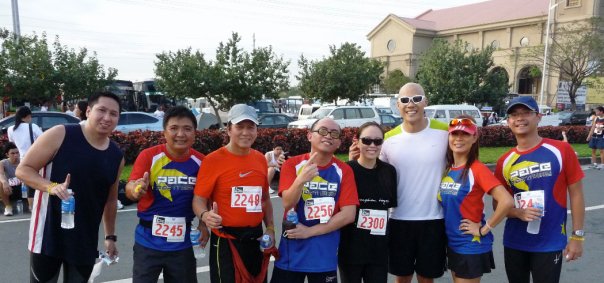 Post-race Posing
Water and water stations were plentiful, and all finishers were given a bottle of Pocari Sweat after the chute. We also got a finisher t-shirt, which I changed into for the very simple awarding ceremony hosted by Tessa Prieto-Valdes after she ran 15K in her tutu. (I told you guys she's the original Kikay Runner!) She was outrageous and hilarious, telling subtly ribald jokes with the disclaimer, "The nuns are still at Mass so pwede pa."
Winners and runners-up were awarded a medal, a small penlight, and bragging rights. Mr. F didn't leave empty-handed, either. He bagged 2nd place among the men.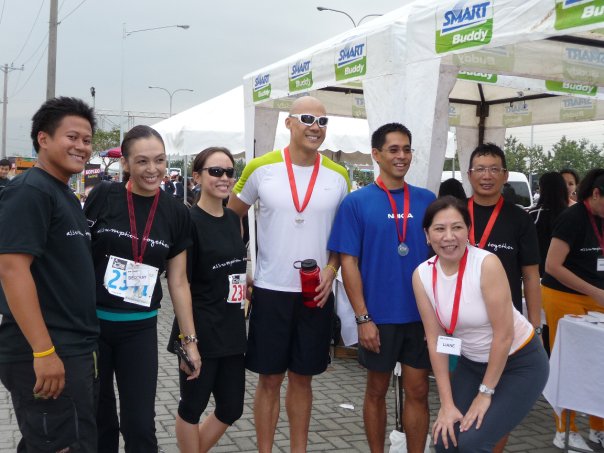 Winners! Woot!
I believe a lot of the runners with us did this as a tune-up for Condura this coming Sunday, so I expect to see the same faces at the start line. I'm excited because I now know I will be able to survive the 21K distance I picked on a whim. But that's looking ahead. For now, I'm going to celebrate this. Ü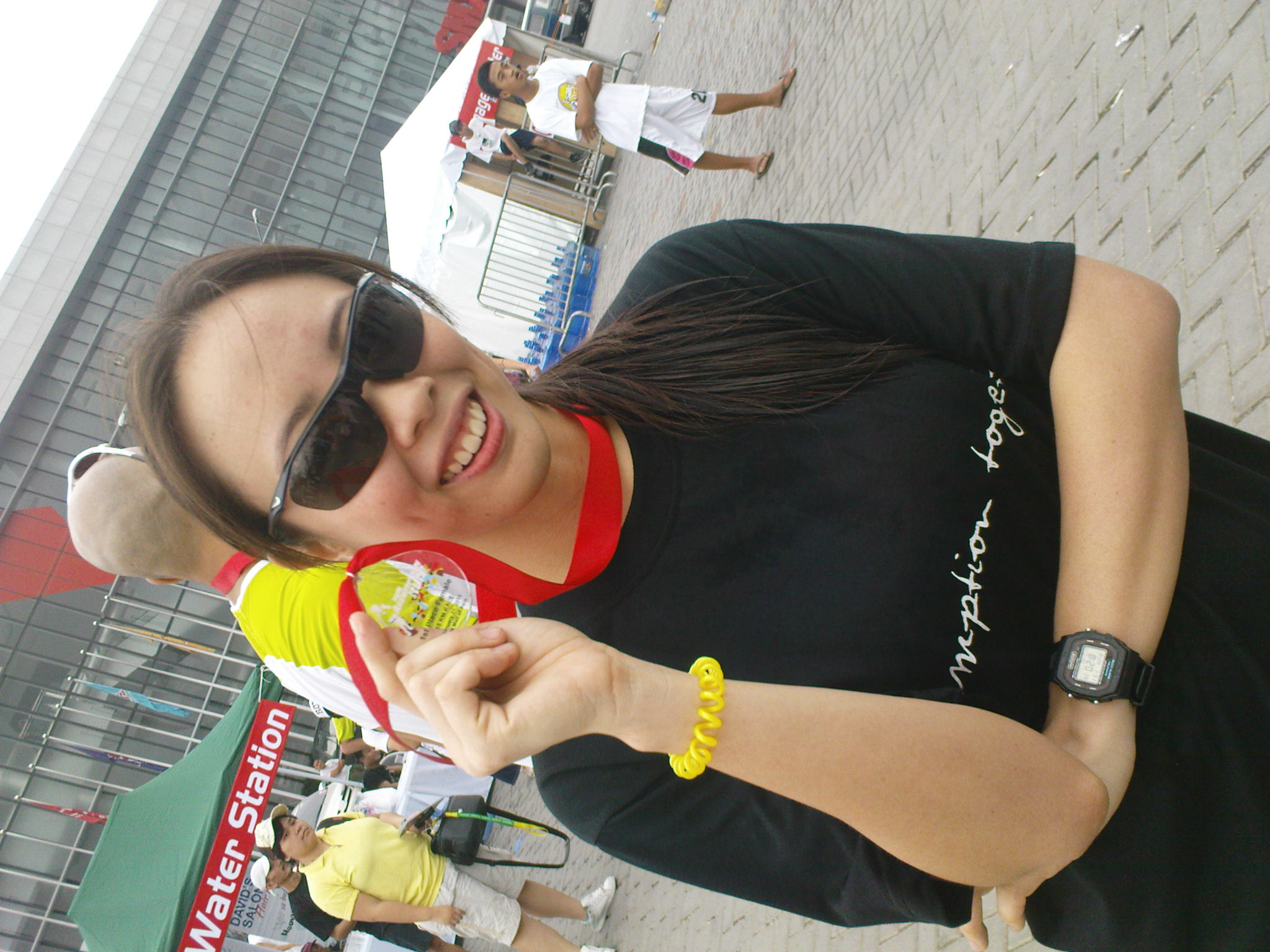 This doesn't happen every race, you know.