This is part of a series of posts in my special coverage of Challenge Roth. Check out Thoughts and Thanks Before Challenge Roth, Challenge Roth (2 of 3), and Challenge Roth (3 of 3).
I remember when I did my first marathon. It was exactly on my birthday and was a great way to give myself an achievement that no one could take away. I had no doubts I wanted to finish it.
Challenge Roth was supposed to be the same thing. It would be my first foray into full distance triathlon racing, happening on my birth month, marking another milestone in my life.
But as I lay there belly up in the Main-Donau-Canal gasping for breath, barely 10 minutes into what would be almost 14 hours of racing, I was faced with the choice: do I continue, or do I quit?
Wednesday
After an uneventful 20 hours of flying from Manila to Nuremberg via Amsterdam, my host Mona Merz picked me up from the airport on Wednesday and brought me to her family home in Buechenbach, which is 3 kilometers away from Roth town central. Of the Philippine contingent, Arland Macasieb was also staying with Mona, while Ani de Leon-Brown was with the Wolfel family.
Homestays are the best way to experience race week in Roth because you're quite close to all that's happening. Also, it's easy to get out and train on the course. Unfortunately, homestays are hard to come by because they've usually been booked half a year in advance. We were blessed with the Merz family because they don't usually take athletes, but Mona had been to Challenge Philippines early this year and offered to host. Mona let me use her room, while Arland got her brother Lukas's room (Lukas lives in student housing and only comes around infrequently). Mona is in university so she doesn't live there, but she volunteers yearly for the Roth race in athlete services/registration, and her friend Nils had also come into town to help out; they took the attic room. Mona's parents Jurgen and Uschi were so warm and welcoming as well!
It was around lunchtime but the temperature was quite cool for me, so I got into my Mizuno gear and took my legs out to run. I got lost on a little trail that if I followed it would take me on a straighter path into the town of Roth, but since I was by myself I turned around and got onto the paved roads.
After I got back, Mona informed us that since she had the afternoon off, she could take us riding. So first we rode into town toward the triathlon park (which held the expo and the finish line). Right there beside the park was Team Challenge headquarters, and coincidentally Felix Walchshoefer, the head of Challenge Family, was just outside so we got to do an informal meet-and-greet!


Our photo appeared on Slowtwitch.com
It turns out, this particular edition of Challenge Roth is a big one, not only boasting the strongest pro field outside of Kona, but also marking the 10th year since Felix took over from his late father. This year, Felix was set to do the race for the first time so it was a huge honor to make my iron distance debut sharing the course with him and so many other athletes.
After that, we rode out towards the neighboring town of Hilpolstein, which hosts the swim start.


Which way back to the Philippines?
Arland outpaced me and Mona and managed to get himself lost on the course, but we all managed to make it home safely. That evening, I took the train into Roth and walked around for a bit and met up with Macca for a coffee and a chat. He told me about this ice cream shop that he always had a chocolate at, which he jokingly credits for his four wins at this race.
Thursday
I went back into Roth to meet up with the rest of the MaccaX team doing the race for a nice and easy bike ride.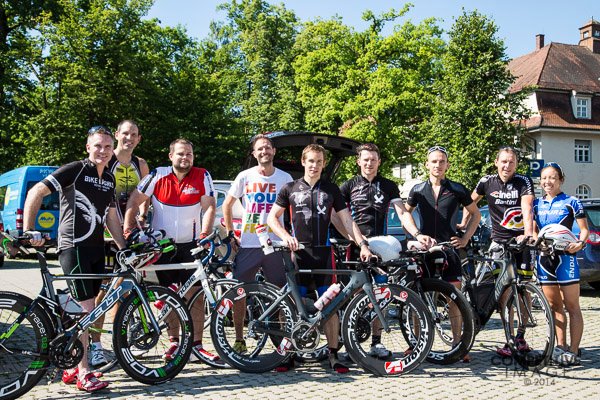 thanks to Paul Phillips for taking our photo for Triathlete.com
Incidentally, I was the only girl on that ride 😉 Thanks boys for not dropping me!
Afterwards, I went into the athlete registration tent to pick up my starter kit. Mona was there with the other volunteers dressed in dirndl and lederhosen; it was the day of the Erdinger Cabin party and volunteers as well as the pros were required to wear traditional German dress.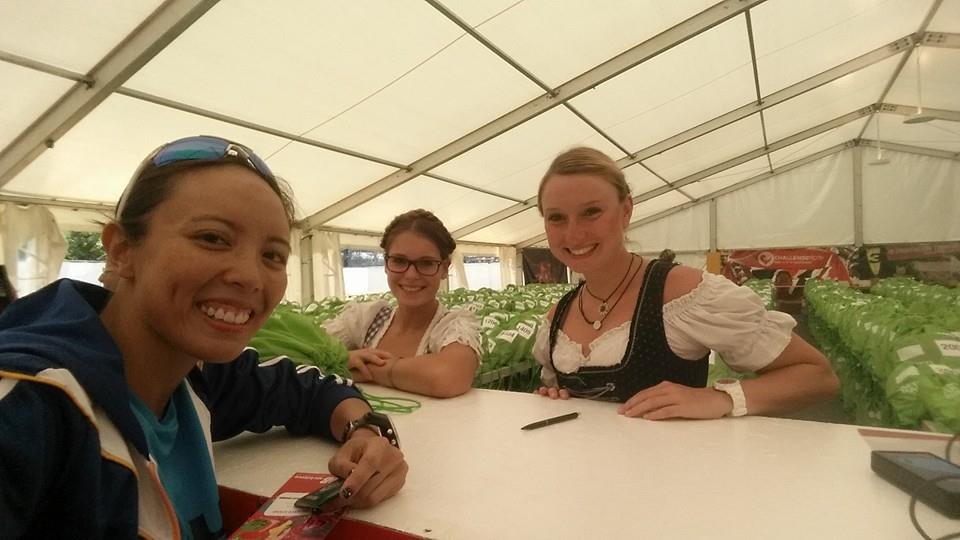 I can't believe I'm doing this whole thing by myself.


Pete Jacobs loving the lederhosen
That day, we also recorded a new episode of the MaccaX Uncensored podcast. It was the first time they had a live audience and was also the first outing of Jurgen Zack as Macca's co-host.
At this point I still hadn't wrapped my head around the magnitude of what I was about to undertake. It felt like the other destination races I'd done, and I was going through the same rituals I did before my other races. It all felt quite familiar, and safe, and expected.
Friday
I bummed a ride from my MaccaX teammates coming from Nuremberg so I could join them at swim practice on the Main-Donau-Canal. It would be the first time for me to swim part of the course and a perfect way to familiarize myself with the shock of cold water and how my body balances in the water with a wetsuit.
The swim buoys weren't going to be put up until race morning because the Canal is normally not open for swimming. It's where large barges and boats pass, ferrying products and passengers around the Bayern area. I was glad to listen as Macca gave us some advice on where to position ourselves during the swim. On the outbound stretch, stay closer to the middle of the canal so it's easier to get across when it's time to turn around the buoys, then stay close to the banks during the long 2-kilometer straight stretch to avoid the current caused by oncoming wave starts.
When I got out of the water I was ecstatic to run into Coach Ani, who had also just finished her swim practice. It was the first time I'd seen her and I really took comfort that she was there for my first iron distance race.
Team MaccaX and I went off to the nearby Bakery Schmidt branch for some breakfast. I kind of started to miss the traditional Pinoy silog breakfasts, but the German sandwiches and coffees aren't so bad.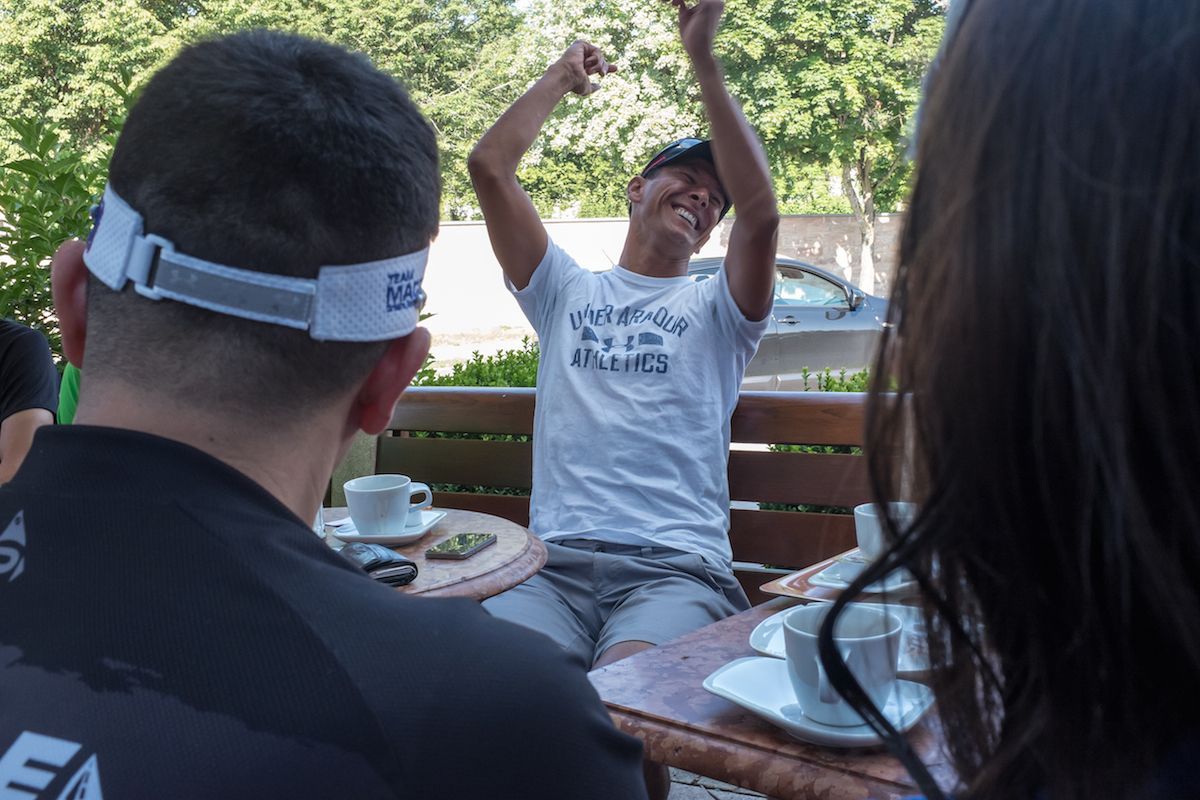 Macca will talk your ear off if you let him.
It was during this breakfast that I sat with and bonded with Mars "Milhouse" van Houten, a very special member of MaccaX. Last year he had been diagnosed with leukemia and had gone through rounds of chemotherapy. MaccaX had raised funds for his treatment, then had arranged for him to participate as the runner in a relay at Roth, one of his dream races to finish. Macca was set to do the bike leg, but he switched to the swim leg and recruited Casey Munro, a former Tour cyclist and Caroline Steffen's training partner, to do the bike leg instead.
The MaccaX members are such a fun bunch and if you're doing any major race by yourself or a with a very small Pinoy contingent, like I was, you'll find at least one of them to hang with. (Come join us on MaccaX.com.)
I went to the expo to buy some Challenge Roth merchandise; I normally buy a jersey or a visor as a souvenir from all the destination races I go to because I never know when I'll be back again. While there, I ran into Jurgen Zack, who told me I looked very relaxed for someone attempting their first iron distance. I did feel quite chilled out, but it was because I was trying to look at it not as a whole race, but as something made up of individual strokes, revolutions, and strides. I was going to take everything one bit at a time, and I knew that in some way or another I would find a way to finish. Physically I was up to it, so it all depended on what would go on upstairs in my head.
I was too tired to go back to Roth for the pasta party that night, so Jurgen and Uschi were so nice and took us to a biergarten named "Odorffer" where we had some great German food like schnitzel and sauerkraut, washed down with delicious Franconian beer. Jurgen taught us a phrase: "Bassd Scho!" which in Franconian is a superlative. Everything was definitely "Bassd Scho" that night and I had a really good sleep after.
Saturday
I took some solo time just to get my head around the whole idea of a full distance, and had a nice salty pretzel breakfast.
It wasn't until I checked my bike in that afternoon that I started feeling butterflies in my stomach. This is it! my brain started screaming at me. It wasn't just some backyard race in the Philippines I was about to do, and dominate. No. I would be racing among 3,500 individual athletes and 600 relay teams in a bucket-list iconic race in Europe. It was then I started to realize I had just stepped out of my comfort zone into unknown territory. Because race day is so long, anything and everything can happen. Murphy's Law states: "Anything that can go wrong will go wrong." What it would come down to is how I would be able to roll with any challenges that came my way.
To be continued…
Liked this post? Share it!