In the running shoe arms race, it seems like every brand is going for thicker cushioning, springier carbon plates — everything pushing towards the maximum. With their launch of the Flow Velociti Wind running shoe, Under Armour seems to be going in the opposite direction.
From the press release:
Tested for over 11,000 miles, the UA Flow Velociti Wind is the latest chapter in running innovation with a disruptive design and all-in-one cushioning system that eliminates the rubber outsole.

…The team focused on a simple idea: how can we create a shoe that's built for speed and breaking barriers? Could they remove the heaviest part of the shoe – the outsole, without sacrificing durability or traction?

After three years, over 17 rounds of raw material testing, 9 rounds of biomechanical testing, 15 rounds of shoe testing, and over 11,000 miles of weartesting – they did it.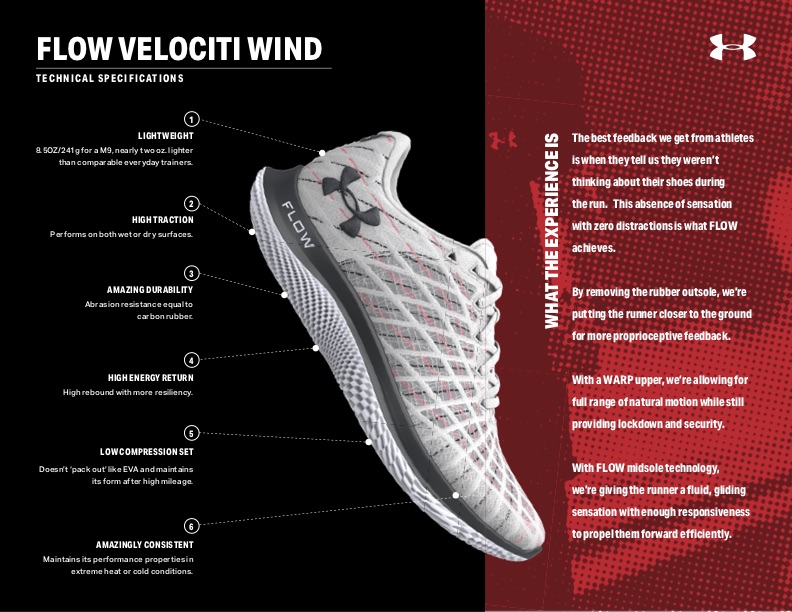 UA Flow is a singular-foam compound that is supportive and responsive, and is grippy even without the traditional rubber outsole. Flow midsole technology first debuted in Stephen Curry's signature shoe the Curry Flow 8. For running, Under Armour has launched the Flow Velociti Wind: a lightweight performance running shoe. (This means it's designed primarily for runners with neutral feet, for tempo runs, long fast runs, and races.)
Under Armour claims that because they've eliminated the need for a rubber outsole, they're able to reduce shoe weight by 2-3 ounces. The Flow Velociti Wind barely tips the scales at 8.5oz for a men's size 9 and 8.02oz for a women's size 7.
In tandem with the midsole tech, the Flow Velociti Wind also uses UA Warp: a groundbreaking upper that molds to your foot featuring supporting tapes that are in tension when you need them and relaxed when you don't. This tech first debuted in UA's track-and-field spikes.
With the UA Flow Velociti Wind, they aimed to achieve the sensation of flow, where runners don't think about anything except the sensation of running with the wind at their back.
Under Armour launched the Flow Velociti Wind on March 3 and it is already available online on underarmour.com.ph priced at Php 7,995. If you want to see it physically in our local stores, it's set to drop in early April.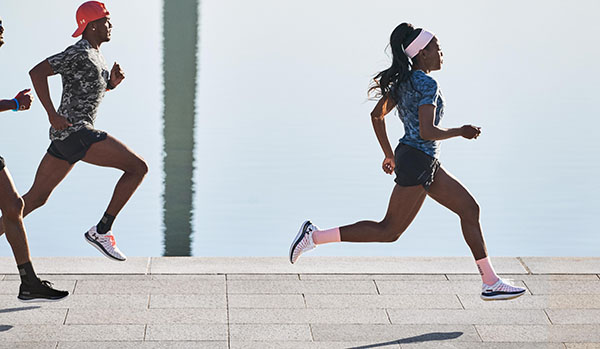 Liked this post? Share it!