I finished my Star Wars Virtual Run last week and am really looking forward to receiving my entitlements from it, but the event is still ongoing until September 30, 2020 so I wanted to let my readers know more about it.
If you're a Star Wars fan you probably know about Star Wars Day (May the 4th), which was a pun that turned into an actual day when fans celebrate their love for all things Star Wars. Some locales run screenings of the films with the accompanying cosplays of all sorts of characters from the universe. In recent years there have also been numerous Star Wars Run events held on May 4th (or its nearest weekend).
Given the current global concerns, I'm quite surprised but also glad about how quickly this year's Star Wars Run in Southeast Asia was able to pivot into a virtual run event. Due to the movement restrictions in May across the region many people were unable to get out of their houses to log the required mileage (not everyone has treadmills!), so they moved the start date to June 15.
There are two categories: the 5.4-kilometer solo run, and the 40.0-kilometer solo or buddy run. "5.4" commemorates May the 4th, while "40.0" commemorates the 40th anniversary of The Empire Strikes Back, which was released into theaters in 1980.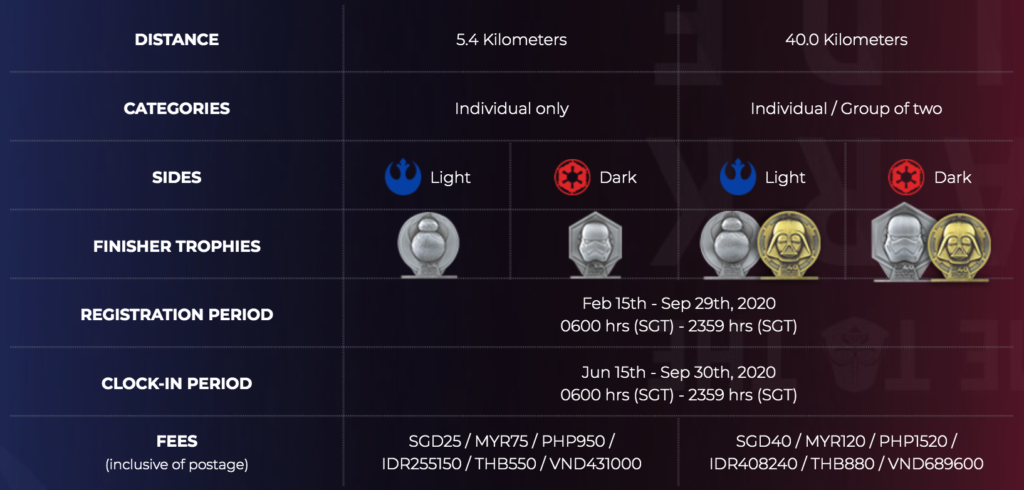 Both categories can be done cumulatively, with participants allowed to do the distance as one run or as a series of runs. For the 40-kilometer buddy category, the pair of participants can complete the 40 kilometers by adding up their total accumulated mileage.
The 5.4 category is priced at P950, while the 40.0 category is P1,520. This price includes postage to send your finisher entitlements to you.
These look like great collectibles. For the 5.4 category you can choose Light Side or Dark Side design finisher trophies in silver, while completing the 40.0 category entitles you to either of these finisher trophies plus a gold Darth Vader trophy.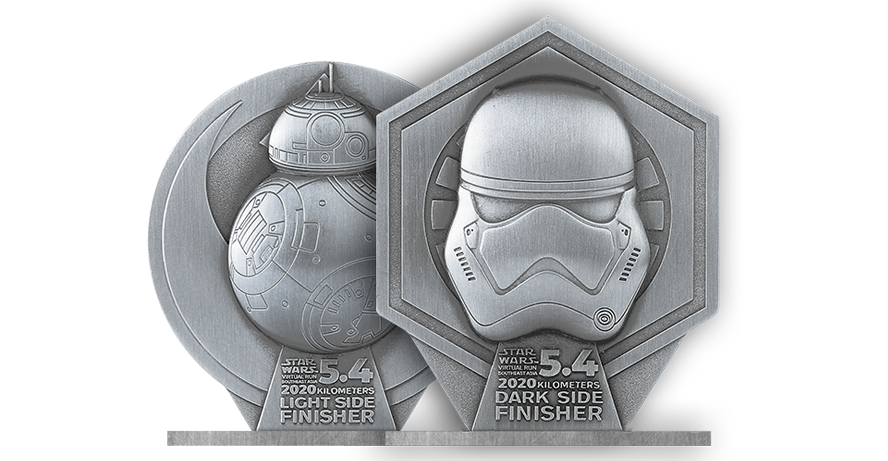 (You can actually sign up for and run these categories consecutively as long as you finish one category before signing up for the other, so I'm seriously contemplating doing the 40.0 to collect the Vader trophy.)
The virtual run is organized by LIV3LY, a social fitness and marketplace company for mass participation events and members in Southeast Asia. You can use their app to record your runs, or use integrated trackers from MapMyRun, Google Fit, or Apple HealthKit.
For more information and to register, go to the Star Wars Virtual Run Southeast Asia site.