If you follow Nike running ambassadors on their social media, you may have seen them proudly showing off a new pair of shoes lately: the Nike ZoomX Vaporfly NEXT%.
It's quite a mouthful (and I don't know how to pronounce it — is it "next percent"?) and as the next iteration of the much-raved-about and rare Vaporfly 4%, the Vaporfly NEXT% merges together many innovations borne out of feedback from Nike's elite runners like Mo Farah, Eliud Kipchoge, Geoffrey Kirui, and Shalane Flanagan.
The NEXT% features an improved upper made of Vaporweave, a material that makes its debut in the shoe. It's lighter than Nike Flyknit, is breathable, and absorbs less water from sweat or rain (or pouring cups of water over your head to stay cool). The laces have been offset slightly, so high-arched runners will feel less pressure across the top of the foot. The tongue features an anatomical notch where it meets the ankle, so that keeps it from sliding to the side. Lastly, a foam pod in the heel keeps the foot secure while providing comfort for long runs.
Its retooled midsole features more Nike ZoomX foam, which increases energy return. More crucially, that ZoomX foam has been redistributed to decrease the heel-to-toe offset from 11mm to 8mm. Despite 15 percent more foam, the shoe remains the same weight, while the midsole still features a full-length curved carbon fiber plate embedded within to increase stiffness so the shoe doesn't feel mushy.
Lastly, a redesigned traction pattern merges Kirui, Kipchoge, and Farah's custom traction patterns to improve forefoot grip so the shoe handles better in wet weather (a change requested after Kipchoge ran a very wet marathon in Berlin). Deep grooves on the outsole and contoured treads help keep turns smooth even at high speed.
Check out the gallery below for a sneak peek, or head to Nike Park Fort to check the shoes out IRL.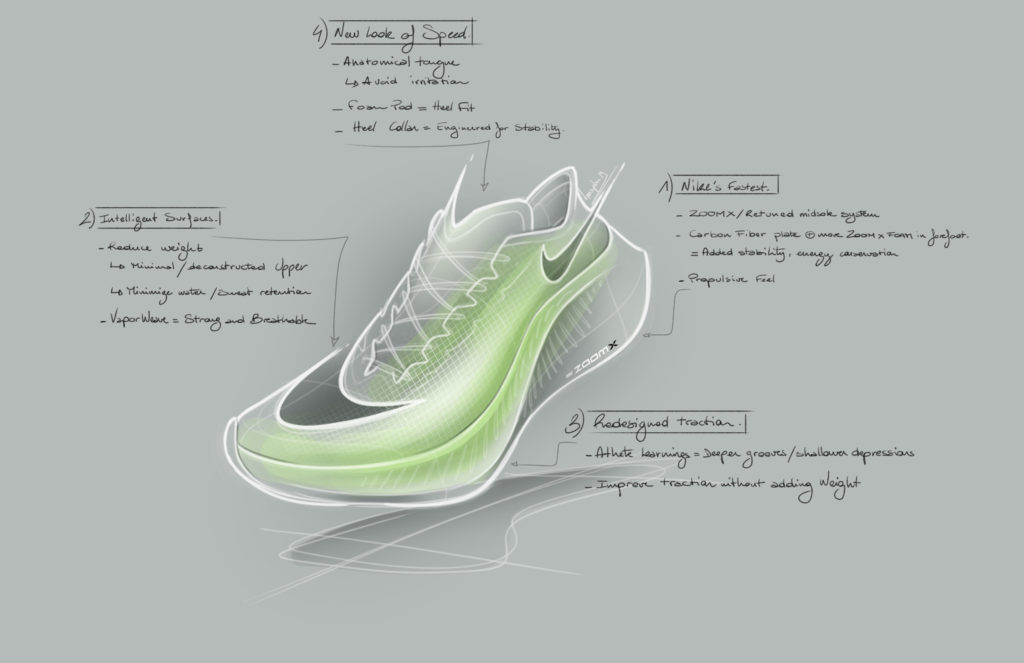 Like the Vaporfly 4% before it, Nike seems intent on keeping supply of the ZoomX Vaporfly NEXT% limited, with a price point to match. The Vaporfly NEXT% is available exclusively at Nike Park Fort, retailing at P12,145.
While I might not be picking up a pair any time soon, I know that it's only a matter of time before the innovations featured in the Vaporfly shoes trickle down to Nike's more pedestrian offerings.
Liked this post? Share it!