Recovery is always the hardest part of racing for me, so after two back-to-back weekends of racing over Super League Bali and the TRI-Factor Run-Bike-Run, I'm now in the throes of a full-blown cold. But at least that's given me some time to edit together a few video clips I took over the course of TRI-Factor weekend to bring you this mini-vlog.
This is only my second duathlon ever. My first one was at the Unilab Active Health Duathlon in 2012, and that was a 3K run, 20K bike, 2K run. The sprint duathlon distance at the TRI-Factor Run-Bike-Run was a 5K run-20K bike-2.5K run, so just a bit longer than that first race.
I almost didn't do this because I managed to catch some kind of stomach bug on the way home from Bali and had suffered from gastrointestinal issues the whole week leading into TRI-Factor. So when I picked up my Endure teammate Roselle (we were going to travel to Clark together), I told her I was a maybe for the race. I still brought my bike along because I did start to feel on the mend and didn't want to regret not being able to race just because I'd left my bike in Manila. That was quite a good decision…
I took the first run in about 26 minutes, treating it as a sort of warm-up into the main race. My soft 5K's are usually in 30-minute territory, and on Clark's flat terrain it was easy to take the foot off the gas and just coast through the distance. I was thinking about the bike leg ahead, and the short run that would come after.
The 20-kilometer bike ride would be something of a challenge in its latter half. The course is a loop often used in the pool-based triathlons held in Clark, passing in front of Fontana on a gentle downhill on one side, and on the other side going up the infamous "The Wall." (Check out this Multisport.ph article on classic rides in Clark for more info and visuals.) If you didn't know what awaited you, you'd bomb the downhill at a big gear and not save enough for the climb, which is not very steep but quite long. I hadn't ridden it in a long while, but being conservative on the outbound leg allowed me enough energy mentally and physically to power home.
My legs were screaming and the only thing that made them hurt less was singing "Bohemian Rhapsody" on the last climb. I really felt the emotion in the lyrics, "I don't want to die, I sometimes wish I'd never been born at all!" But if I could still belt a song out during a climb, it meant I had a lot left in the tank.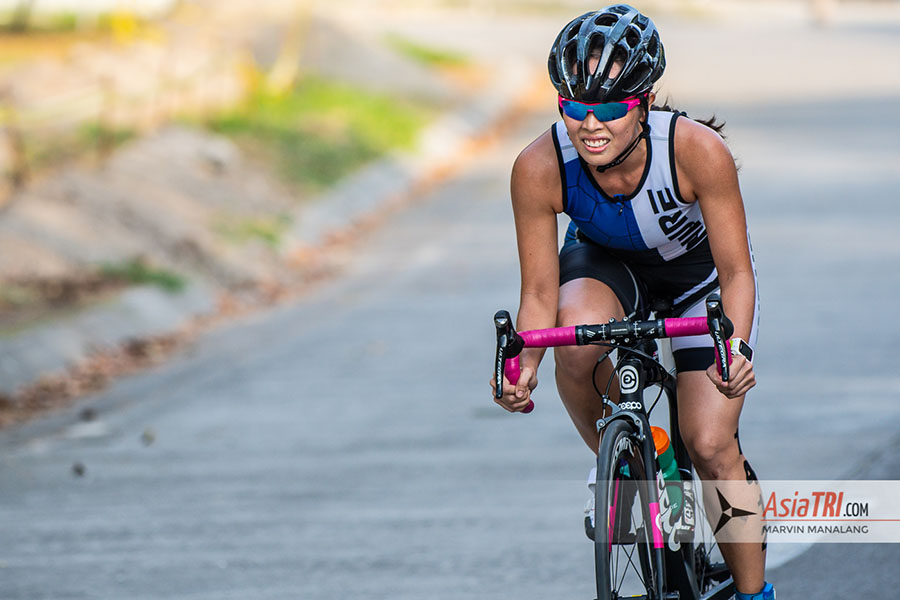 There were a few women ahead of me and I didn't know if they were in my age group. I just made it a point to chase down every one I saw, even if on the final run we sprint distance participants were running alongside standard distance participants. I did the second run at a faster pace because I didn't have to save any more energy. "How many times have you run 2.5 kilometers? It's really very short," I kept telling myself. "Let's go."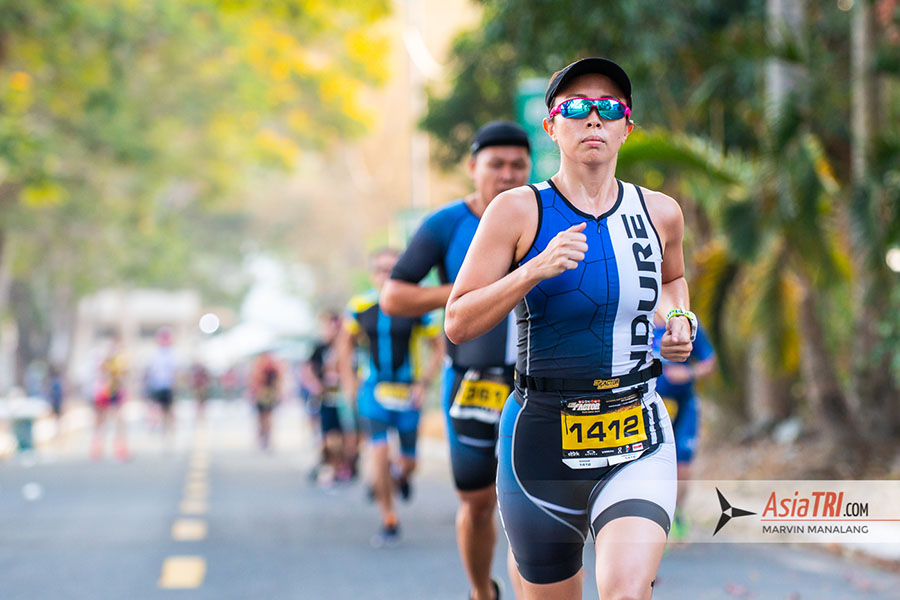 In the final 500 meters saw another female ahead running towards the finish chute. I don't know where I found that extra gear, but I did, and I overtook her with 100 meters to go. I thought she'd sprint also, and I knew I'd have no answer for that. But she just let me go. I couldn't dare look back, so I ran straight through the finish line, collected my medal, and collapsed into an ice bath.
Little did I know that I'd overtaken the eventual Female 16-19 sprint winner. In so doing, I became the first female age grouper across the finish line!
I have always been haunted by that one race where I saw another woman ahead of me and didn't chase her down, only to find out she was in my age group and I'd come in second. It's a lesson I've taken to heart, and I try to race in a way that I leave it all out there so I have no regrets, no "should-have-beens."
I'm also glad that even though I was ready to register a DNS due to my stomach problems, I gave myself a chance to recover and kept the possibility of racing open for as long as possible. I'll take my wins where I can get them 😉
This race doubled as a qualifier for the SEA Games duathlon, so we saw elite athletes from Singapore, Malaysia, and the Philippines race over the standard distance (10K run-40K bike-5K run).
Congratulations to all the participants and winners at the TRI-Factor National Duathlon Championship in Clark, Pampanga. Check out the official results here.
Even though my weaknesses aren't as exposed in duathlons as they are in triathlons, I understand why it's taken me so long to race one again — DUATHLONS FREAKING HURT! But it was great to see my fitness from training for triathlon translate into fitness for a sprint duathlon. As I start gearing up for my next race, the sprint distance at Subic International Triathlon, I know I'm on the right track.
Liked this post? Share it!