I really wanted to go into this race weekend with a minimal amount of drama, but sometimes you don't get what you want with one thing and then it's a spiral downwards. All's well that ends well, though, and there were a lot of takeaways from the weekend.
The Subic Bay International Triathlon has been held for 26 years now. With more triathlons scheduled on the calendar these days (including the Sunlife 5150 that was held in Cebu on the exact same date), SuBIT is not the triathlon mecca I remember it to have been back in 2011 when I first raced the event. Still, it had a pretty good turnout this year particularly in the age group standard distance race and I was glad to see some familiar faces racing in Subic Bay.
The sprint distance — what I raced — is now the realm of fast youngsters who have moved up from Ironkids, unlike back in 2011 when the overall standings were made up of experienced athletes making a comeback to racing. So I was very happy to snag an AG silver medal this year, particularly since my race was a comedy of errors.
In my previous post I wrote about controlling the things I could control, but there were irritants in the back of my mind such as:
My new one-piece tri suit had not arrived in time! I'd waited three months for it at this point and wasn't able to use it in three races already. I ordered it specifically for SuBIT and still wouldn't be able to race in it.
The SuBIT organizing committee were very late in publishing race maps, which still had errors in them by race day. The communiques posted on their Facebook page seemed designed more for the elites racing, and the AG races were a side event. The race briefing itself was a bit slapdash, with the guy on stage just reading from slides that hadn't been updated for this year's edition. Not having access to all the information I needed was very frustrating. (They even set our AG athlete handbook link on private on race eve!)
Jellyfish. This is my big bogeyman at every triathlon with an open-water swim leg and I have never fully shaken my fear of them ever since I saw Doray Ellis come out of a swim warm-up needing to be treated because she got stung.
You can probably tell my frame of mind was not exactly positive on race morning, but I began relaxing as I joked around with friends Vanessa Agdon, Mabel Demavivas, and Junix Ramos while setting up our transitions. This year Van and I are in the same age group, but I still let her use my tire pump (LOL). Mabel is in a younger age group doing her first sprint triathlon and was pretty nervous, so I was doing that whole "big-sister" thing with the sage advice to just find your rhythm and enjoy.
And then as I attempted to inflate my rear tire, the valve core snapped in half and I couldn't unscrew it from my valve extender. Because my wheelset has deep profile rims and all my inner tubes had valves that were too short, I wouldn't be able to inflate my tires properly. Junix came to the rescue: he gave me one of his spare inner tubes (with a valve that was long enough) and even installed it himself! I wouldn't even have been able to start if it weren't for this kindness.
So let's fast-forward to the actual race. My swim was sh*t as expected because I lost a lot of fitness in the time I took off to recover from a cold, and I just didn't have the confidence to push the pace.
On the bike, I rode the rough asphalt very gingerly because I no longer had a spare for my rear tire. Still, the average speed was pretty good for me considering my lack of bike focus.
Then I went to rack my bike and missed my transition spot. D'oh number one! I went to put on my race belt and discovered the clasp had fallen off. D'oh number two! I just knotted the belt around my waist and ran off, feeling slightly deflated but determined to make the best of the last leg of the race.
I crossed the finish line in 1:32:19, six minutes faster than the first time I did the SuBIT sprint in 2011. It was also the fifth-fastest time on the day in a field of 26 female finishers. Looking at overall times, I had the fifth-fastest swim, sixth-fastest bike, and third-fastest run. It was good enough to come in second in my age group, just under three minutes behind Van.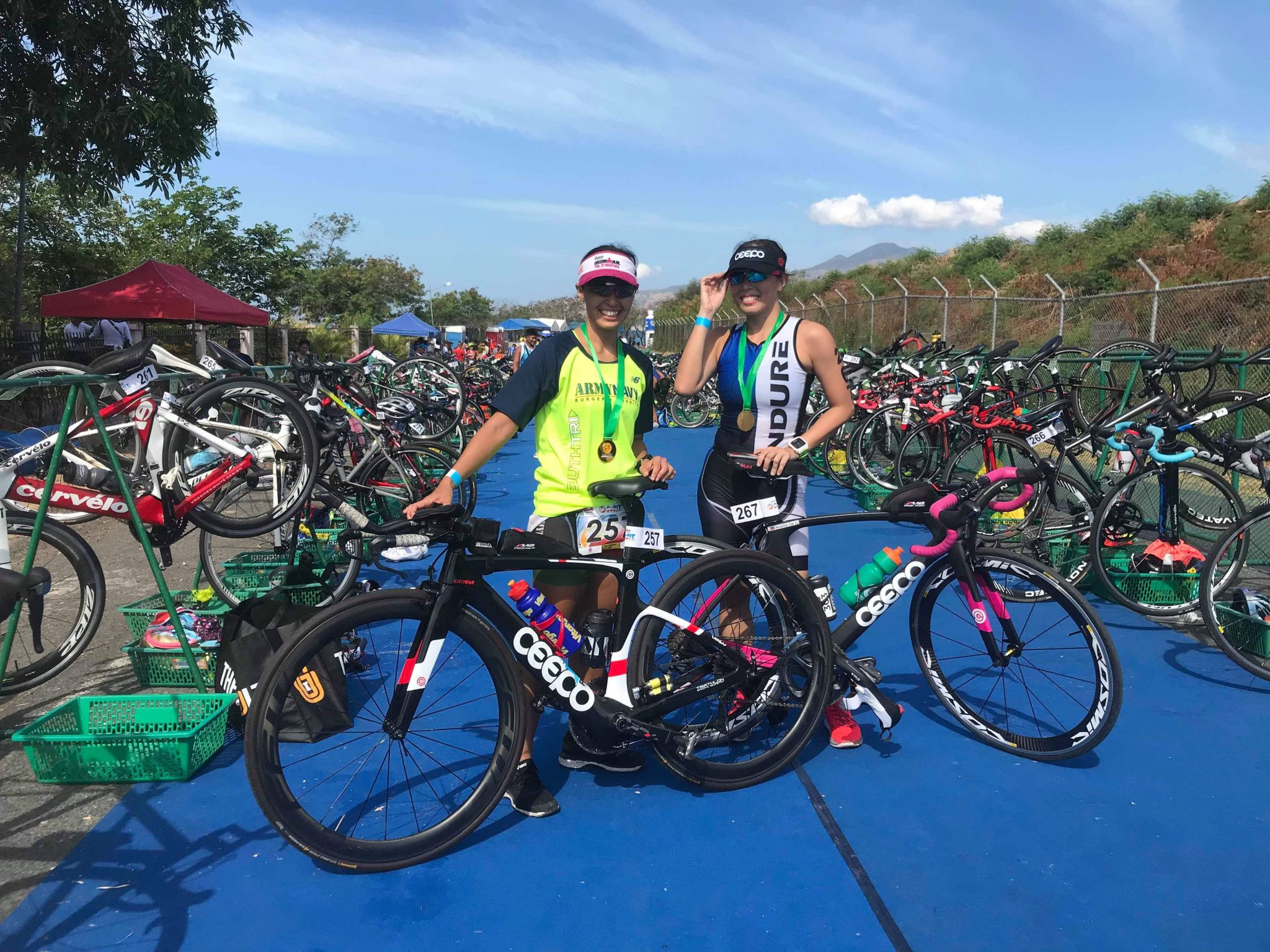 Despite finishing in a really good place, I'd gone through the race with a very negative internal monologue which marred my experience. It soured what could have been a great celebration of finally being able to race again. And when I recognized that, I was really disappointed in myself.
Next time, I've got to do better not just athletically but also mentally. We're racing not for a living, but to enjoy ourselves doing a sport we love. If I can't do that, why even race?
I still have some races left on the calendar this year, so I've got a few more chances to get things right.