After a long break from multisport, I returned to training and racing at the start of this year. Naturally with the increased sun exposure due to training outdoors, I had to protect my skin with sunscreen. I'm not averse to getting darker (valuing fair skin is a remnant of racist and classist attitudes!), but I do know that being careless about sun exposure increases the likelihood of skin cancers and premature skin aging.
Neutrogena is one of my favorite sunscreen brands because it's kind to sensitive skin. I used to hoard the Neutrogena Ultra Sheer Drytouch sunscreen because it was so hard to find locally! Nowadays, Neutrogena sunscreen can be found at Watsons (hallelujah!) and they've also expanded their range of products available in the Philippines.
This year, Neutrogena introduced the CoolDry Sport spray-on sunscreen. Designed for active lifestyles, the Neutrogena CoolDry Sport gives full coverage and easy application that is sweat- and water-resistant up to 80 minutes, with SPF50 UVA/UVB protection.
For the past month, I've been using the CoolDry Sport on my outdoor rides and swims. It sprays on clear, dries fast, and has kept me from burning even under a noonday sun. (When I say "burning" I mean that awful red, painful skin that gets dry and then peels. Tanning/browning is a perfectly natural outcome I don't try to avoid.) It also doesn't turn into a sticky mess or make me feel like I'm overheating when I start sweating.
There are three other sunscreen products in the Neutrogena line-up: the aforementioned Ultra Sheer Drytouch which is what they recomment for wearing every day, the Beach Defense sunscreen with SPF 70 UVA/UVB protection, and the Ultra Sheer UV Waterlight Lotion you can wear on your face under make-up.
I just love having peace of mind to do the activities I love without worrying about sunburn, whether it's racing or heading to the beach to enjoy the sun, sand, and surf. With all of these sunscreens from Neutrogena in my arsenal, I'm #FullyCovered.
(Of course, don't forget to reapply sunscreen after heavy sweating, immersion in water, or after 60 minutes.)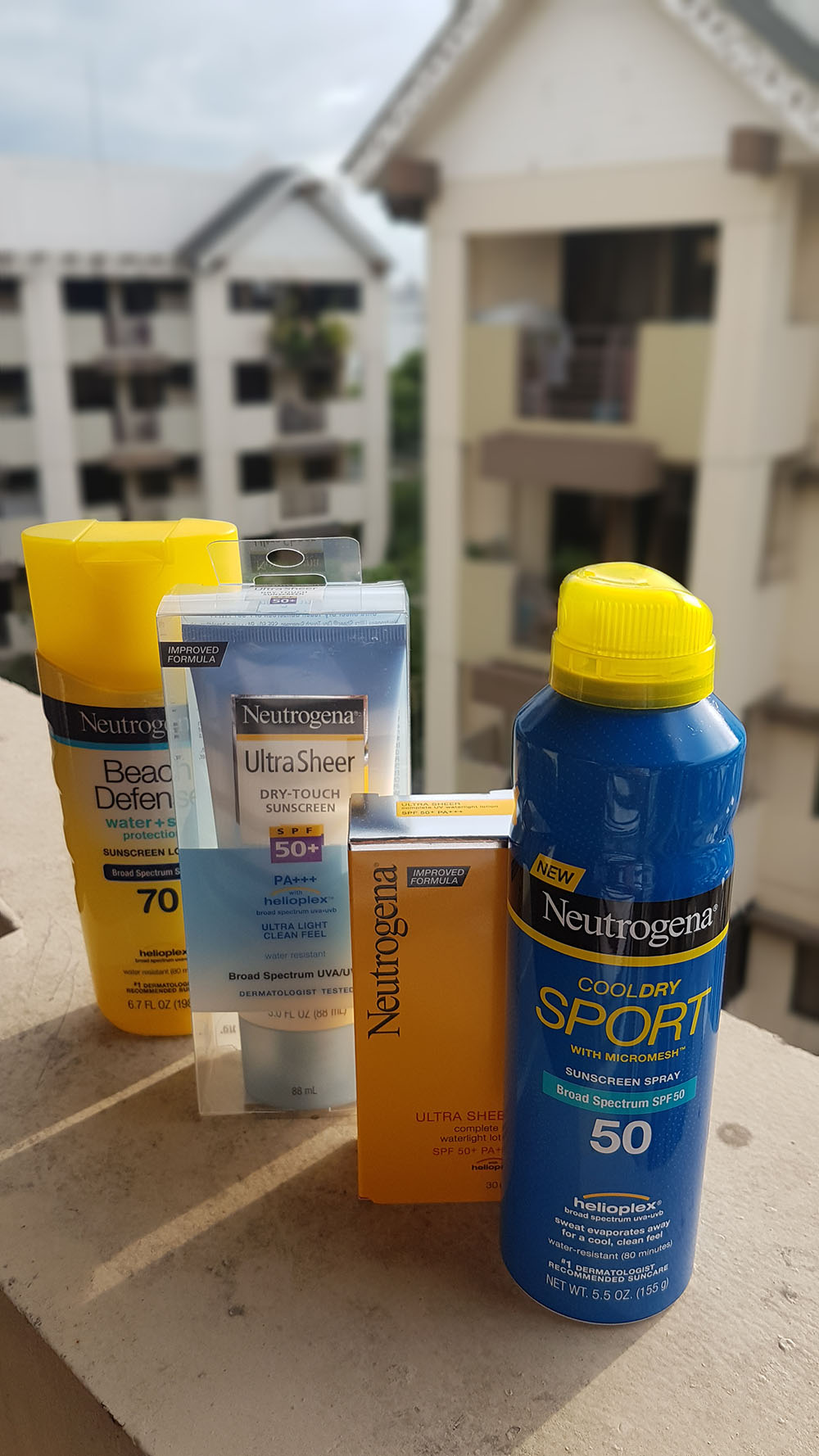 Neutrogena CoolDry Sport sunscreen is available exclusively at Watsons branches nationwide (suggested retail price P699).