Yesterday my Facebook, Twitter, and Instagram Stories feeds were inundated with the news that Eliud Kipchoge set a new marathon world record at the Berlin Marathon. It was exciting news, and I'm pretty sure more than one run session yesterday was inspired by this feat. One of my favorite articles about Kipchoge's achievement appears in The Guardian. Here's a passage:
Kipchoge's time of 2hr 01min 39sec was staggering enough, given it took 78sec off the previous best set by Dennis Kimetto in 2014. But the fact that he did it while going solo for the last 17 kilometres (10.5 miles) – embracing the loneliness of the long-distance runner – after his pacemakers dropped out much earlier than intended, was almost as breathtaking.
He ran his own race and his own pace. Whew.
The Running Pastor Ferdie Cabiling has written a book called RUN: Endure the Pain, Keep the Faith, Finish Your Race about his ultramarathon run across the Philippines, and I was honored when he asked me to host the book launch at the Manila International Book Fair.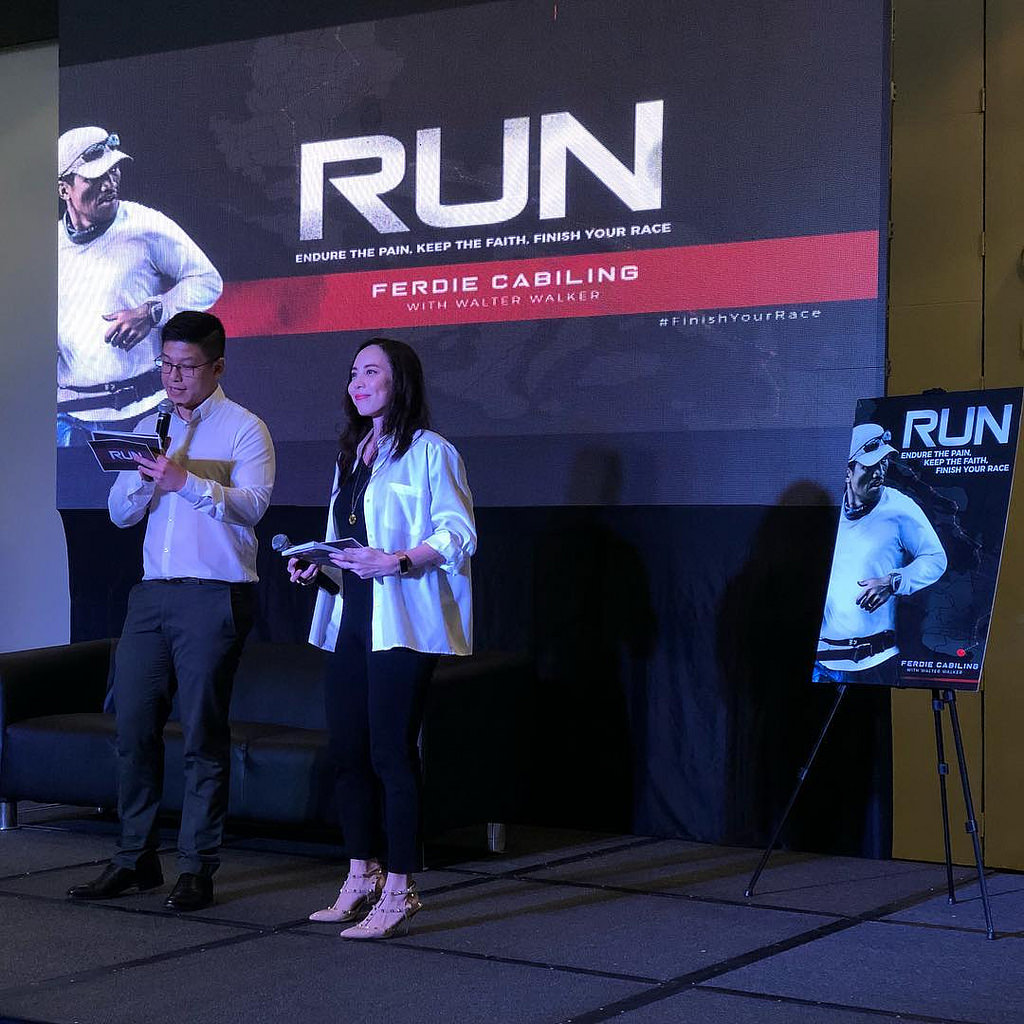 with my co-host Perth Salva (photo by Larry So Uy)
One of my favorite parts in the book is when Pastor Ferdie discusses how everyone has their own race they are called to run. Trying to compare oneself with how others are "running" can distract with what you have been tasked to do. In my understanding, it's like struggling through a marathon and then someone overtakes. We can get demoralized by this, not realizing that the faster runner might be from a shorter distance category, or is gifted or better trained. But when we settle down and understand that we have our own race to run and that we can put our best into, it puts us into a can-do mindset. And with that kind of mindset, you can finish your race.
Last week was inspiring on the whole, as the dark cloud that seemed to have settled over my family's life is lifting, by God's grace. If you like, you can read more about what we've been going through in my brother-in-law's blog post about my niece, Paige.
Speaking of being inspired to run, there's nothing like a fresh pair of shoes to get me pumped. I've been issued the PureBOOST Go to test and used them at the adidas Runners Manila City Chase last Monday. Aside from being made to run as a team to different parts of Bonifacio Global City, we also had to complete Amazing Race-style challenges.
What this means is that I need to start putting some mileage in those shoes and in these legs. And I'm happy to do it.