With the Tokyo Olympics coming up in two years' time, our country's hopefuls need all the help and support they can get. We often see boxing, weightlifting, ice skating, and the marathon as the Olympic sports we focus on, but there are so many more sports out there our athletes excel at. One of them is sport climbing.
Backed by the Sport Climbing Association of the Philippines, the Philippine National Climbing Team currently boasts a line-up of 15 experienced athletes who have competed both here and abroad. Interesting fact: none of them are full-time athletes. Instead, these are all young professionals who balance full-time jobs with the demands of training and competition.
Last week, The North Face invited sports media as well as enthusiasts to the press event where they announced the partnership between them and the Philippine National Climbing Team as the PNCT seeks to field qualifiers to the Tokyo Olympics. This partnership will see The North Face provide support for the PNCT from training all the way until competition season.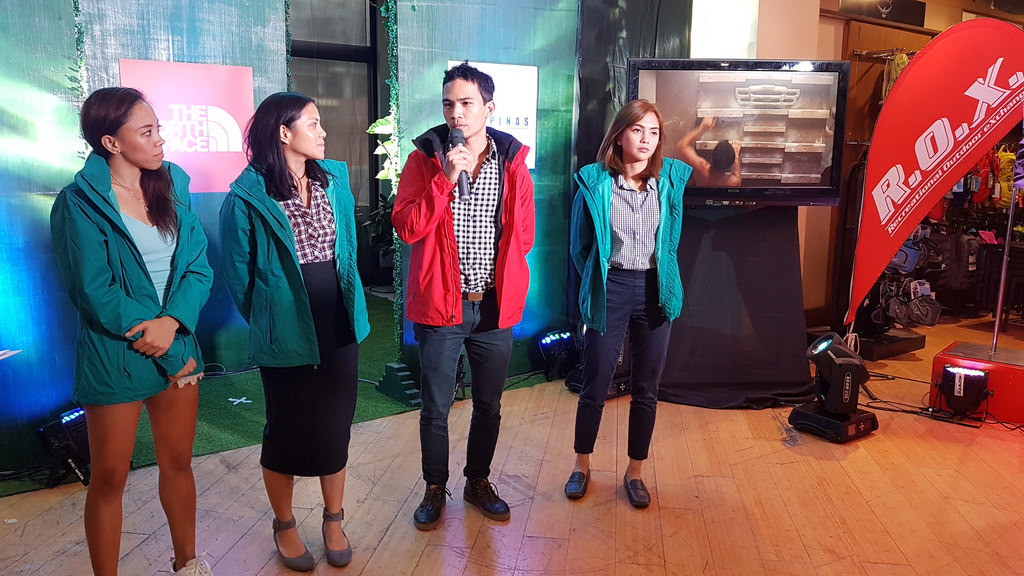 Emilio Gomez of PNCT Team A speaks at the media launch
We got a chance to get to know four of the PNCT's athletes, since most of them had already started traveling to Thailand for the Asian Cup held on June 15-17. Check out their bonafides below:
Emilio Gomez – 27 years old, nationally ranked 9th. He also ranked 7th in the 2014 Bouldering Nationals in Manila. He has focused more on outdoor climbing in the past years climbing up to grades of 7c (pretty technical!).
Mhik Tejares – 32 years old, currently ranked 1st among the Philippine Female Climbers after the
2018 National Bouldering Competition. She was 2nd in the 2016 Lead Climbing Nationals Open Category. She was also Champion in the 2015 CDO Bouldering Nationals. She has been garnering the top positions in various National Climbing competitions since 2011.
Joanne Ala – 25 years old, currently ranked 2nd after the Philippine Bouldering Nationals. She came in 7th in the 2016 Lead National Championships and finalist in the Intermediate category in the 2017 Boulderactive in Singapore. She also got into Women's Open semi-finals in the 2018 HK Bouldering Championships.
Rochelle Suarez– 25 years old. Currently ranked 4th in the National Standings. She was constantly
champion in various novice competitions in the Philippines in 2017, and bagged the gold in the Amateur category in the 2018 HK Bouldering Championships.
The North Face also took the media launch as opportunity to roll out their new No Days Off campaign with the latest collections of footwear and apparel to withstand the most grueling training sessions you can put them through.
For more information about the Philippine National Climbing Team, Like their page on Facebook and follow @philippinenationalclimbingteam on Instagram. Follow The North Face PH on Facebook and @thenorthfaceph on Instagram.
Liked this post? Share it!