The ever-popular and revitalized RUNRIO Trilogy has been making strides since last year, with participants racking up medals from all three races and gunning for honors at the RUNRIO Trilogy Awards. This year brings a new twist to the race series, with trilogy races happening in both Cebu and Manila as well as an expansion of the categories offered at each race and group discounts, making the RUNRIO Trilogy even more inclusive.
Here's the RUNRIO Trilogy 2018 race schedule:
Leg 1: March 4 (Cebu) and March 18 (Manila)
Leg 2: May 6 (Cebu) and June 3 (Manila)
Leg 3: August 19 (Cebu) and September 23 (Manila)
Each leg will have a featured distance that builds up to a full marathon. Leg 1 features a half-marathon, Leg 2 features the "Afroman distance" 32K, and Leg 3 features a marathon. Each race will also have 5K and 10K categories, as well as the 5K Family Run (two adults, two kids 15 years old or below), 5K Barkada Run (four adults 13 years old and above), and 10K Buddy Run (mixed, all-male, all-female).
Discounts are also available for bulk registrations per race. Bundle registrations (registering for all three legs' featured distances – 21K, 32K, 42K) are only available until February 18, but give you the benefit of P500 off the total registration cost, guaranteed singlet and finisher shirt sizes, and personalized bibs.
Costs per runner for the Manila races go from around P775/runner for the 5K buddy runs up to P1,800/runner for the featured distance. Costs per runner for the Cebu races are a little cheaper at P625/runner for the 5K buddy runs up to P1,400 for the featured distance. Full pricing list is available at Runrio.com.
RUNRIO recognizes and celebrates the runners who complete the trilogy's featured distances at the annual RUNRIO Trilogy Awards, the most recent of which was held last February 7 for those who did the 2017 RUNRIO Trilogy series.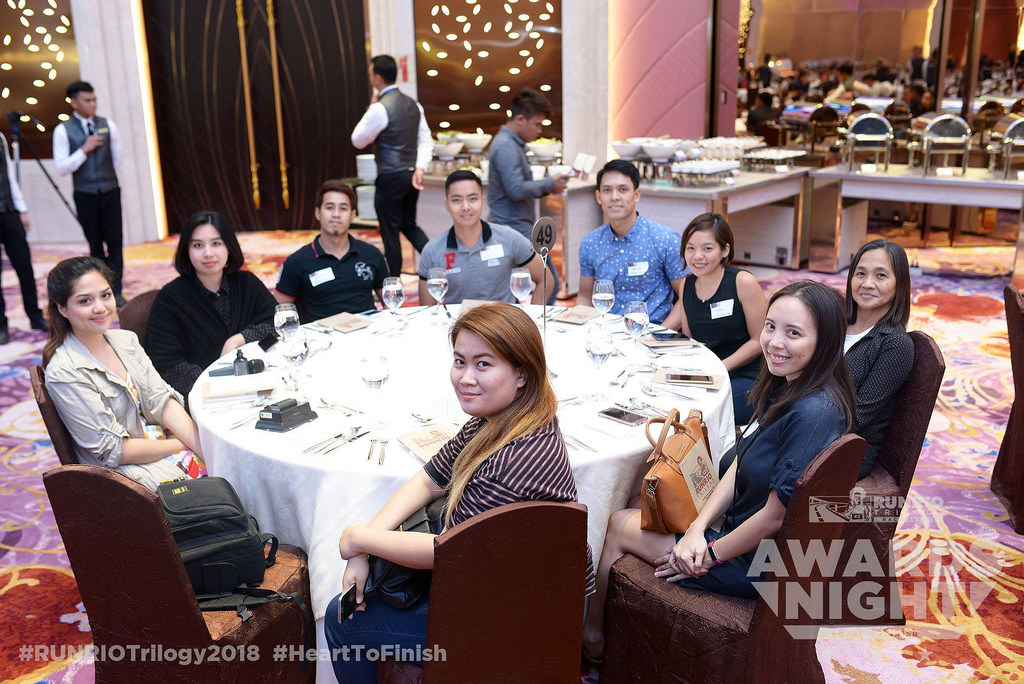 thank you RUNRIO for inviting us bloggers to the awards night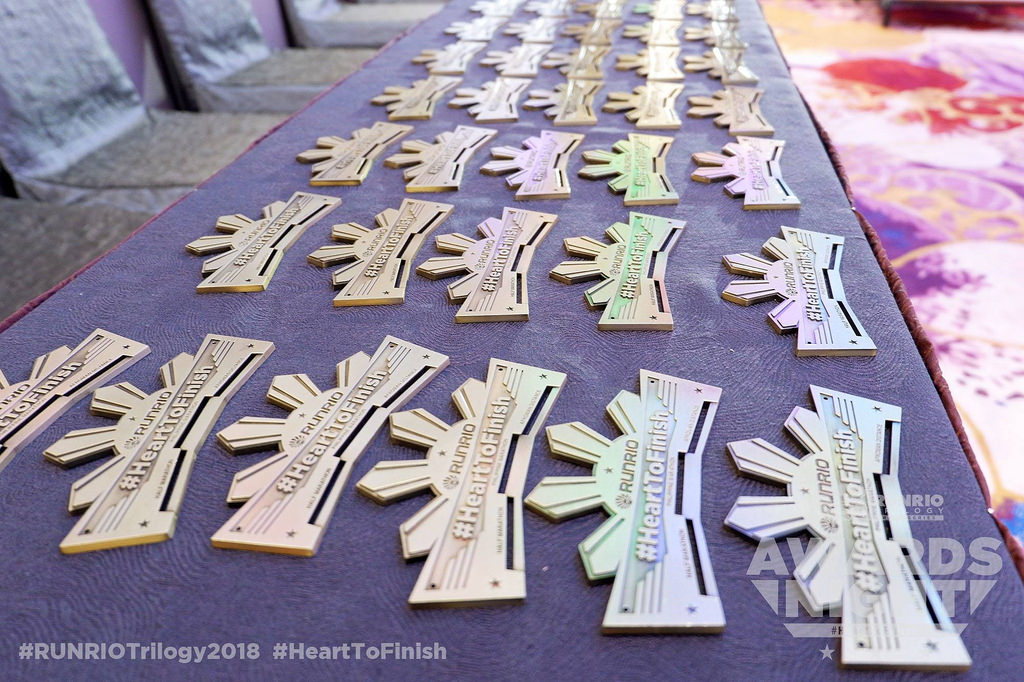 limited-edition medal hangers for RUNRIO Trilogy series finishers
The awards night also honored the fastest and oldest finishers.
It was also RUNRIO's opportunity to present YesPinoy Foundation with a P500,000 donation from the series proceeds. In partnership with social enterprise Taclob, this donation will help YesPinoy provide hooded cloak backpacks with emergency kits and learner's materials to young people in vulnerable public schools, particularly in areas affected by typhoons.
The RUNRIO Trilogy has positioned itself as the country's premier run series, and it seems runners continue to be satisfied by the quality of the race organization and the overall experience. Are you running the RUNRIO Trilogy this year?
For more information about the 2018 RUNRIO Trilogy series happening in Cebu and Manila, please visit Runrio.com.
Liked this post? Share it!