When I received the Samsung Gear Sport to review for two weeks last year, I was super excited to learn and explore the functions of a Samsung smartwatch. I've reviewed smartwatches for Android phones before, but this was the first time I could use one with my own Samsung smartphone. It seemed a match made in heaven.
The Samsung Gear Sport is the latest in the Gear line of products designed for people seeking a more active lifestyle. At the media launch I attended where I got my loaner Gear Sport, they also introduced the Gear Fit 2 Pro (a sleek fitness band) and the Gear IconX (wireless bluetooth earphones). Check out these photos: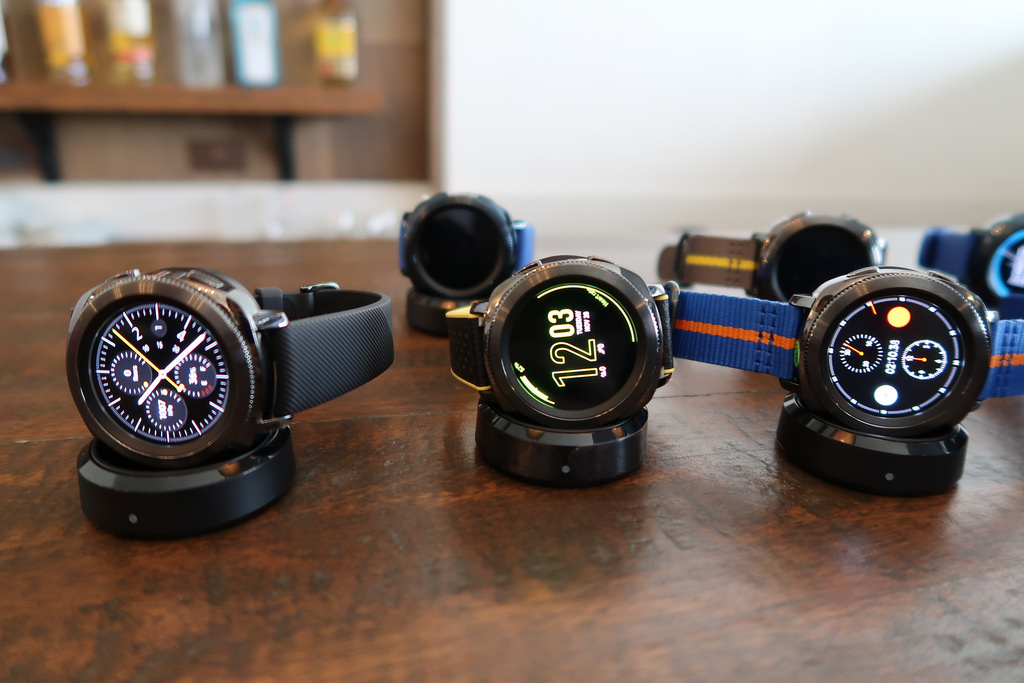 the Samsung Gear Sport with various watch faces and bands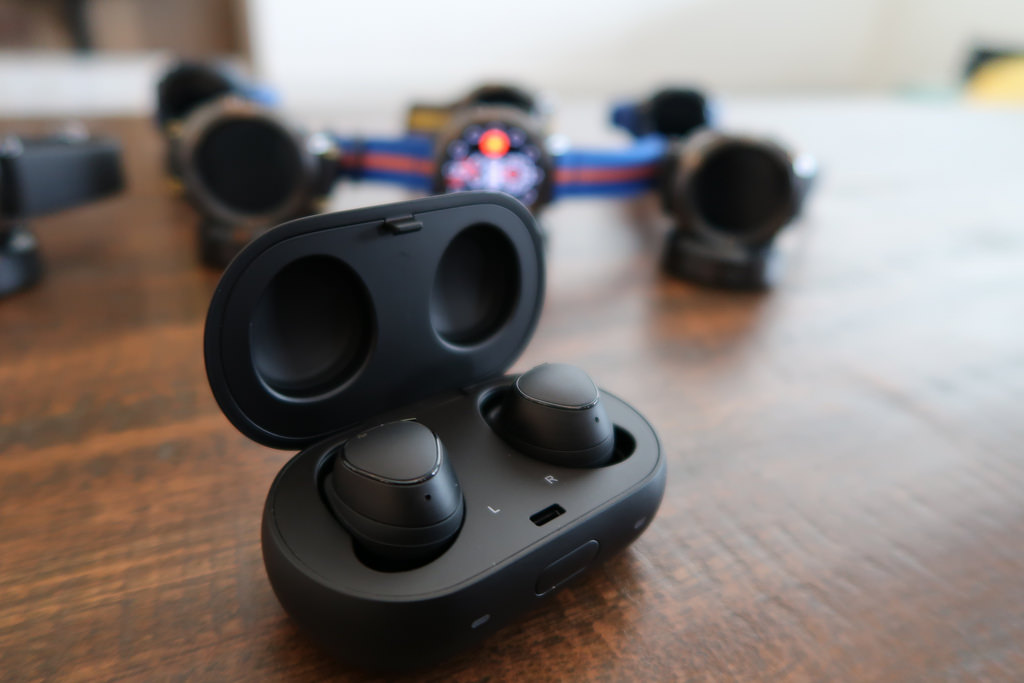 the Gear IconX in black inside their charger case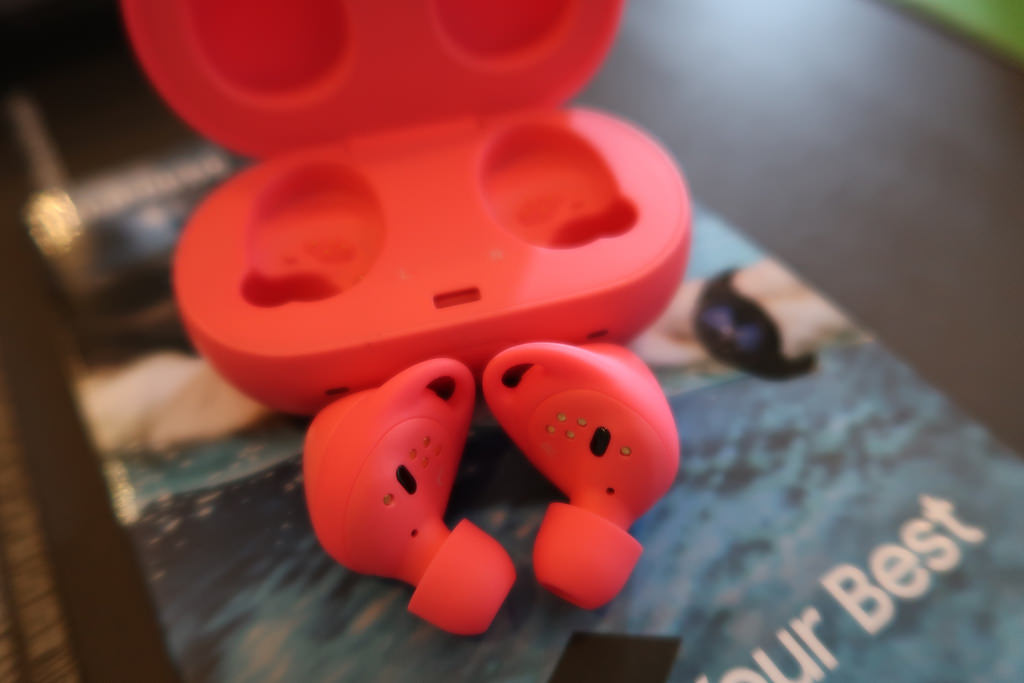 the Gear IconX in pink; the case charges the buds
I didn't get to play with the Fit 2 Pro much because they only had one unit at the media launch, but it seems to be solely a high-powered fitness tracker. It is waterproof up to 5ATM (or up to depths of 50 meters), so you can definitely take this into the pool or the shower. It has its own GPS tracker so it can log your runs even without you bringing your smartphone. MapMyRun, Under Armour Record, Endomondo, and Speedo have watch apps specifically designed for the Fit 2 Pro. And if you're a Spotify Premium subscriber, you can login to the app face and download songs directly onto the watch for listening to over wireless earphones — perfect for sessions you want to tune out the world and focus on your workout.
The Gear IconX doesn't need your phone to play tunes — you can save up to 4GB onto the earbuds themselves (although these need to be actual music files, not Spotify). It also has its own built-in running coach and run workouts, then uses its run tracking to tell you when to run faster or slower.
So you can probably understand why I was excited about the Samsung Gear Sport. It has all of these fitness tracking capabilities bundled into the body of a sleek and classy smartwatch. How did I fare after two weeks with it? The answer is here in my latest vlog:

I wanted a lot more from this smartwatch. While it performed amazingly as a smartwatch and meant I didn't have to pick up my phone for a lot of things like texting (voice dictation was awesome!), or looking to see if who was calling while my phone is in my bag, the fitness and workout tracking was a bummer.
Even though I wasn't able to take it outdoors for a run, I did test its indoor run tracking extensively since the treadmill is where I usually do my running. I just couldn't find where to see distance run and current speed, which meant the Gear Sport was just tracking duration of workout and heart rate — technically just a glorified stopwatch on my wrist. Then when I wanted to upload that data onto Strava, I had to do it the long way around by having the Gear app sync to the Samsung S Health app, which then uploaded to Strava. The workout was marked as an "activity" and I would have to edit it on Strava to change the workout type to the correct one, and fill in other data. So it was pretty frustrating.
Swimming with the Gear Sport proved to be just as frustrating in a different way. Because the watch face touch screen locks down when in the built-in Swim workout mode, you need to use the watch bezel and side buttons to navigate screens. Pausing the session takes a few seconds of holding down buttons and turning the bezel, so you can't just swim a few hundred meters and hit pause to check out how long that interval took you. There also seems to be no Lap function so you can separate rest intervals and swim intervals.
I might have had a different experience had I known to download the Speedo Swim app, which the Gear Sport info page on the Samsung website says can display lap time and record stroke type. Also interesting was the Gear Sport's ability to record heart rate under water, which means that you can do workouts and know exactly how hard you were working.
(All of my complaints about the Gear Sport as a fitness wearable can actually be solved with software, and I might have had the patience to look for those watch apps that could supply me with the granular data points I need to see when I'm training — but I got very annoyed with the constant notifications to update the watch OS. I had to download updates four times in a day until I got fed up and stopped. Who knows if it would continue to prompt me even after I finished those updates?)
In the end, it was much simpler to use my Fitbit Alta HR for sleep, steps, and heart rate tracking and my Garmin Forerunner 920xt for run and swim training. But that's because I already had those wearables. if you don't have those things and are also looking into a smartwatch to use with your Android smartphone, the Samsung Gear Sport can do a decent job, if you're not looking for a deep dive into your training data. Hopefully, future iterations will continue to hone the Gear Sport. I mean, it's already waterproof. If it could just display a bit more of the information I need to train, then it would be a pretty awesome all-in-one watch.
Some of my thoughts about the Samsung Gear Sport also appear in this article on ABS-CBN Lifestyle.
The Samsung Gear Sport retails at P14,990 and is now available at Samsung stores, Abenson, and Lazada.