This is a late post, but it's taken me a while to think of how best to write about these exceptional people. The world of trail running is something I am content to get peeks at through the stories of friends who participate in these sorts of races, but it takes a special kind of crazy to go into ultra distance trail racing. Many thanks to Race Yaya for introducing me and fellow members of the media to the Filipinos who finished their respective events at the UTMB Festival in Chamonix, France this year.
The UTMB or Ultra-Trail du Mont-Blanc is a world-reknowned single-stage mountain ultramarathon. The UTMB proper is 166 kilometers long with a 9,600-meter total elevation gain held in the Alps traversing the countries of Switzerland, Italy, and France. There are also sister races linked to the week-long UTMB Festival: TDS or Sur les Traces des Ducs de Savoie (119 km +7,250 m), the CCC or Courmayeur-Champex-Chamonix (101 km +6,100 m), the OCC or Orsières-Champex-Chamonix (53 km +3,300 m), as well as the non-competitive team event known as La Petite Trotte à Léon (approx. 300 km +28,000 m).
While this isn't the first year the local trail community has fielded participants to the UTMB Festival, it was a particularly bumper-crop year with entrants to all the individual categories.
TDS
Race Yaya held the GRiT Trail Run a few months ago to raise funds to send Sandi Menchi Abahan off to the TDS on August 30, where she did the country proud by placing third Asian, first Southeast Asian, and 21st female overall with a time of 23:27:16. It was Sandi's first time to race outside Asia, after winning several Asian races and being crowned Asian Circuit Champion in 2014 and 2016.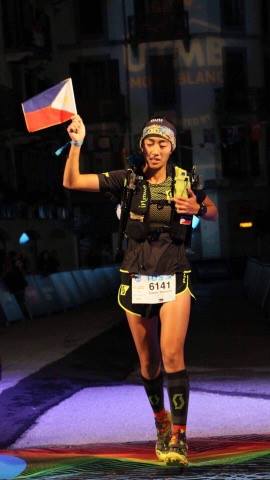 Sandi Menchi Abahan at the TDS finish line
TDS is known to have the most technical course, and this year's conditions added further challenge with rain and snow as competitors reached the peak at nighttime. "It was painful, at the last 8 kilometers as we were going down, I pushed hard to possibly gain more lead in the female category but the competition was really tough. I knew I gave my best and have seen how a far a Filipino can go in this race, and I hope this could be the first of many. I look forward to being better than my performance in TDS or any other international race if given another chance. It was great to be there and know that finally a flag of the Philippines is displayed in a trail running leaderboard. It is my way of giving back to the Filipino community that has brought me here," said Sandi.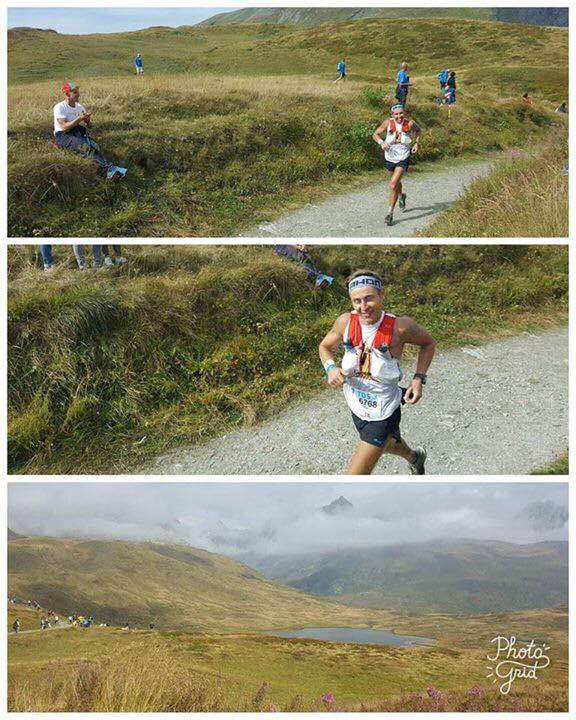 Aldean Lim and Kristian Jorgensen
Fellow Filipino and UTMB 2014 finisher Aldean Lim finished the same event three hours after Sandi, while Philippine-based expat Kristian Jorgensen of Denmark (the "Filipino at heart") finished in 19 hours. Point of interest: Kristian discovered his love for trail ultra running while based here in the Philippines.
CCC and OCC
On September 1, Filipino trail runners started their 101 kilometer race – the CCC. Race conditions got worse with the rain and snow continuously pouring in Chamonix. Erick Guieb was the top Filipino finisher in 21:42:10, with Mark Itol following across the finish line two hours later. Edmund Cura shared that his eyesight worsened midway through the race and he had to deal with it as well as equipment failure until he finished during the last hour before the race cut-off.
The lone Filipino entered in the OCC was a Filipina, Carla Luisa "Carla" Jereza. She finished in 11:22:33.



L-R: Carla Jereza, Edmund Cura, Mark Itol, Erick Guieb
UTMB
The main event – UTMB started at midnight of September 1, with six Filipinos joining the race. Gene Olvis, an engineer, led the contingent and eventually finished in 35:33:54, setting a new Filipino course record in the UTMB. He was followed by Miguel Carranza, a police officer, who finished after two hours. Conrado Bermudez, a US-based Pinoy and Donald Hermoso, based in Singapore, also finished the race.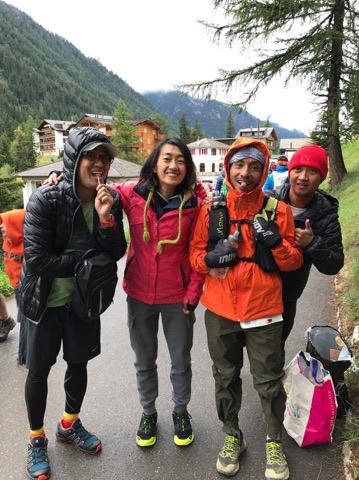 supporting at AS after the previous days' races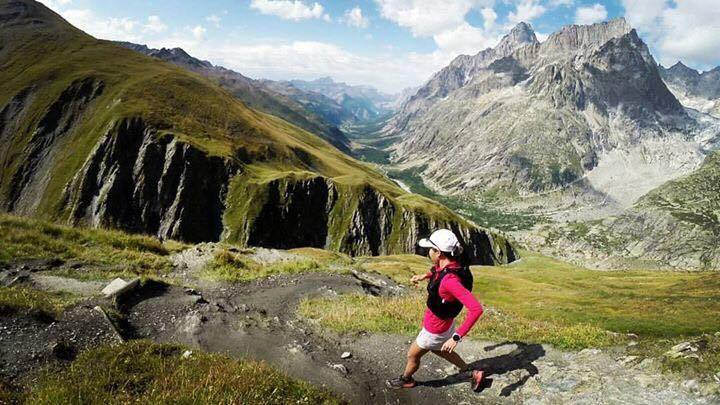 First Filipina UTMB finisher Majo Liao at Grand Col Feret (the coldest and toughest peak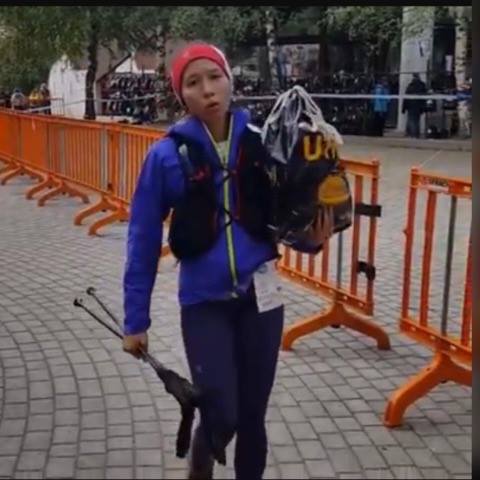 freezing cold after experiencing snow on the peak
Majo Liao finished the race in 42:15 and became the first Filipina to finish the UTMB. During the pre-race interview, she had said, "I want to show that a Filipina can finish UTMB." And she did, in a time of 42:15:14.
The race offered one of the most adverse weather conditions in the history of UTMB, added to the already-tough challenge of running hundreds of kilometers in the Alps. It was quite inspiring to know that these Filipino finishers stood proud and raised the flag high in Chamonix, France.