I wrote a little last year about Omar Paredes, the first Filipino to have won a slot in the Norseman Triathlon lottery who then went on to finish and grab a Black Shirt (given only to the first 160 finishers). This year, Laarni Paredes became the first Filipina Norseman finisher! Laarni and Omar are one of the Philippines' preeminent tri-couples and this makes them the first Filipino couple to finish Norseman. (Does anyone want to use the hashtag #couplegoals?) The two are co-captains of the Herbalife Triathlon Team and were supported by Herbalife during both their Norseman campaigns.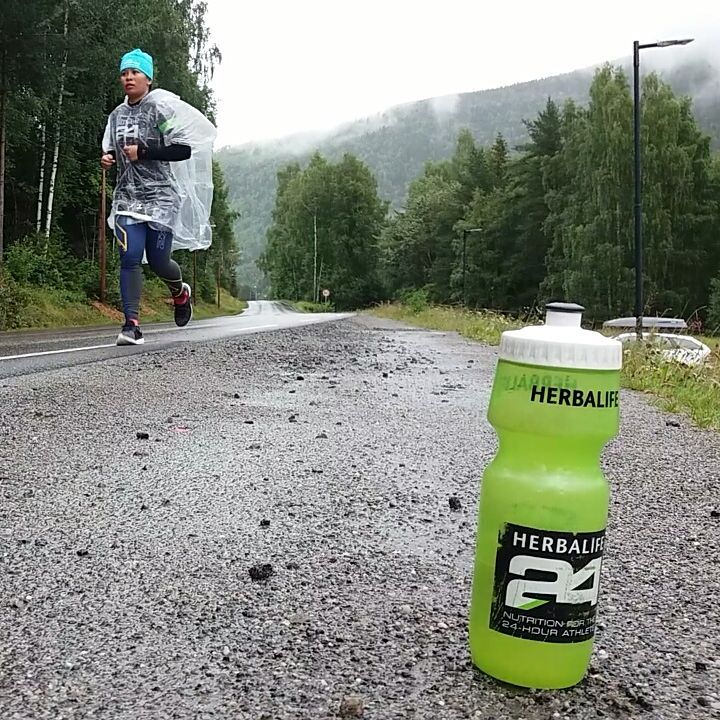 during the grueling marathon after a rainy, chilly swim and a mountainous bike ride
The Norseman is the world's most famous extreme full-distance triathlon. If you think the full distance of 3.8 kilometers swimming, 180 kilometers biking, and 42 kilometers running is hardcore, an extreme triathlon takes this to a whole new level. The Norseman swim is done in a fjord where temperatures rarely rise above 13 degrees Celsius — you jump off a barge and swim to shore. The bike ride includes five mountain passes with a total elevation gain of a little more than 3,000 meters. The marathon, depending on whether you finish on top of the mountain with a Black Shirt, or around the mountain with a White shirt, has an elevation gain of 750-1500 meters including the infamous Zombie Hill, so steep few can run up it. From thousands of applicants, only 250 people receive slots during the annual Norseman lottery. So let me tell you a little about Laarni, who seemed a little shy to talk about her numerous achievements in triathlon at the press conference Herbalife called on her behalf.
Laarni Paredes is a qualifier and finisher of the 2010 Ironman World Championship in Kona, Hawaii — I believe one of the first few Filipinas to do so. She is a seven-time iron distance finisher and is frequently on the podium in her age group. Her personal best time over the full distance is 13 hours, 12 minutes at Ironman Langkawi (one of the most challenging Ironman races in the Asia Pacific region). And for her, going for Norseman Xtreme Triathlon was the next step. They wanted to show that Filipinos can go for extreme triathlons.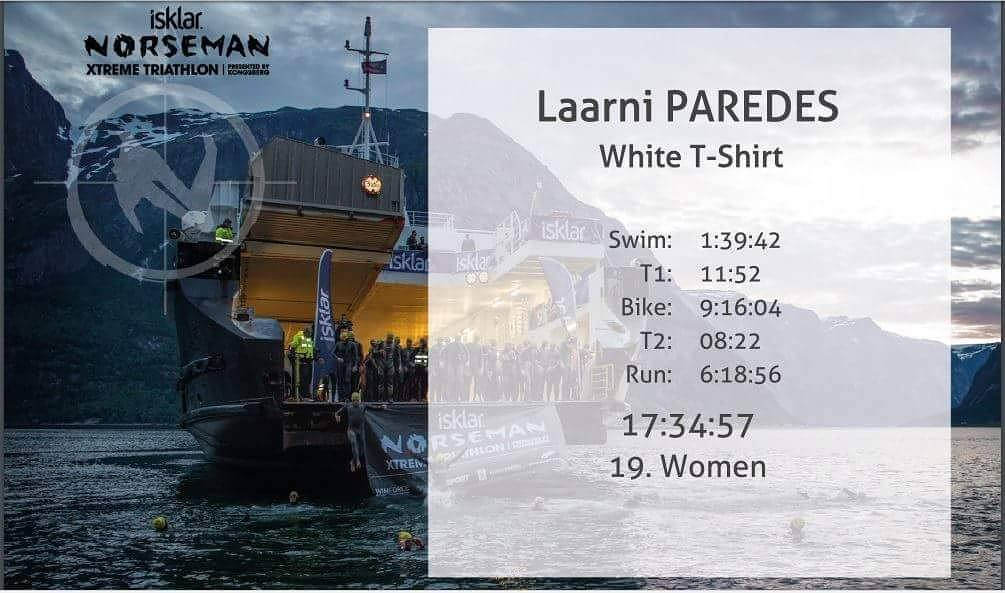 Laarni finished Norseman in 17 hours, 34 minutes, and 57 seconds.
Joining the Norseman lottery was Laarni's idea; she was the one who put both her and Omar's names in back in 2015. Back then it was Omar who got the slot for the 2016 race, and she became his support crew. This year, their positions were reversed.
Unlike most triathlons, the Norseman is self-supported; each athlete must have their own crew vehicle throughout the bike and run legs. In the final 25 kilometers of the run, the support crew may run with the athlete.
She said, "I learned about Norseman a few years ago from a friend who said it is one of his bucket list races and one of the toughest in the world. Having done 7 full iron distance races in the past and feeling quite confident about finishing such events, I wanted something new, a bigger challenge just to see if I can make it."
She found out she had received a slot to Norseman while she was in Malaysia preparing to take on Langkawi again. But it wasn't a question of whether she would take it on. "Kung kakayanin ng lalake, kaya din ng babae," Laarni said. She began training in Baguio so that she could tackle the five mountain passes on the bike leg. Omar changed her bike setup so that she had a compact crank and a 42-tooth gear in the rear. And they arrived in Norway about five weeks before race day to allow Laarni to acclimatize to the lower, drier temperatures.
"My husband, of course, is a huge influence on my decision to push through after I got a slot in the lottery. It means a lot to have his support because it means a lot having his blessing to train for the event, or allot budget for the trip."
Norway's mercurial weather had a hand in her day's challenges. While forecasts and the days leading up to the race said the weather would be fair, Norwegians told them never to trust the weather in the mountains. True to form, even before the jump from the barge into the cold waters of the fjord, it started to rain and continued to rain on the bike leg.


She ended up wearing four layers of clothing and dishwashing gloves
On the marathon, it was the thought of so many people believing in her and sacrificing for her that kept her going. "Almost every racer I know wanted the Black Shirt. I wanted it too, but deep inside, I was realistic. To make it to the tail end of the top 160 participants, I would have to swim and bike as fast as Omar. I'm truly grateful to everyone who believed I could finish at the summit and get a black shirt as Omar did – thank you for believing. It means a lot because the truth is, in my darkest thoughts, I did not even think I will make it past the Zombie Hill."
The first 160 participants past checkpoint were allowed to climb up the mountain for a Black Shirt finish. For Laarni, it was a lap around the mountain for a White Shirt finish. "The Gaustablikk finish was more than enough reward for the sufferfest I've been through. I am immensely proud of my white shirt, in awe, and truly humbled to witness such a different level of strong in the participating athletes. Course records were broken this year for both men and women, and you would not believe how most of the black shirt guys (and ladies!!!) were walking normally a day after like they didn't just race one of the toughest triathlons on the planet. Amazeballs."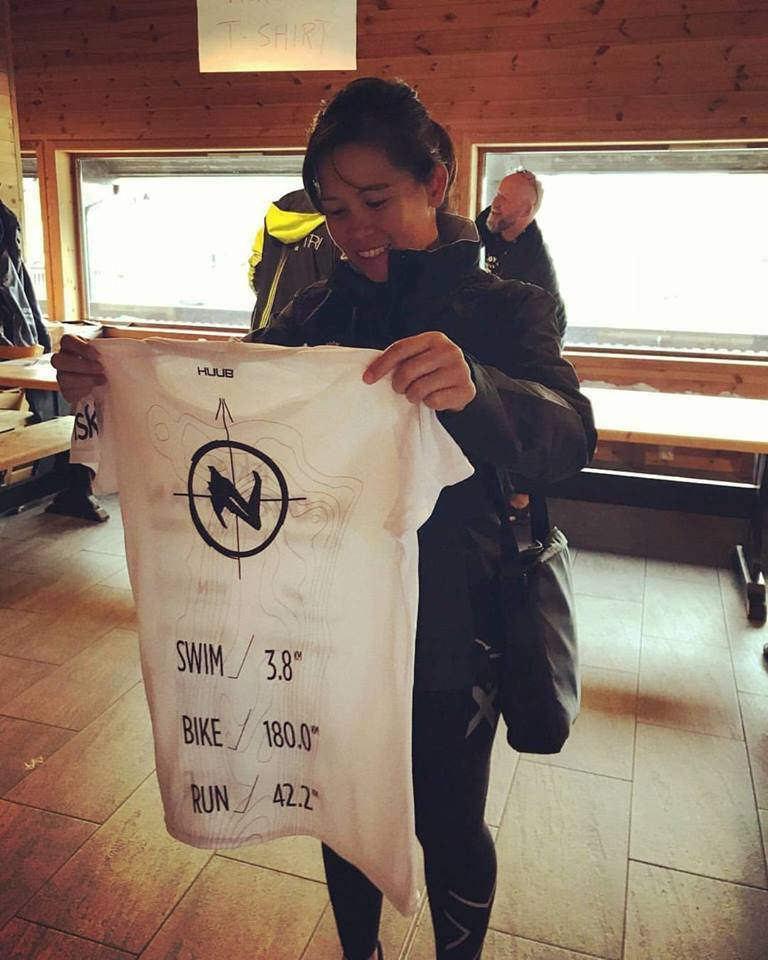 Black shirt or White shirt, it's still a Norseman finisher shirt!
Laarni said, "Noong sukdulan ng pagod ko, may mga times na gusto ko na mag-give up, pero there's really no mountain that's too high for anyone. Doon ko din na-prove na extreme race siya but it's more extreme for us kasi galing tayo sa tropical country. Doon ko na-prove talaga yung resilience ng Pinoy, yung parang damong ligaw, kahit saan, tutubo ka pa rin."
Laarni and Omar both recommend that to go on to tackling an extreme full distance triathlon, you will need to have done several full distance races so you have a better handle on the mind games that plague you when things get tough, and you also know how to prepare for the race properly.
What's next for Laarni? She says she's looking forward to a well-deserved offseason, then participating once again in our local tri races. "Who knows, maybe another extreme tri race again in the future if I get lucky."
Liked this post? Share it!