Around this time last year I wrote a post about affordable activewear and devoted a section to French sports megastore Decathlon, whose products I had discovered during a trip to Singapore. I said, "If we ever get a Decathlon in the Philippines you know where I'll be getting my gear."
Well, that day has come! Decathlon opened last month in Festival Mall, Alabang and I got to visit it two weeks ago.
The Decathlon store was even bigger than I imagined. 

Located on the 2nd level of Bridgeway Parking with entrances from inside Festival Mall as well as on street level, Decathlon's Alabang store is a veritable warehouse for all your sports and physical activities needs and wants. With gear for popular sports such as basketball, volleyball, and badminton as well as niche activities like camping, weightlifting, and yoga, there's bound to be something here that will appeal to everyone's sporty and active side.
Decathlon stands apart from other multi-brand sports stores by designing and manufacturing its own in-house brands. For my interests, they have:
Kalenji for running
Domyos for gym and active lifestyle
Nabaiji for swimming and aquasports
If you're active in outdoor and trail sports, you might be familiar with Quechua. That's also a Decathlon in-house brand!
And because Decathlon has its own brands, it's able to bring their prices down to affordable levels. I actually went a little crazy when I shopped, putting together almost an entire gym outfit for just a little over P1,000. (Try doing that with one of the more mainstream sports brands!)


about to run at the gym with my Domyos top and cropped tights and Kalenji running bra and socks
Want to know something really exciting? Decathlon sells running shoes for as low as P650! Imagine anyone who wants to run for the first time. Our usual recommendation is for them to find proper shoes, right? But beginners may not want to spend upwards of P4,000 on a pair of shoes — what if they end up not liking running?
Decathlon's entry-level P650 Kalenji shoes will allow such people to venture into running at a lower price point. These shoes are rated for up to 30 minutes of running, which is more than most beginners can handle. As one becomes a fitter and more experienced runner, Kalenji also offers more advanced styles which still are cheaper than other mainstream running brands.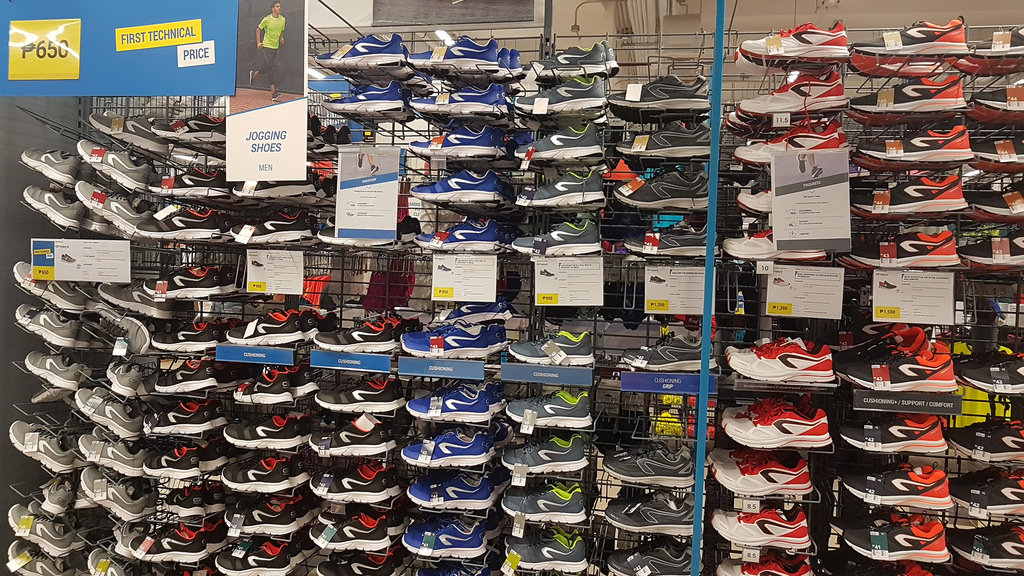 running shoes for beginners for only P650


support/stability shoes for P1,300


walking shoes, if that's more your speed


this bra at only P900 lets you attach a heart rate sensor. No more chest strap, yay!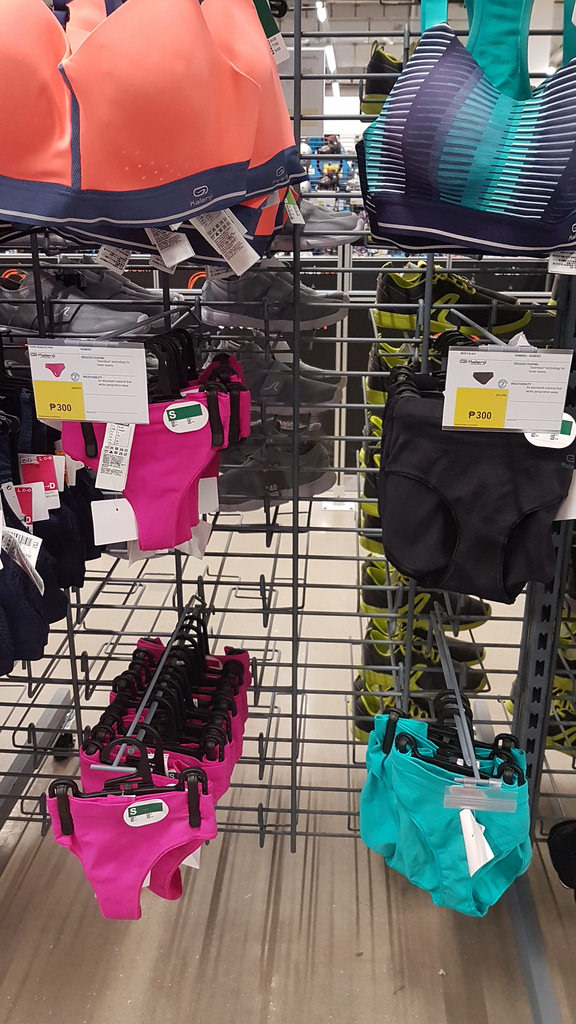 seamless breathable underpants! (men's style also available)
What I really loved were the expansive sections for children's apparel and sports gear. Where else can you find hiking shorts for a four-year-old? If you want to get your kids into sports, there's so much here for them. And you know that if you get your children hooked on an active lifestyle when they're young, they are so much healthier and stronger for it.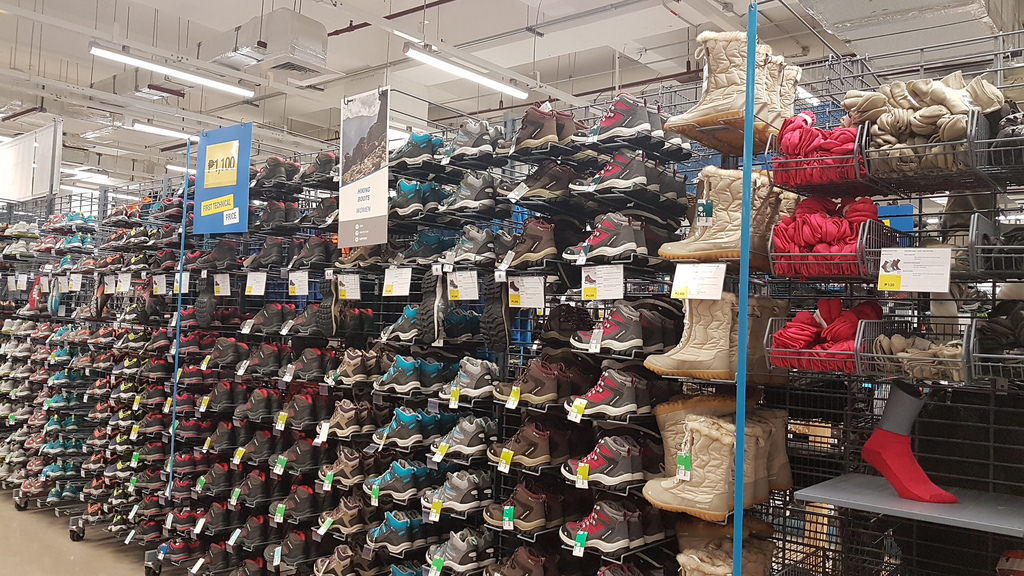 hiking shoes are available for kids and adults alike
Of course if you're purely an indoor gym person, Decathlon also has the right stuff for you. If you love to dance, do yoga, or lift weights, you can find not only apparel and footwear, but also equipment.


there are clothing options for those who like to cover up as well as those who want to show off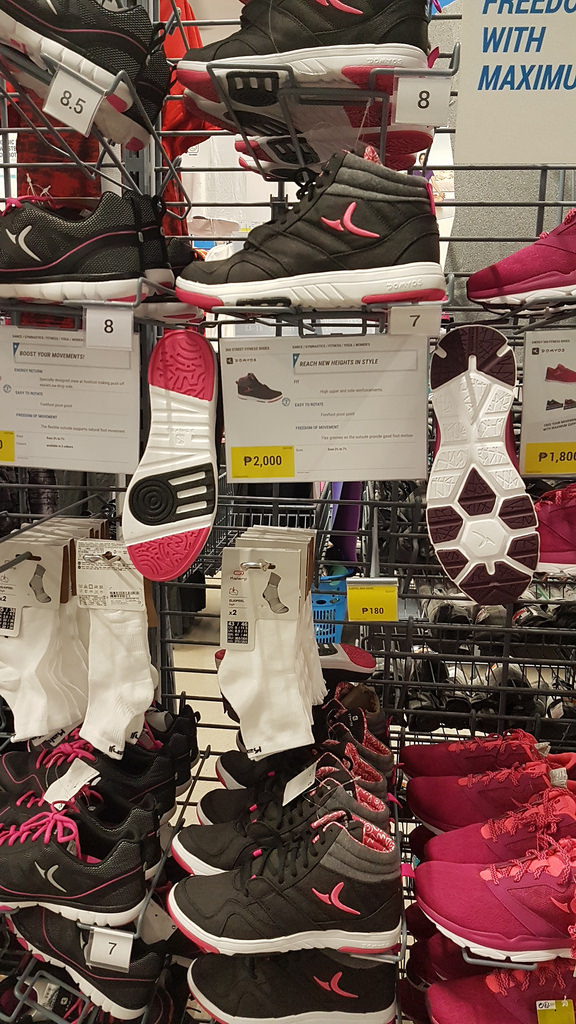 high-cut and low-cut dance shoes have pivot points


Domyos fitness band to help with pull-ups or other resistance work
There are a myriad other sports represented at Decathlon — I hadn't even gotten to the swimwear area before I'd filled my cart! Interested in skateboarding, rollerblading, or scootering around the city? Decathlon's got you covered. Plenty of gear to bring along or just need luggage? Find what you need at Decathlon. It's mindblowing.


with shopping buddies Roselle of Running Diva and Nadine of ClicktheCity
To clue you in to how big the fitness and sports market Decathlon has tapped into with its price point: they've had to increase restocking orders from their warehouse in Singapore to four times a week just to keep up with demand.
I've got to say those who live in the Muntinlupa area are blessed because they can browse the Decathlon store any time they want. For those of us who live further north, it tends to need to be a scheduled field trip of sorts if you want to see and try things on. But with their website decathlon.ph you can order online and pay cash on delivery. (It's only available for Metro Manila and Greater Manila Area for now. Here's to hoping Decathlon expands to nationwide coverage.)
Decathlon is one of the biggest sports retailers in the world. Established by entrepreneur Michel Leclerq in 1976 in Lille, France, the retailer currently operates over 1,200 stores in over 30 countries. The Manila store is already their 16th in Southeast Asia. The new store is over 3,000 square meters and stocks equipment and gear for over 70 sports.
Aside from popular sports such as basketball, football, volleyball, and running, the store also carries items for sports that are projected to take off in the country such as rollerblading, dance, and fishing. In the future, the store also plans to include local sports such as arnis and sipa.
I can't tell you how happy I am that we've now got a Decathlon. I really hope this will encourage even more Filipinos to get into an active and healthy lifestyle!
Visit Decathlon at 2F Bridgeway Parking, Festival Mall Alabang. Follow them on Facebook at Decathlon Philippines and browse the online store at decathlon.ph