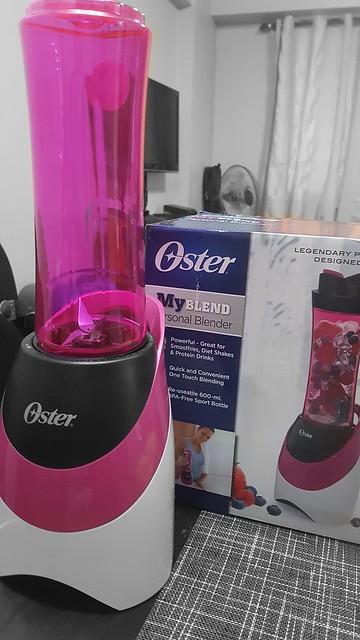 After a long training session, I'm usually a little too frazzled to prepare a proper meal. However, to maximize recovery and prevent muscle wasting, one needs to take in some nourishment within 30 minutes after a workout. This is when a nice shake comes in handy. I enjoy cool drinks on-the-go with Oster MyBlend Personal Blender. Its compact and functional design makes it really easy to whip up a healthy and filling drink just for me, and there's less mess to clean up because I can use the blender canister as a drink bottle. 🙂
For a breakfast fruit shake, I always freeze some oranges and sliced pineapple overnight so that I won't need to put ice into the blender to chill the drink. However, the Oster blade is strong enough to pulverize ice cubes.
Another favorite of mine is a banana-peanut butter-chocolate shake. I just pop a whole banana in, some ice cubes, a tablespoon of peanut butter, some water, then dump Milo over everything and blend. Instant recovery drink!
The best part is I don't over-indulge because the serving size is good enough for just me.
Check out my Snapchat story below about making a pineapple-orange fruit shake.

My family has used Oster blenders almost forever — we once had an Osterizer 10-speed blender that was older than me at that point!
Thanks to Oster, I'm giving away one (1) Oster MyBlend Personal Blender to a lucky reader! Just fill out the form below for your chance to win — one entry per person only, valid for Philippines residents. I will be picking the winner using Randompicker when I get back from the Bintan Triathlon, and Oster will fulfill the prize delivery.
[googleapps domain="docs" dir="forms/d/1BGvkC0d3ZYmj0r2naSJdTfGdsjXJkE2f_tRUzHoUEjE/viewform" query="embedded=true" width="600″ height="800″ /]

Oster also has an ongoing promo. From May 1 to June 30, 2016, if you purchase an Oster MyBlend Personal Blender at SM, Anson's, Landmark, Rustan's, and Coleman stores, you get a free Coleman 1/3 Gallon Jug.
For more information on the different kinds of blender available and food preparation ideas, check out Oster's Facebook Page, follow @osterph on Instagram, or visit OsterPhilippines.com.
Liked this post? Share it!