After sub-par performances in half-ironman triathlons for the past two years, I decided to go back to when I was most successful in training and peaking for that kind of event: when I only had one major race, in the second half of the year so I could build up properly for it. Challenge Vietnam on September 11 is perfectly scheduled, but it wasn't just the timing that was right.
Let me tell you my personal reasons to join Challenge Vietnam.
It's somewhere I've never been before.
Sure, you know what to expect every time you're in Cebu or Subic and that predictability sets the stage for a new PR. After doing certain races multiple times, I've found myself yearning for new experiences and new challenges.
Given that my travel budget for this year has already been partly blown on taking my family with me to the Phuket Marathon, I needed to keep the destination within Southeast Asia. When Challenge started announcing its new races in the last quarter of 2015, I found myself getting all excited for Challenge Vietnam. Sure, Challenge Kanchanaburi Thailand would have also been a great race and I've got a friend who I can drive down with from Bangkok, but I wanted a new stamp on my passport.
Challenge Vietnam will be held in the popular beach destination of Nha Trang.
With its six-kilometer stretch of beach and vibrant nightlife, Nha Trang could be considered the Miami Beach of Vietnam. It is Vietnam's scuba diving capital, and is full of heritage sites right in the center of town, like the Long Son Pagoda and Po Nagar. Nha Trang is also just a short plane ride away from Ho Chi Minh City. So after I race, I also plan on being a proper tourist scuttling around learning about these places and taking plenty of photos!
It's set in a cooler season for Nha Trang.
I've raced enough in Asia to know that it will always get pretty hot and humid no matter what time of year a race is held, but September is part of Nha Trang's short wet season and the weather would have already turned cooler from the hottest months July and August.
My Vietnamese friends say it's cooler that time of year, so I'm clinging to that. In any case, I'm solar-powered anyway. 🙂
I've also attempted to map out the two-lap bike course, and this is what one lap looks like:
Route 3470650 – powered by www.bikemap.net
One lap has a total of 240 meters ascent and while it's by no means flat like Challenge Camsur's pancake-flat course, it's not too bad — well, compared to Challenge Philippines it's a picnic!
It's a Challenge Family race.
Being part of an internationally-branded series of races, Challenge Vietnam will be held up to the standards I've come to expect from the Challenge Family brand. I've seen it from our own Philippine races, to the one in Thailand, to the mother race in Roth — it's a big celebration for you and those supporting and watching. That's why despite this being an inaugural race I'm willing to give it a go.
Also, registrants will automatically get a race-specific training plan from MaccaX, Challenge Family's official training partner. This is a plan written up by Justin Granger and vetted by Chris McCormack to train you specifically for what you will be facing on race day. I've been using MaccaX training plans for the past year and a half and have definitely had great race days because of them.
The local organizer is top-notch.
Challenge Vietnam is organized locally by Pulse Active, one of Vietnam's biggest active events companies. They organize the Danang International Marathon, the Ho Chi Minh City Run, the Color Me Run series held in Ho Chi Minh, Hanoi, and Danang, and the Prisma Night Run.
They have helped grow local interest in running and are trying to do the same for triathlon. Leading up to Challenge Vietnam, they are holding workshops for swimming, cycling, and running. I think as an athlete I'll definitely be in good hands.
Additionally they're working together in a consortium with Philippine and Singaporean sports events companies, so they're definitely going to have the manpower and expertise to run a world-class event.
My friends are going.
In a foreign country, there's nothing like having friends from home there with you. You know that if you run into trouble on the course, there's someone looking out for you specifically. And there's someone you care about to celebrate with at the finish line!
Some of my friends are on a team with links to Pulse Active, so they are already making plans to do Challenge Vietnam as individual competitors and as part of a relay.
(In fact, if you want to race but (1) don't have the patience or stamina to train for all three disciplines and (2) don't have two other friends to do the other legs — Challenge Vietnam is helping put together relay teams. They are currently looking for swimmers. Indicate your interest here.)
If you want to find out more about Challenge Vietnam, come to the Athlete's Night on Monday, April 11, 7pm at the Red Dot Bistro, C. Palanca Street, Makati. This is open to all triathletes, coaches, tri-teams, clubs, and anyone who is passionate about triathlon.
Challenge Vietnam organizers will be presenting the race and answering any questions you may have about it, as well as raffling off FREE RACE REGISTRATIONS and souvenir shirts.
7:00 pm – Registration
7:30 pm – Food and drinks to be served
8:00 pm – Race presentation and Q&A
8:30 pm – Raffle
8:45 pm – Onsite registration for Challenge Vietnam
** 50% off on race registration for the first 50 who register for Challenge Vietnam during the Athlete's Night!**
I'll definitely be there. If you're planning to come, please RSVP here: http://goo.gl/forms/ue3nlWe59d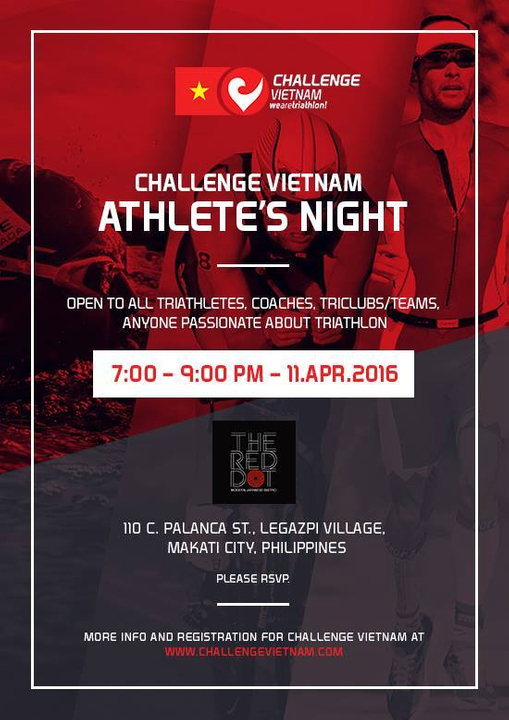 Liked this post? Share it!