I think the only thing running through my head at the NatGeo Earth Day Run the other Sunday was: it's too darned hot!


Can you see my thought bubble?
I have gotten way too used to 6:30am triathlon and 5K fun run gunstarts, so the 3am gunstart for the 21K at the NatGeo Earth Day Run completely threw me off. Pre-race adrenaline kept me up until 12:30am, and then I had to get up by 1am to make my preparations and travel to Bonifacio Global City for the 2am assembly time.
One would think that due to the extremely early start time with no sun beating down on us, the temperature would have been more bearable. Nope. The rising temperatures of the previous few days plus high humidity kept the heat on. Even standing still I was sweating. Race officials told me fewer people had collected their race kits or intended to run because of the heat.
Truth be told, I wouldn't have considered running if I hadn't committed to being a pacer. Having been sick in Thailand, I had only gotten up to 10K in the two long runs I'd done there, although I had hit 18K the week before I left. I felt quite flat on race morning and decided to try hanging onto the pack as long as I could. I told my co-pacers I couldn't guarantee that I could stay with them until the end.
It was a challenging route that I was thankful we only had to go through once (those who had signed up for the NatGeo 42K needed to run it twice!). The return trip over Kalayaan flyover onto Buendia, the rolling course inside BGC itself, and Bayani Road combined with the heat dragged down our average pace. Everyone was struggling and even at our reduced pace we managed to pick up those who had gone out too hard in the beginning.
I was glad I had taken along my Simple Hydration bottle — any time I felt too warm I could squirt myself with cool, refreshing water, and I could also have a sip any time I felt parched! I refilled it several times at the hydration stations, but still ended up chugging down two bottles of Bayani Brew lemongrass iced tea at the finish line. Ang init!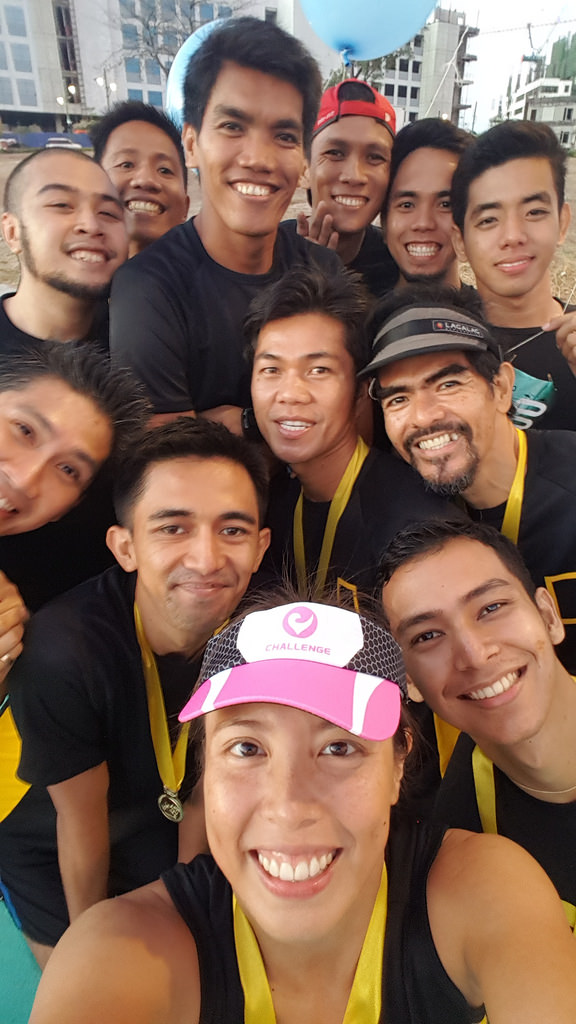 groupfie with a bunch of 21K and 42K pacers
In the end our group didn't make the target time of 1:55 for the 21K, but still managed to come in under the 2-hour mark. What I am proud of is our pretty even pace from start to finish.
Because the start was in Bonifacio Global City and the finish was at McKinley West, I had brought along my cellphone and put it in my Flipbelt in case of emergency. The "emergency" turned out to be a severe lack of cameras at the finish line so we could all take photos with Anne Curtis, who had completed her second 21K in a time of 2:18, around 10 minutes faster than when we had run together last September. She's gently bringing up her mileage and run experience in preparation for the New York City Marathon.
I turned into the de facto official photographer for many of the pacers. Here guys, enjoy your high-res photos 😉


Of course, I also asked for a photo. I *heart* Anne Curtis!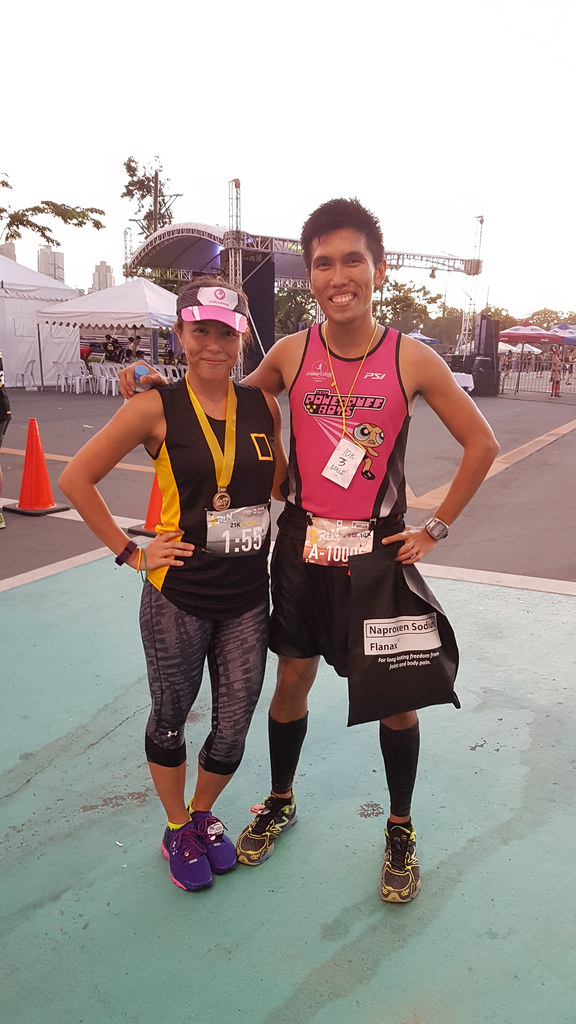 with the speedy Chris Iblan who ran 10K
Despite only having had 30 minutes of sleep and feeling like death the whole time I was running, post-race the endorphins were flowing! It made the long walk back to BGC from McKinley West a bit more bearable. Yeah I had this grin plastered on my face the whole time:
I'm so glad so many signed up to run the NatGeo Earth Day Run, and in so doing brought more awareness to environmental concerns and supported the programs of the WWF.