Tomorrow is my last training day here in Phuket, and a long run is on the schedule. It's during these run sessions that I can practice my marathon nutrition and test the gear I'll be running in on race day. One item has held constant over the past month though: my Under Armour Speedform Gemini running shoes.

I had originally begun training for the Phuket Marathon in a different pair of shoes, but jumped shoe when that pair started falling apart in only a few weeks — and I was only using them for long runs, too!
I already own the Speedform Apollo so it didn't take much to get me interested in the Speedform Gemini, which is a beefed-up version offering more cushioning for longer runs.
(Actually, what sealed the purchase was the Under Armour Philippines website putting the Gemini on sale because the Gemini 2 was already in the brick-and-mortar stores. I love a great deal!)
Just like other shoes in the Speedform category, the Gemini has a smooth heel cup welded right in with the sockliner, and an external plastic brace to give the heel its shape. When you slide your foot in, it feels more like a sock than a shoe. I loved that in the Apollo, and it was great to get the same feel in the Gemini.
The Gemini has a Charged foam midsole that provides more cushioning than what the Apollo can offer, and blown-rubber treads that are quite hardy, making it a great fit for long-distance running.


the smooth heel cup holds your foot in place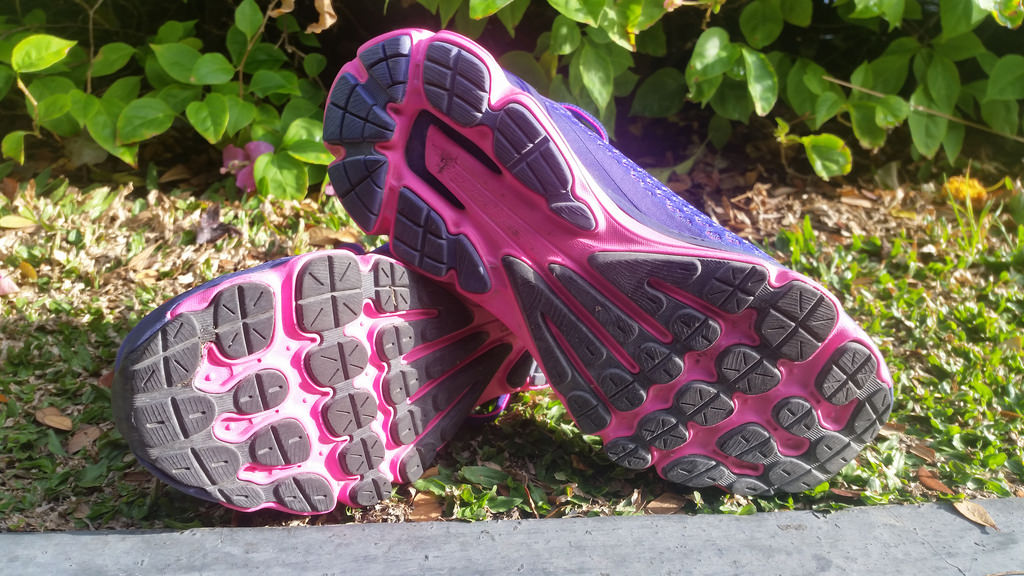 blown rubber treads on the outsole
I had opportunity to use the Geminis first not on a long run, but on a group run that had fartleks and sprints! I thought that they would be heavy and clunky like most shoes meant for high-mileage runs seem to be, but to my surprise the Geminis had great energy return and I was able to keep up with the speedy ones.
I then took them out on their first long run, and it just felt like even though I wasn't putting much effort into my stride, I could keep going on and on. What really made me happy was that the next day I woke up with no little niggles and aches in my hips and feet, a sign that they were providing great cushioning even if inside the shoe it was actually quite firm.
A mesh upper stretches and conforms to the feet and provides improved venting and moisture management, and while the shoe looks like it's got a built-up heel (the heel-to-forefoot drop is 15.4 mm), the Gemini feels really stable and low to the ground. I've used this shoe on both pavement and dry grass trail, and every step feels sure and supported.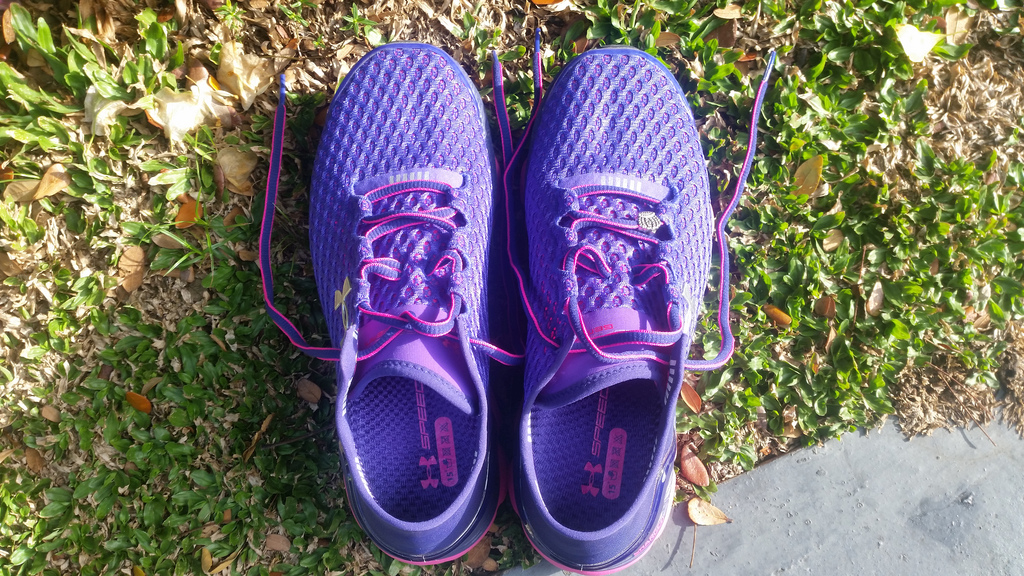 ** crown shoe charm came from a different shoe
The more kilometers I put on this shoe, the more I love it. Right now in training I use the Speedform Apollo for treadmill and track work, and the Speedform Gemini almost exclusively for longer runs. I always look forward to lacing them up. I can't wait for tomorrow. 🙂
Liked this post? Share it!