There are now only eight weeks left until the Nike Run Club Women's Half Marathon happening on May 15, and if you've already signed up with your best girl friend you should be receiving the weekly training program. Last week was all about building endurance, and on Saturday afternoon the Nike Run Club held a group long run in Bonifacio Global City exclusively for the NRC Women's Half Marathon participants, complete with coaches, pacers, and hydration and nutrition support.
As I mentioned in my Dispatch on Monday, I ended up doing back-to-back 16-kilometer runs, and since the NRC long run was the second one of them I decided to go really easy and run with the group doing 6 minutes 30 seconds per kilometer. As it turned out, it was just my buddy Monika and me with our pacers at the beginning. Later in the run we would be joined by another group that had caught up to us.
After a short motivational speech by Nike-sponsored pro triathlete Monica Torres where she exhorted us to start easy and build up to our target pace, the NRC coaches Ian Banzon, Rio de la Cruz, and Ico Ejercito led us through a dynamic warm-up before our pace groups were sent off.
The pacers are a good bunch of people with diverse backgrounds: some are avid long-distance runners, while others are UAAP track stars. They were very encouraging and upbeat during the run, always checking up on all the participants they were guiding through the course. Even if I was already carrying some fatigue in my legs from the previous day's training, there was such good energy in the whole group that we ended up speeding up to a 6:24 min/km average pace for the entire run (including the five-minute rest stops we made at the hydration stations).
While one of the women who joined our group had already completed the Dream Marathon, her buddy was running 16 kilometers for the first time so there was a bit of a celebration once we had gotten back to the meet-up point at Track 34th.
If you're registered for the race, remember to take advantage of all the free resources Nike puts at your disposal! As I mentioned, there is a weekly training plan sent to your email inbox and you can book into the Nike Run Club sessions on Tuesdays and Thursdays. (Even if all the online slots are taken, you can actually just drop in and write your name on a sign sheet!) Additionally, you can schedule a one-on-one Gear Up session with an NRC coach where you can get training, nutrition, and race advice, followed by a personal consultation of what gear best suits your run and style.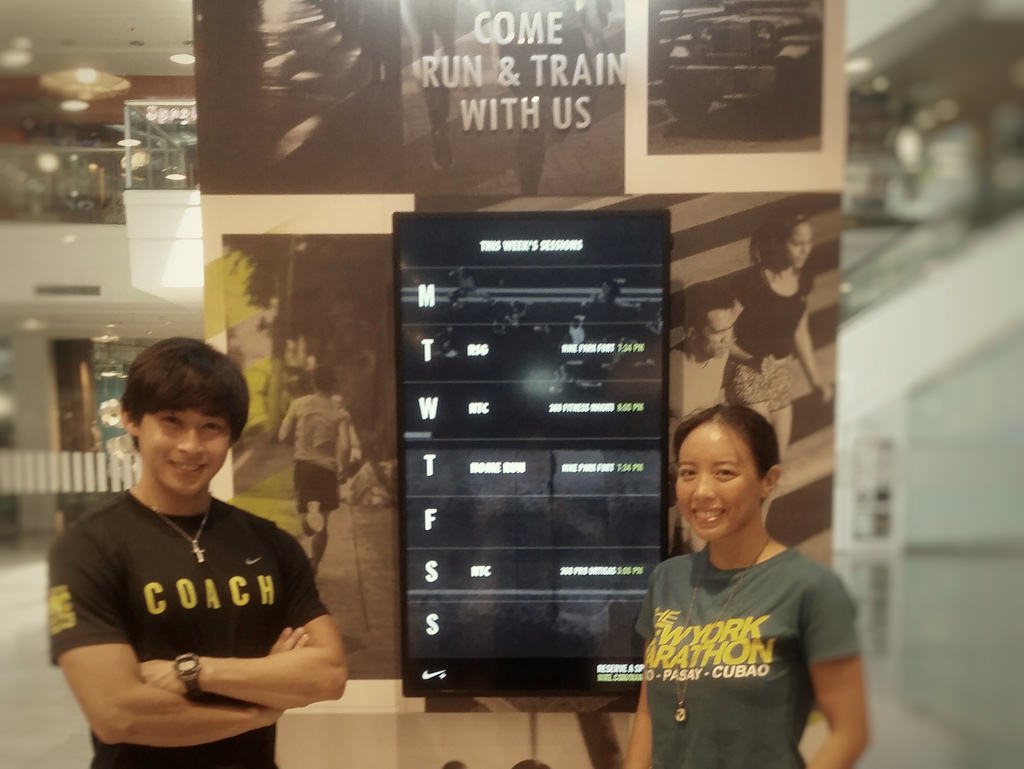 with NRC coach Ico Ejercito for my Gear Up session
This isn't my first rodeo, so to speak, but it was good to pick Coach Ico's brain about the kinds of questions he gets at the Gear Up sessions. No question is too silly, too simple, or too complex to ask — so ask them! If you want a more detailed and customized training plan, the coach can also write one up for you.
They will be running the Gear Up sessions up until two weeks before race day. If I were you, I'd book in ASAP so I can implement the coach's suggestions during the next few weeks of training. Sign up for a Gear Up session here: GEAR UP | Nike
I'm really excited for my buddy and others like her who are challenging themselves with running their first half-marathon.