When Nike asked me last week to save the date of February 29 for their Leap Year Day event, I was intrigued and straight away committed my Monday despite not knowing what was in store for me. The only clues I had were that we had to show up at Puerta Del Parian in Intramuros wearing running gear, and that I would be partnered with Cai Subijano of Preen.PH.
When I showed up, I was given this map. I realized we would be taking on Intramuros, Amazing Race-style!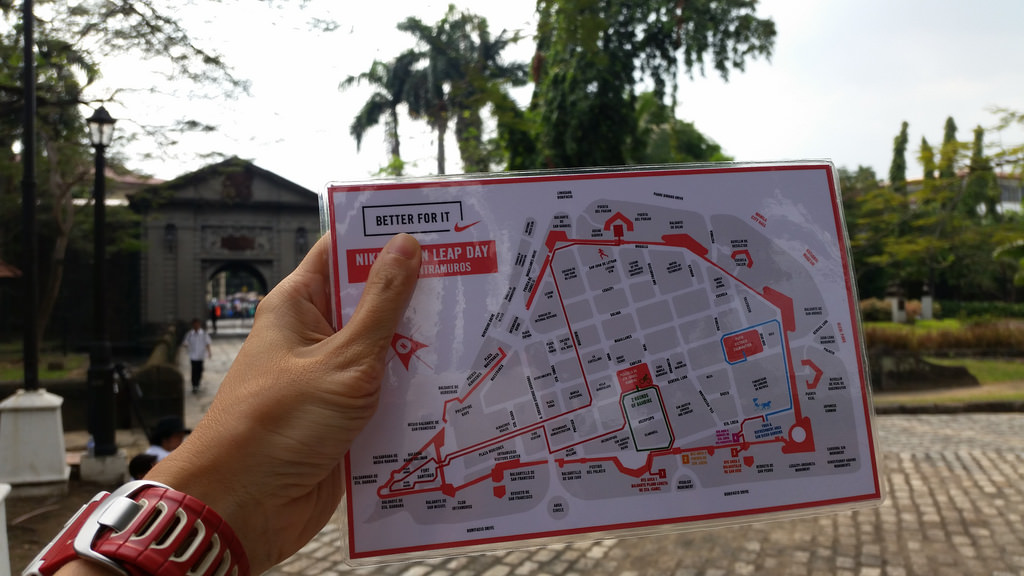 It would be a Leap Year Day to remember
There were about 20 women present, paired up into teams to tackle a scavenger hunt, a mad dash through the Walled City for clues, a tandem run and bike challenge, then finally an hour's worth of Nike+ Training Club exercises and a yoga cooldown. (Was I ever glad I had skipped the day's planned training sessions!)



the initial venue, Puerta Del Parian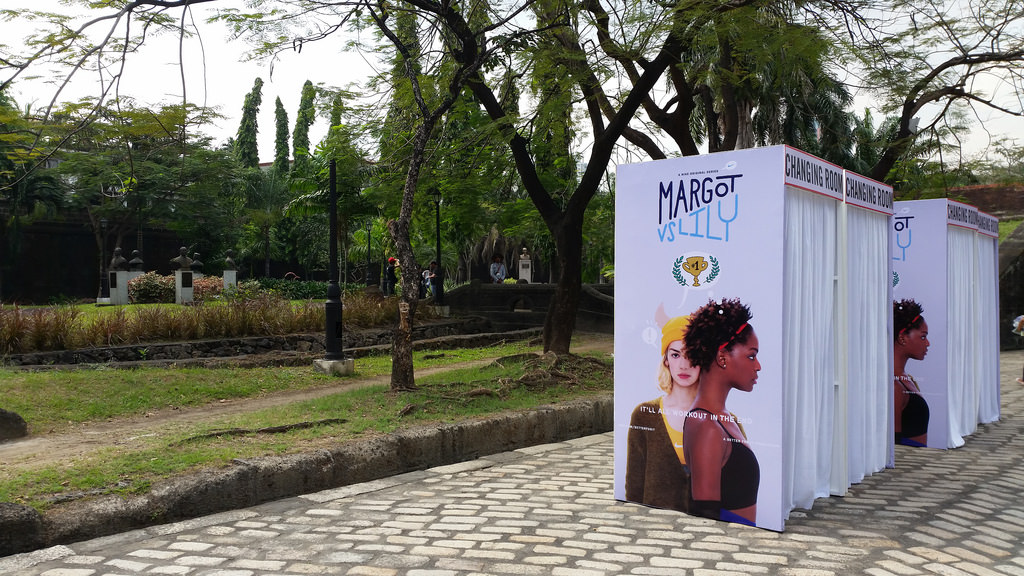 Have you been watching the Margot vs. Lily web TV series?
Reknowned tour guide Bryan Ocampo spoke a bit about the reconstruction of Intramuros after it was bombed during World War II and how the walls had been rebuilt. Our day's adventures would be held within those walls…
Nike Philippines country manager Patrick Reyes told me, "When we realized the Leap Year Day was coming, we couldn't pass up the chance to do something extraordinary on this extra day that only comes around every four years. And now you'll always remember this Leap Year Day."
Some of my most memorable days have involved tough physical and mental challenges (Milo Marathon or Challenge Roth, anyone?), and this one was no different! First we had to go looking around the Puerta del Parian grounds for our respective shoe and clothing drops. We found Cai's pretty quickly. Mine was actually labeled with someone else's name so I kept finding it and leaving it until the gamemasters told me just to take it. After a quick change, Cai and I were ready to go!
The other women were way ahead of us and had probably run through the narrow streets towards Fort Santiago. Cai had knee issues from doing CrossFit Bootcamp too intensely for a year, so we decided to walk and take our time gawking at the sights. We pretty much Snapchatted our way to the next clue checkpoint.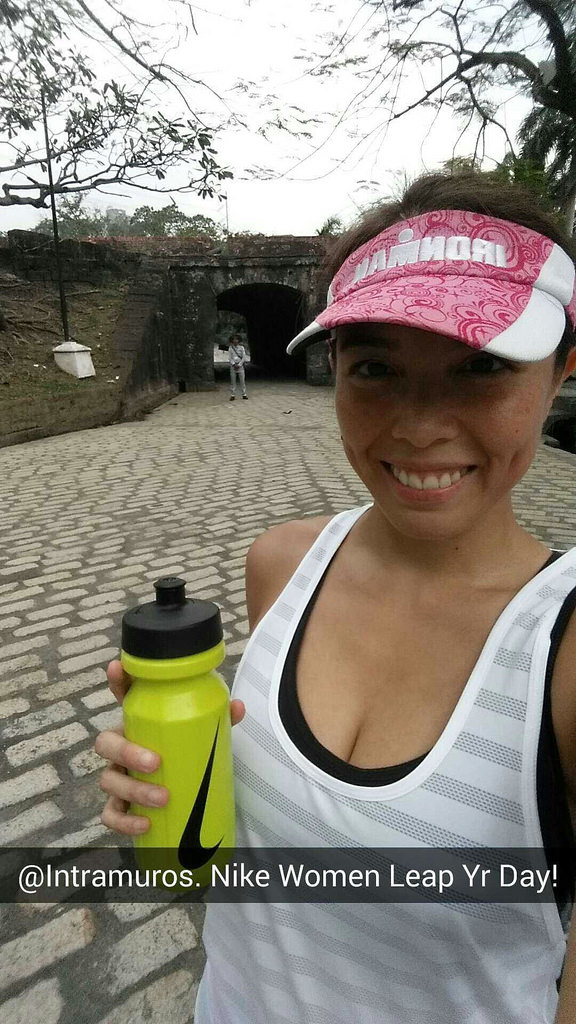 Add me on Snapchat to get the inside scoop! Username: kikayrunner
The last time I had been in Fort Santiago was probably my first year of high school! That's how much I take gems like Intramuros for granted. So we really drank in the sights and the atmosphere.


a view of Pasig River, which runs alongside the walls of Intramuros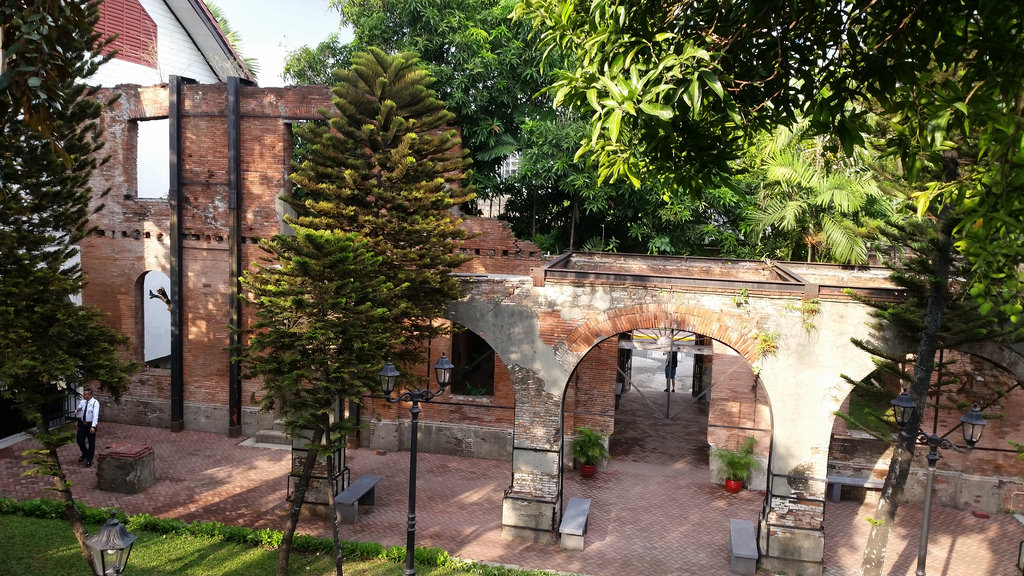 brick ruins around the Rizal Shrine in Fort Santiago


a statue of Jose Rizal stands watch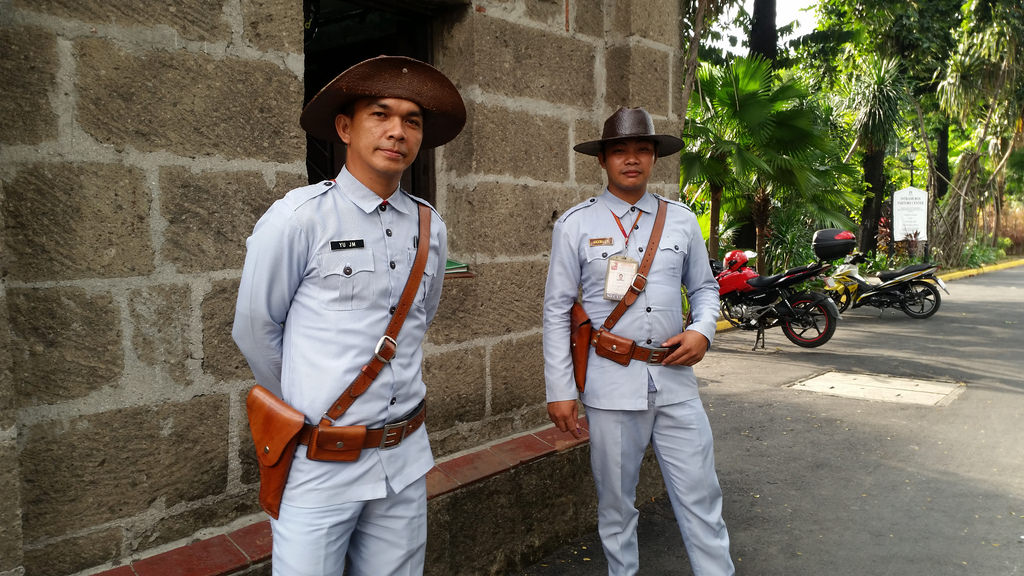 Guards in Katipunero uniform. I kept expecting Heneral Luna to come around the corner.


cannons and artillery shells, oh my!
Once we had collected the clue from Fort Santiago, it was time to head to our next challenge, which involved more walking. By coincidence, both Cai and I had a Fitbit Charge HR so we happily logged those steps walking past old houses, the Manila Cathedral, and some pretty cool street art.
We finally arrived at the Bambike station and managed to see some of the other women completing their bike rides and runs around the block. The challenge was to make four complete laps whether cycling or running.
The Bambikes are real bicycles, but with parts of the body made from bamboo. Cai took it upon herself to ride a Bambike even if it was her first time to ride a bicycle outdoors! She's got major guts especially since the road wasn't closed off to vehicular traffic.
When we had completed that challenge, we were directed to the Nike+ Training Club stations situated on the walls overlooking the Intramuros golf driving range. We had a total of sixty minutes to complete all four stations, but since we didn't know what the exercises assigned to each station were, we would have to take a gamble.
Now the lead women had long finished their hour of NTC, but Cai and I were determined to complete everything to the best of our abilities. So we alternated at doing a minute each of the exercises at the stations until we had used up the time we had allocated to each station. We did 15 minutes at Station One, 20 minutes at Station Two (all legs, so that's why I've been so sore all week!), 10 minutes at Station Three, and 15 minutes at Station Four.
Truth be told, I didn't know if I could make it through an hour of interval training; for a year I have been exclusively swimming, cycling, and running (with a bit of yoga and Pilates thrown in). But you know what? Having a workout partner really helps!
We finally finished the NTC workouts and walked to the Baluarte de San Diego where the other women had congregated. They had finished a yoga cooldown and stretch while waiting for us. I was just happy to be done with the physical part of the day. Once photo ops were done we got into kalesas (horse-drawn carriages) heading towards dinner and a special premiere of the latest episode of Margot vs. Lily.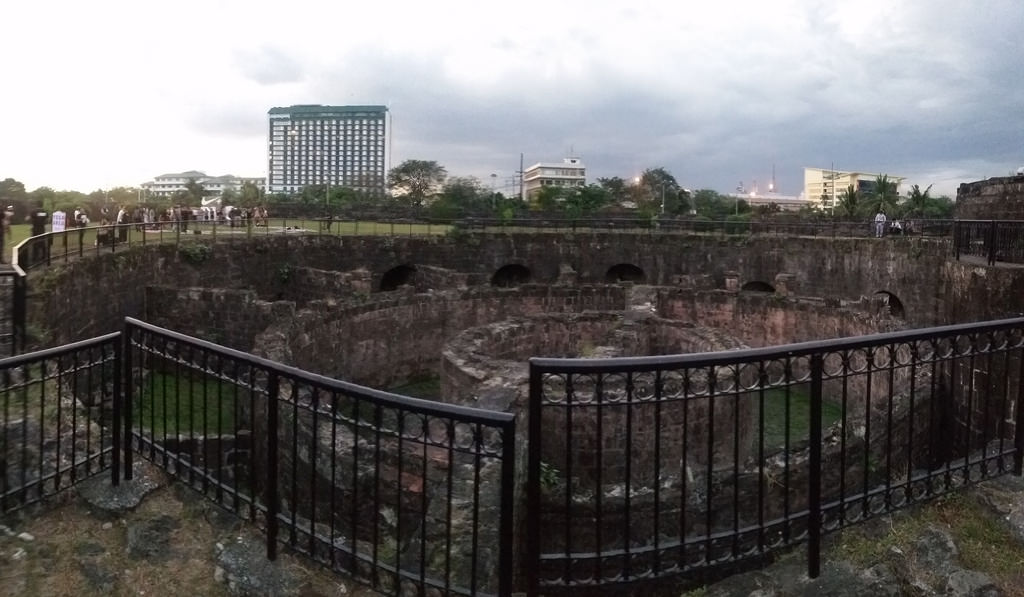 If you squint you can see the Nike swoosh against the skyline
https://www.youtube.com/watch?v=3UMNHEIIM6E
It was great to catch up with the other participants and hear their own stories about the day they had. It's so empowering when women can bust through that preconception that being feminine means never breaking a sweat or being poised all the time.
At the beginning of the day we were told it wasn't a race, so Cai and I had taken that to heart. We were never in a rush but we were determined to give every challenge everything we had. So that's why even if we did finish DFL (Dead F***ing Last), our efforts were recognized with an award we were proud to hoist up.
We can go through life without ever really coming to life, just working within what's comfortable and familiar and safe. It is when you push those boundaries that you do something worthwhile, meaningful, and memorable. Thanks, Nike, for getting us to live life more fully on Leap Year Day! We're all #betterforit.