This week I put the adidas PureBOOST X through its paces. The latest among adidas' BOOST line, it's a neutral shoe targeted at women. In fact, adidas is releasing both a regular BOOST line and a Stella McCartney BOOST line, hoping that its funky colors and innovative floating arch will draw more women into the active lifestyle (and of course buy their shoes).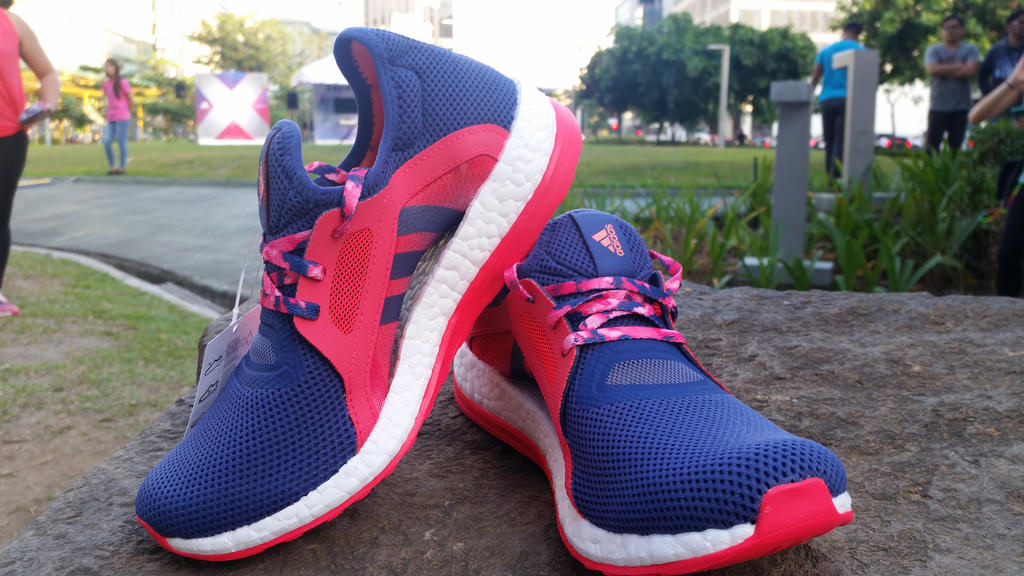 The adidas PureBOOST X (check out that floating arch!)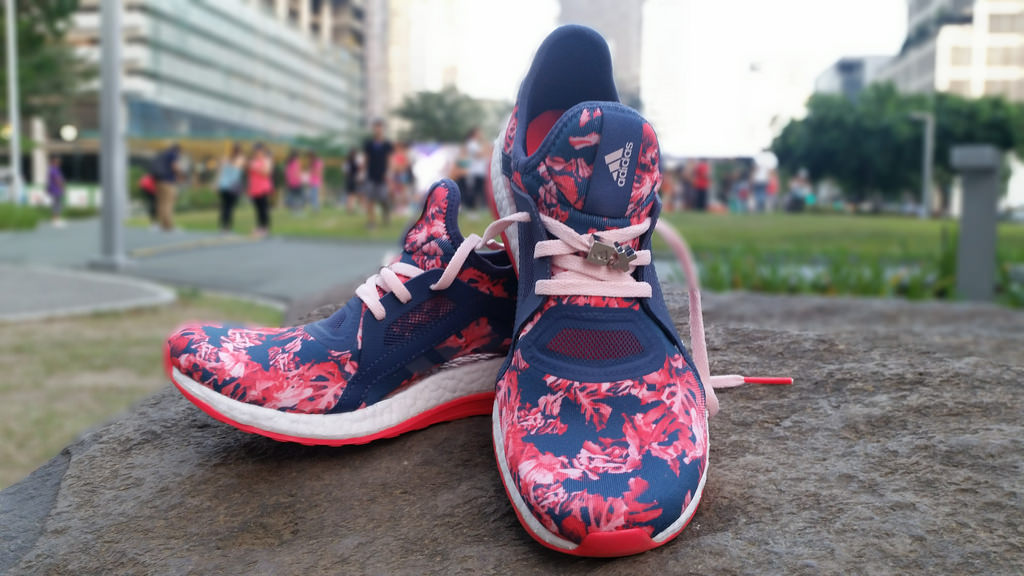 also available in floral motif and black and green
Thanks very much to adidas for inviting me, fellow bloggers, and sports personalities to the launch of the PureBOOST X last week and kitting us out in color-coordinated adidas from head-to-toe. The PureBOOST X shoe itself is quite striking and a sure attention-getter.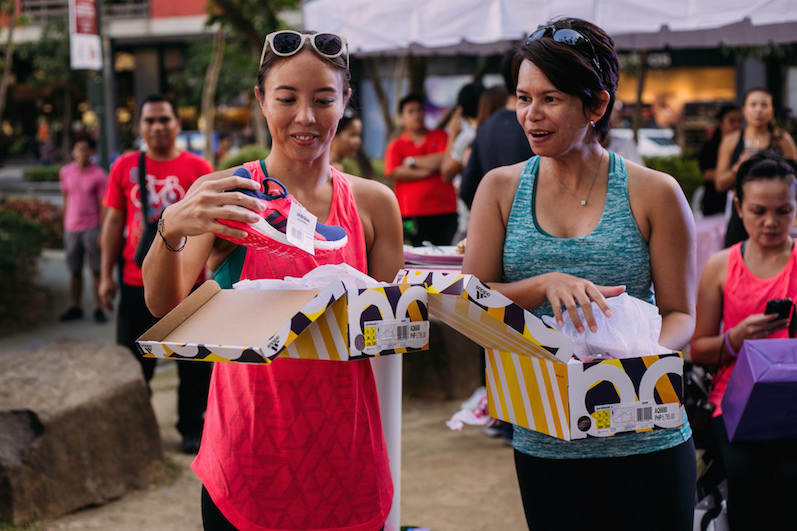 with the Running Diva checking out our shoes during the reveal
We ran into a bit of a sizing problem as the European shoe size I had provided adidas didn't correspond to the correct US shoe size (i.e. I asked for a 38 but for an adidas shoe this meant only a size 6 1/2). While the other adidas girls were able to take their shoes out for a spin during the event, we went back into the adidas store at Two Parkade and tried out some larger sizes. I wear a size 8 US, but even among the BOOST X models the floral one seemed to run a half-size larger. I ended up taking the size 7 1/2 and right off the bat put it to work.
Aside from a short jog, I also walked around in the shoes for hours afterwards and participated in a virtual running-in-place game that netted me a nice adidas backpack. I was amazed at how light the shoes were, but was a little concerned that my feet would slide around due to the floating arch. Additionally I wasn't comfortable with the thought that a stone could get into that open space if I ran with it at my usual road stomping grounds. (Think about stepping on a Lego brick while barefoot…)
The real test came in the days after the launch, when I could run in the shoes for a prolonged period. I decided to test the PureBOOST X on my pain cave's treadmill and had opportunity to do so twice. The first time was just for a mile after I did a swim; the second time was on a 7-kilometer brick run after an indoor bike session.
First things first, they are amazing to run in. Because of the floating arch that moves with your foot there is a feeling of support. For those with plantar fascia problems I can imagine the relief these can give.
The PureBOOST X's upper is glove-like and built all in one piece (no tongue). In fact, the fit is quite close so if you have wider feet you may find them too snug. I have narrow feet though and the material molds to the foot, so for me they are very comfortable.
They are also cushy, yet responsive. Soft underfoot (due to the foam) and all over (due to the fabric/neoprene upper), yet when I picked up the pace it never felt like the shoe was too heavy or eating my speed.
You'll need to anticipate turns more, though, because the lightweight construction won't control your feet sliding laterally. In fact I think these shoes lend themselves more toward indoor workouts on the treadmill, crosstraining in the gym, or on flat controlled surfaces, like a tartan track. I had planned to take these shoes to ULTRA track oval, but it's been closed this week for the exclusive use of the UAAP athletics competition.
While I've heard that some people wear the BOOST line with no-show socks or no socks at all, the heel counter comes too high up my ankles and rubs against my calves, causing chafing. I would recommend thin socks that go up to at least an inch beyond the ankle bone, like the Vamos Rapido socks I'm wearing in this photo.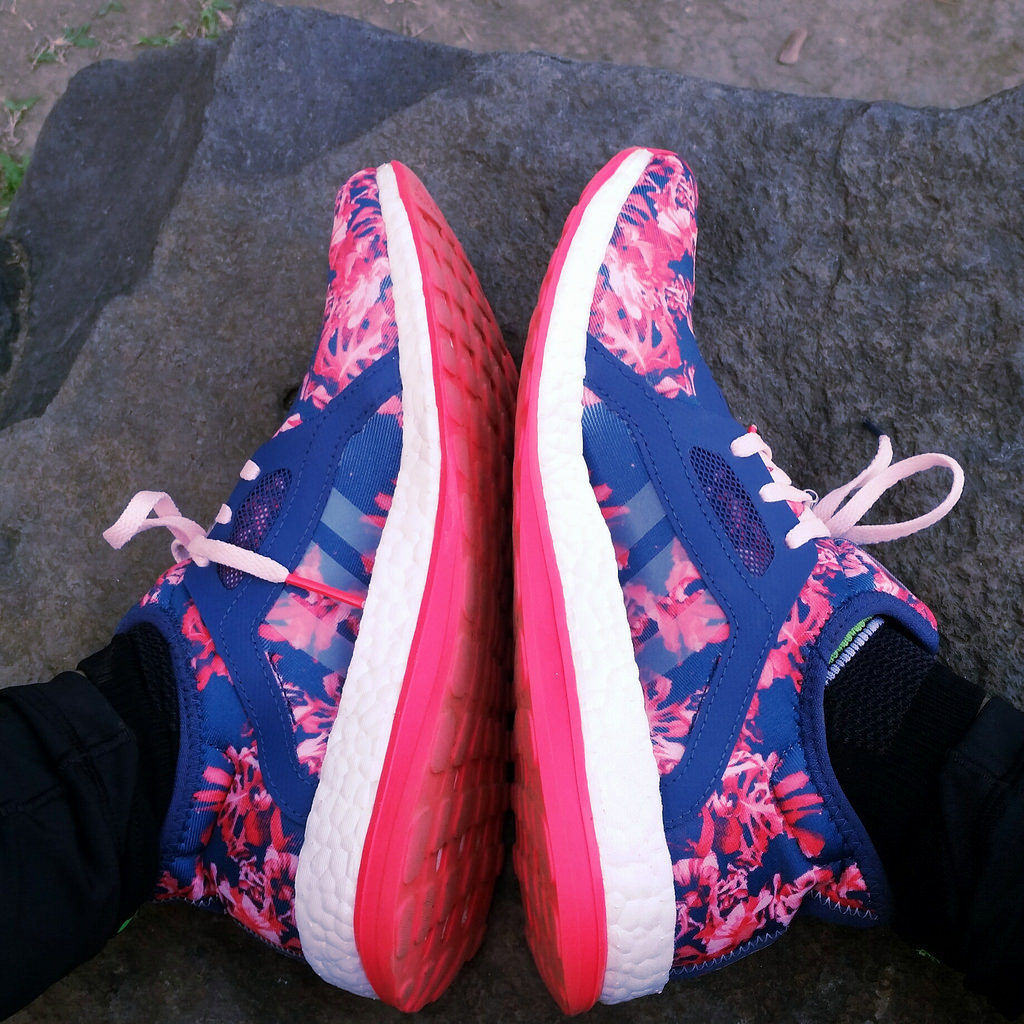 You can just see the edge of the sock line against the tights.


or try the RUNNR socks I'm wearing in this photo
I did mention that the PureBOOST X is a neutral shoe, so if you have any issues with your ankles, knees, or hips and need more support, you may need to look at a different, more robust shoe. If your running gait is otherwise healthy and/or you're looking only to use these shoes over short distances, then the PureBOOST X is a nice shoe to have.
I'm happy to add the PureBOOST X to my shoe rotation alongside my Under Armour Speedform Apollo pairs. If you find the Speedform Apollo a bit too hard underfoot but otherwise love how lightweight they are, then the PureBOOST X is a great alternative.
adidas PureBOOST X is available in three colorways (Raw Purple/Raw Purple/Shock Red, Black/Shock Green/Black and Mineral Blue/Mineral Blue/Halo Pink) for Php5,795 on adidas.com and retailers nationwide. The adidas by Stella McCartney version is available in two colorways (Dark Blue/Granite/Dark Blue and White/Dark Blue/White) on adidas.com and select retailers for Php8,195.
Liked this post? Share it!