It's not everyday that a world-class sports medicine clinic opens up in Manila. PACE Prehab and Recovery officially opened its doors to media, athletes, and the public on January 18. I was there to check out its offerings.
In late 2014 I wrote about the Run Safe 101 Seminar conducted by New York-based sports medicine physiotherapist Francis Diano. Little did I know that eventually Francis would move his practice to the Philippines and its emerging and fast-growing sports market!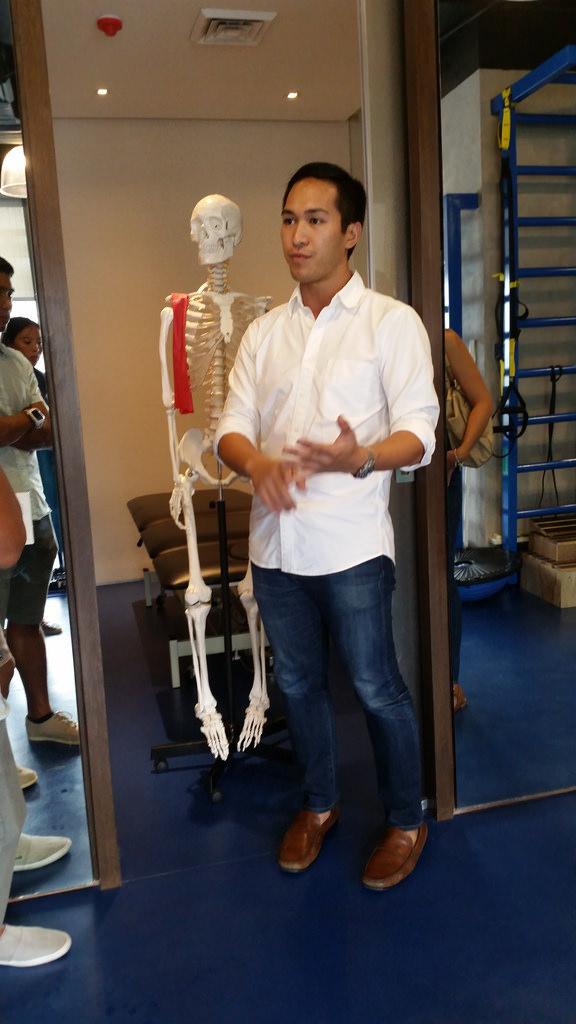 Francis Diano of PACE Prehab & Recovery
PACE is all about being proactive with conditioning, training, and biomechanics. The concept of "prehab" means assessing each individual athlete's physical condition and taking steps to prevent injury and improve performance. Hence their tagline "Prehab, not rehab."
An athlete can book in for a prehab initial assessment. This identifies structural and soft tissue deficiencies and movement pattern insufficiencies and dysfunctions that limit performance and increase the predisposition to injury. Francis does this with the use of what we like to call an advanced gait analysis.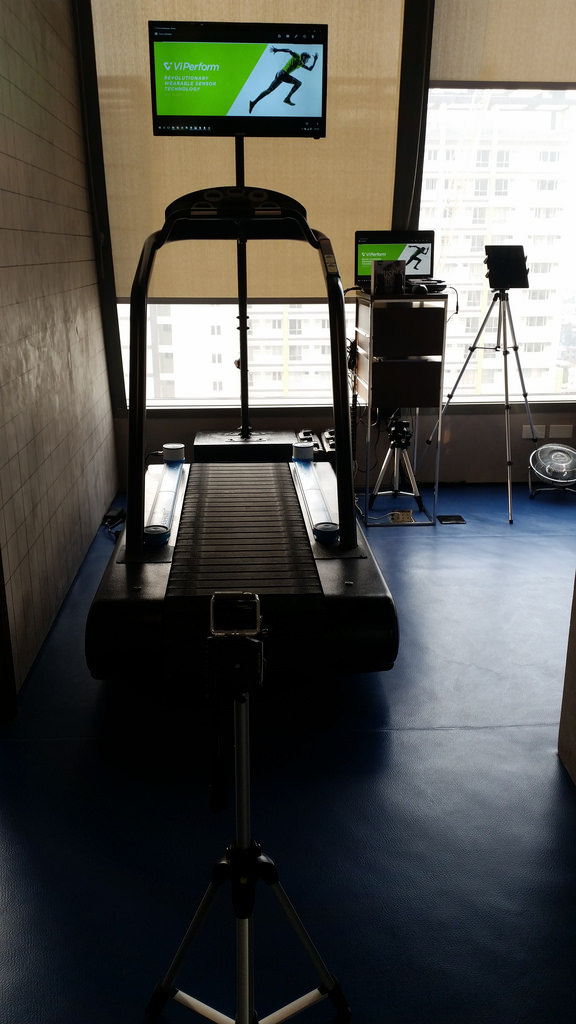 a Woodway slat belt treadmill fitted with Optogait and GoPro Session cameras
This treadmill is the technical heart of Francis's practice. The information gathered through video and the Optogait system shows imbalances in impact, stride length, etc. What's more, he can actually suggest how to improve your running form on-the-fly during analysis. The instant visual confirmation of any changes made helps a runner make that mind-body connection much faster. Remember what they say: practice makes permanent.
Gait analysis isn't limited to these "lab settings", either. Francis uses Dorsavi ViPerform wearable motion and muscle activity sensors to record data from athletes as they run in their usual stomping grounds. Professional football and basketball teams around the world use these sensors to test and track their athletes' improving fitness over a season and to head off injury before it happens.
PACE also has CompuTrainer systems for cyclists to use if they would like to do tests and training with power. Francis can also take a look at biomechanics and make recommendations on bike fit, especially if you have strength and flexibility limitations. Bike fit is not just about getting into as aero a position as possible; you still have to be able to produce power efficiently.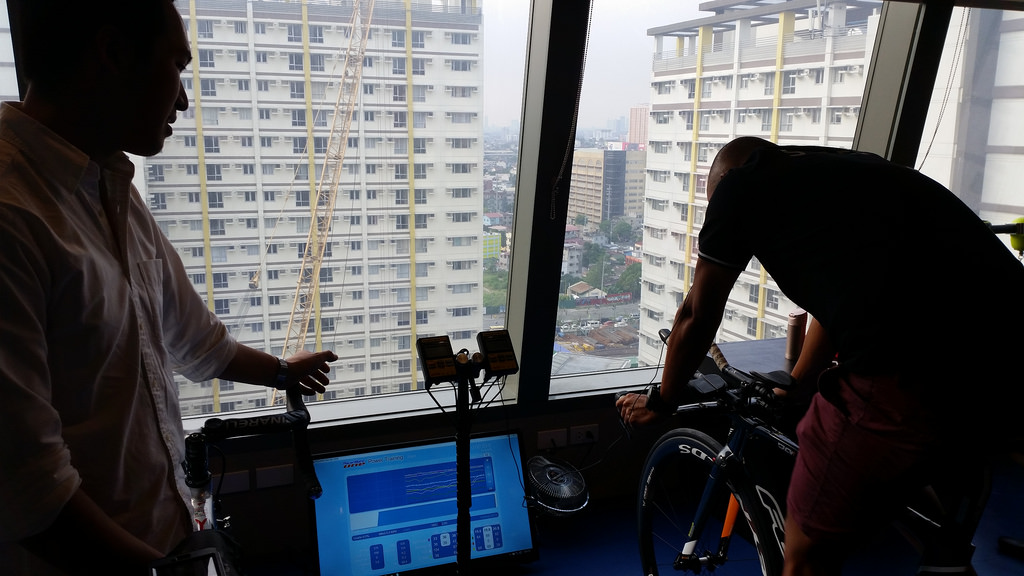 Coach Norman tests the Computrainer
PACE also offers lactate threshold testing for runners and cyclists. This is part of their Sports Planning services to adjust your training program to fit your actual needs and capabilities.
While I thought this was strictly a viewing party, I was unexpectedly given a real treat. I was complaining of sore legs due to some treadmill incline repeats I'd done that morning, and they offered to let me try the PACE recovery lounge!


the RecoveryPump RecoveryCore active compression garment
You might be familiar with the air-inflated boots some professional triathletes tout for recovery on social media. PACE uses RecoveryPump, a medical-grade system of active sequential compression that effectively removes metabolic waste faster than any traditional mode of recovery or rest. They have three different garments: the RecoveryCore shown above is for your core (abs, glutes, hip flexors, lower back, abductors, and hamstrings), the RecoveryArms is for the upper body, and the RecoveryBoots for the legs.
I was only in those boots for maybe 30 minutes while chatting with fellow athletes and coaches. The boots would inflate sequentially from feet up to calves and move up to the thighs, then gently release the pressure. It was like a massage, but with giant hands! When I took the boots off the difference in how my legs felt was evident. In just a few minutes, I had relief from heaviness and soreness I'd been carrying around most of the day.
This body's not getting any younger and I can feel a few more niggles than I did the first time I trained for a marathon. With some big events on the horizon for me, I will definitely look into having some prehab so I can safely and effectively increase my mileage. And I can already say that after really heavy training days you will most probably find me in that recovery lounge.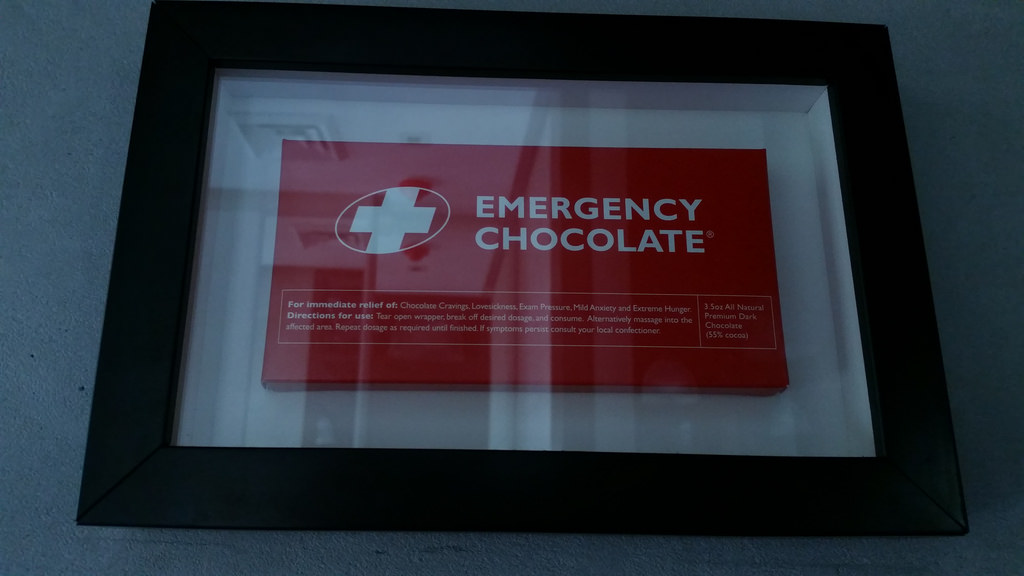 Francis says he's had this framed emergency chocolate everywhere he's held a practice.
PACE Prehab & Recovery is located on the 16th Floor MDI Corporate Center, 10th Avenue cor. 39th Street, Bonifacio Global City. Call for more info at +639156783600 or visit their website paceprehabandrecovery.com.