Late last year I made a change to how I ate, starting with giving up daily consumption of junk food and processed food. I had an opportunity to try Gourmade by Chef Rob Lau, a meal delivery service.
Gourmade is a solo venture by Chef Rob, a seasoned chef with 10 years of experience in international cooking from Emirates Palace Hotel in Abu Dhabi, Wynn Hotel Macau, and Wynn Encore. A graduate of International School of Culinary Arts and Hotel Management, Chef Rob is famous for his fine dining Western and Asia cuisine.
The available meal plans are Skinny Down and Pescatarian.
Skinny Down caters to those who desire to lose weight by eating portion-controlled meals without depriving themselves of the whole shebang. It promises healthy, fun, and tasty meals while attaining your fitness goal.
Pescatarian offers diet meals for those who prefer fish and vegetables.
Since I was trying to lose weight, I picked to go on the Skinny Down menu for approximately two weeks (no deliveries on Sundays). I would receive breakfast, lunch, dinner, and two snacks daily and by the end of my two weeks I would have dropped some pounds and hopefully developed a taste for healthier things.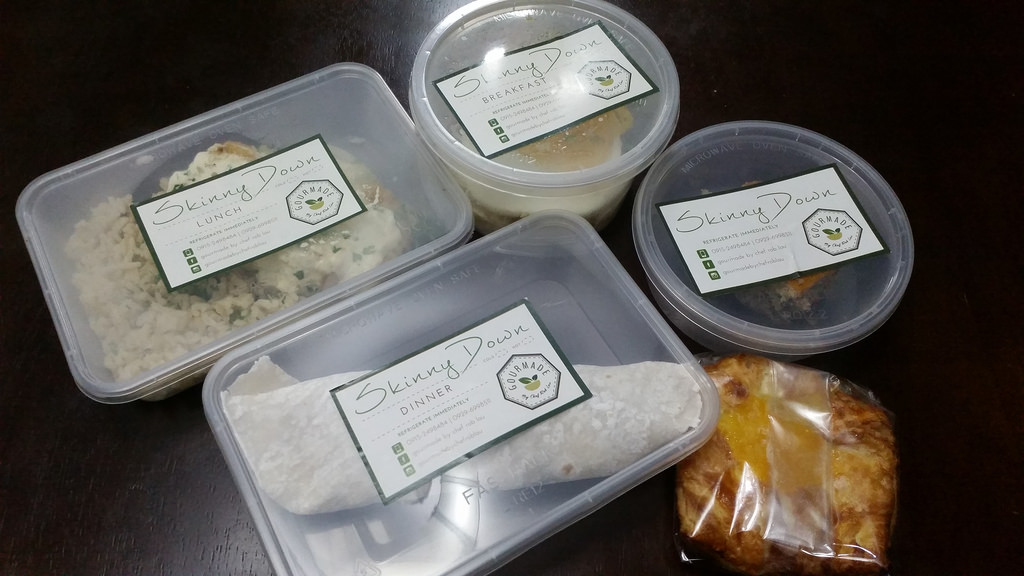 Macanese minced beef with egg & brown rice, crispy fish w/ wasabi cream sauce, and chicken satay wrap
The first thing I noticed when I opened the day's delivery was that there was a lot of food, especially the breakfast portions. This seems to subscribe to the saying, "Eat breakfast like a king, lunch like a prince, and dinner like a pauper" especially when it comes to trying to lose weight. Breakfast is the first meal after 6-8 hours of sleep (and not eating anything), so you need to eat breakfast to jumpstart your metabolism. Otherwise your body goes into fasting mode and burns calories slower. Eating a good breakfast also keeps you feeling fuller the rest of the day. Lunch keeps you going for the rest of the day. As for dinner, if you're going to bed soon after, you don't need too many calories; what you don't burn gets stored as fat. Eeek.
I have this notion in my head about diet food as not tasting as good or being as filling as regular food, but I was pleased to be wrong about this when it came to Gourmade's meals. Those little containers packed a punch! What surprised me even more about the Skinny Down menu was having things such as eggs in there — I'm glad to see a weight-loss meal plan that sees eggs as the wholesome and healthy food that they are (in moderation).
And I can't believe pichi-pichi is a valid snack option, but it is! When prepared by Chef Rob, of course.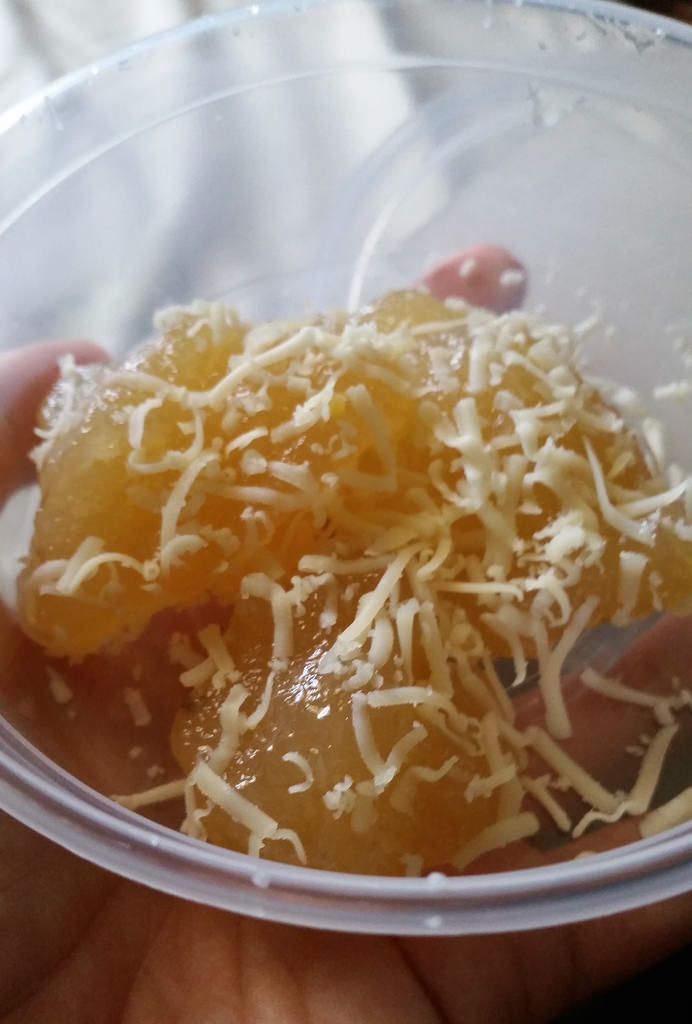 pichi-pichi (with grated cheese!)
The food was good, prepared fresh daily, and completely eliminated any cravings or opportunity to eat fast food like burgers and fries. (In fact, the food is so fresh, unprocessed, and free of preservatives that you can't keep it overnight — you must consume everything within the day.)
Funny thing, after the first week I actually couldn't bring myself to eat a fast food breakfast muffin; the smell which had used to be so mouth-watering just repelled me. After the second week, bloating around my belly was remarkably reduced, my appetite and capacity for big meals had shrunk, and I felt great.
Those two weeks were an awesome jumpstart to the holiday period. Even as the parties rolled around and I was no longer on the meal delivery service, I made better food choices and stayed controlled in the amounts I ate. Net result: I didn't have any holiday weight gain to battle after the New Year!
If you're interested in subscribing to Gourmade by Chef Rob Lau meal delivery, contact them by mobile at +639152498484 (Globe) or +639296998511 (Smart), or you can email gourmadebychefroblau@gmail.com. Check out their Facebook Page Gourmade by Chef Rob Lau and find them on Instagram @gourmadebychefroblau.