Hi folks! I'm starting a new series of blog posts that should keep me accountable for how I spent every week and also to keep you abreast of what I'm up to. I know I've been putting out a lot of topical and informational blog posts lately, but this blog is also about my journey that I want to take you on as well. So here's my first Dispatch of 2016…
I was supposed to have raced the PSE Bull Run in BGC this weekend, especially since Kuya Kim Atienza was so nice to offer me a 10K race kit. Instead, I added another DNS (Did Not Start) to my record. I could not get up at all to make that 5:15am gun start!
But it has been quite a heavy training week because the holidays are over, and I've settled into quite a nice groove following a MaccaX triathlon training plan. Additionally, MaccaX has started a nice little Battle of the Nations contest, which has grouped its hundreds of members into Team Down Under (Australia & New Zealand), Team USA, and Team World (Europe, Asia, North & South America) to compete against each other for bragging rights and the chance at some awesome prizes. For this week, the focus was on logging as many bike kilometers as possible, which led to me acquiring a Garmin speed sensor on Monday so I could track my indoor ride mileage, as well as joining two long rides this week.


with TriSixFiv at the Clark parade grounds


running off the bike on the parade grounds' 2-kilometer loop
I don't usually make it up north to Clark for training rides because going south to Nuvali is faster, but I know that getting outdoors is the best way to rack up some mileage. A new training route plus the company of the cool kids from TriSixFiv (Run 365's triathlon arm) made that a fun 50 kilometers. It would have been 75km but we were already hungry, so instead we trooped over to Koreatown in nearby Angeles for some yummy ssamgyeopsal, kimchi rice, and japchae.
The next long ride was only two days later, this time at my regular stomping grounds in Nuvali with my friends Eric and Dani. I rode with Eric on one of my last few rides outdoors last year, while Dani is a budding triathlete but as a model knows her way around lengthy fat-burning workouts! We were thinking about getting Dani to do a double century because she had already ridden 100 kilometers the previous day (in running shoes, no less!), but we ended up getting to only 70 kilometers before pulling the pin.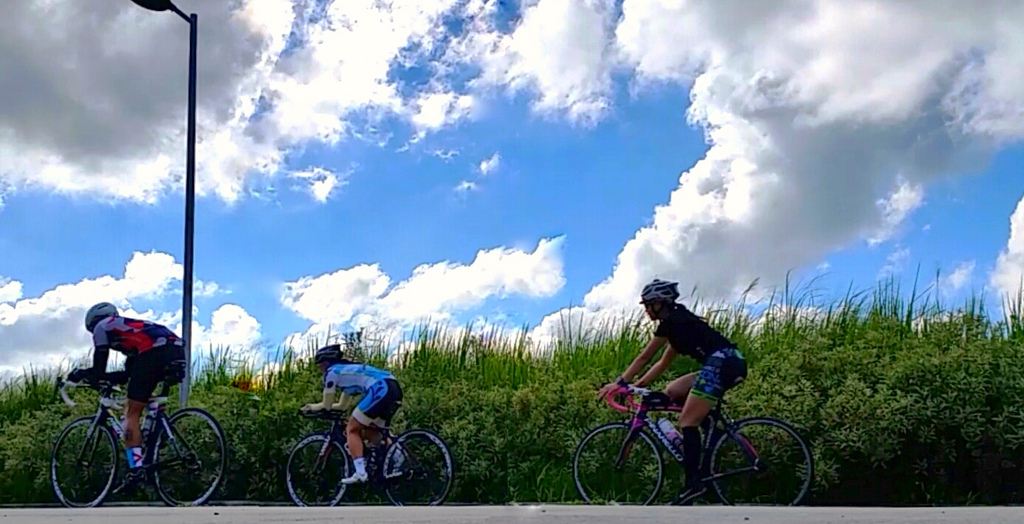 Eric up front and Dani bringing up the rear
Most notably, the ride included getting shooed off a road that we had always ridden on in the past. Apparently, the management of Carmelray Industrial Park no longer wanted cyclists to ride within their boundaries. Admittedly, those are private roads and our presence previously was only tolerated, but I couldn't help feeling annoyed anyway…
Anyway it was a pretty big week for me because I hadn't ridden out since the week before Christmas. Add to that a speed track session that smashed me on Wednesday and then an endurance run on Friday, and you can imagine how difficult it was to open my eyes early on Sunday morning. Such. Fatigue. Much. Wow.
There's always a temptation to do big rides and runs at the start of the year to shed the holiday weight gain, but I've gotten sick and been on the brink of getting sick enough times last year to know that's not a very good idea if it's a huge jump in mileage.
This year I didn't make concrete plans for racing in the first quarter of the year. If I do race in the next few months it'll be when I'm well-rested, itching to stretch the legs, and will actually have fun. For now, I'm making sure I get off to a slow start and build my fitness properly so I can hit my target races toward the second and third quarters of the year.
I'm not in any hurry. 🙂
Liked this post? Share it!