With the traffic in Metro Manila steadily worsening, it's become a nightmare for city-based triathletes to drive to their favored cycling stomping grounds. Forget about riding out from your front door, unless you have a death wish. My solution has been to do indoor cycling workouts during the weekdays and only venture onto the open roads in Nuvali on weekends.
In response to this problem, a number of cycling studios have opened across the city. Saddle Row is one of the latest to open and they've put their own spin on, well, spinning!
Saddle Row has three different kinds of cycling classes. Programmed by Philippine National Cycling Team coach Chris Allison, each class type caters to a specific need. "The Underground" is a bit like group fitness spin classes where you pedal to the beat and "dance". "The Resistance" adds upper-body and core work with resistance bands.
I attended "The Exchange", a power-based workout that should prove popular for triathletes and the numbers-obsessed. Our instructor Raymond Ordoveza is a fellow triathlete.


"The Exchange" instructor Raymond Ordoveza
The bikes at Saddle Row are all Schwinn fitness bikes that can be adjusted to fit you better. These bikes create resistance electromagnetically. Less advanced spin bikes usually use belts and friction to create resistance, which has an upper limit; heavier and stronger people are still able to make the wheels turn even at highest resistance.
Alternatively you can set up your own bike, but you'll need a power meter to join in the group dynamic.
There's a big screen where the power each participant generates while cycling is displayed. This taps into the inherent competitiveness in triathletes and is a powerful motivator to keep you working throughout the session.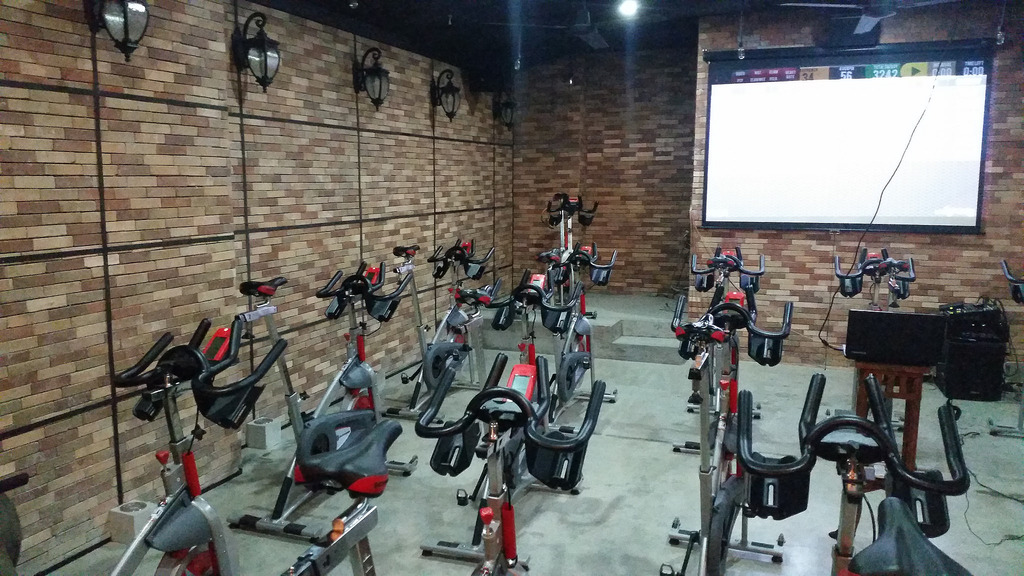 every participant gets a good look at everyone else's numbers


I was only in the warmup when I realized my towel was too small.
While the indoor cycling class proper is only about 45 to 50 minutes, it is quite intense as the instructor challenges you to increase the resistance you pedal against. The intervals vary and you always know there's going to be some recovery as well, so that makes the time go by so much quicker.
Saddle Row provides a limited number of bike shoes fitted with Shimano cleats to match the pedal system affixed to the bikes. The shoes are cleaned and aired out after every class, but if you want to be sure you will always have shoes at class time, you can always bring your own.
Post-class, you can make use of the shower facilities Saddle Row shares with Beyond Yoga in their space. This means you can easily slot an indoor cycling session in before work, during a long lunch (if you work in the area), or before you go home. It's definitely a more time-efficient way to make sure you get some saddle time in during the week!
When there isn't a class running in the studio, you can also take an "Open Spin" which is P300 for 60 minutes during which time you are free to use a bike. If you own some Sufferfest videos for personal use, you can simply hop on a bike and follow your videos.
Saddle Row will also begin to offer the metro's first group rowing classes very soon. The rowing machine can be used not only in the traditional rowing motion, but also to target specific muscles for a whole-body workout.
Saddle Row is located at the second floor of Serendra, Bonifacio Global City. Book your rides by calling (0977) 802 5433 or (02) 966-3610. For more information, check out the Saddle Row Facebook page and @SaddleRowPH on Instagram.
You can now buy your rides at Saddle RowSecond Floor, Serendra BGC(0977) 802 5433(02) 966-3610Follow us on Facebook and Instagram for more info! @SaddleRowPH #SaddleRowPH

Posted by Saddle Row on Wednesday, 4 November 2015