Every year I hear about the McHappy Day Fun Run organized by the Ronald McDonald House Charities Philippines, but I've usually gone into offseason at that point and lost interest in racing for the year. This was the first year I got the opportunity to run.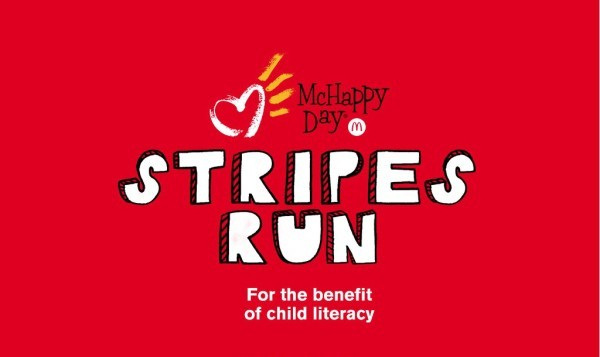 This year's McHappy Day Stripes Run cause was children's literacy, which is close to my heart. As a child I lived for my books and had a rich inner life and active imagination as a result, something I carry with me to this day. Every child should be so blessed to learn to read, and the fun run aims to raise funds for the Ronald McDonald House Charity program "Read to Learn". <3
The scene and general tenor of the "fun run" scene is different from races where there are longer distances like a half-marathon on offer. The presence of many families and barkadas (groups of friends) made the atmosphere very light-hearted. Also, the scheduling of the Stripes Run one day before the hotly contested Milo Marathon finals where big prize money was at stake for the 5K, 10K, 21K, and 42K distances ensured there were very few people at the Stripes Run who looked like they were out for blood.
I showed up on race day with no clear plan except to run my hardest and see where my fitness is currently. After about six or seven weeks of good training plus the racing from the past two weekends, I wanted a chance to go all out but also be done before breakfast. That's why I was signed up for the 5K.
After waving hello to race emcee Chiqui Reyes, I positioned myself on the starting line up front. Giggly teens slotted into place around me, many with face towels and bottles of water which signaled that they were new to the running scene. We counted down to the 6am gunstart. Three, two, one, BANG! went the gun. The young people around me surged forward at a sprint.
I found my rhythm almost immediately. Because the run route offered a nice gentle downhill on an out-and-back section to begin with, I felt my body warm and open up to the exertion before I started to push on the uphill return. Although I could see a good pack of about 20 runners ahead, the women were easy to spot. As the initial sprint sapped their legs, I dropped two of them with a steady effort in only the first kilometer.
I was suddenly aware of a motorcycle escort off to my side. "I can't be in the lead," I thought. What a riot that would be! Yet as I trod familiar streets that I've run countless times in training and races, the escort stayed with me, alerting traffic marshals ahead of our approach so they would stop vehicles at the intersections.
"Okay, so maybe I'm somewhere on the pointy end," I concluded, "But that doesn't make this a sure win." I had no idea how many more women were up the road, so I resolved to keep chasing. I only reduced my effort on a long uphill because I knew I would be rewarded with a nice downhill after the last turnaround.
That was on the third kilometer, so I only had two more to go. I opened up the throttle and picked up the pace. On the last kilometer, I saw a woman ahead of me. I began tailing her. In the last 400 meters to the finish line I put on some speed and overtook her. She took one look at me and responded with her own surge, which I had no answer to. I crossed the finish line feeling like a failure to have been outsprinted… then I found out she was a 10K finisher. Haha!
The finish marshals told me I was the third female finisher, but since awarding would be at 8am I decided not to stick around. I needed to get to a breakfast appointment, get home to babysit my nephew, and I also was struggling to keep my eyelids open after the previous night's Christmas party.
I later found out I was second female overall at the McHappy Day Stripes Run. I had run 5K in 23 minutes, 1 second — it was the fastest I'd run in a race all year and was a new 5K race personal record! Part of that I could chalk up to the fairly straightforward route and fuss-free hydration and marshaling, but it was also so good to see my hard work come together for such a great result.
It has been an up-and-down year for me but I am over the moon to have ended it on the upward trend. I've also had a chance to reassess where I want to take my athletic efforts for next year, and where I find making these efforts most rewarding. Sometimes you need a reminder of who you are, and who I am is a woman who loves to run. It's time I indulge that desire more.


putting my feet up after a long and trying year
Liked this post? Share it!