Team Endure has been scattered at the races this year because there have been so many new races to choose from! I love that the triathlon scene is growing and that there's more choice, but I do miss the days when there were a lot of us from the team at the same event.
At last Sunday's Compressport Tri Club Challenge Supersprint Team Relay (whew! what a mouthful), we had a chance to come together again as a big group. This time, we weren't racing as individuals. Although we would still each swim 400 meters, bike 10 kilometers, and run 2.5 kilometers, our team would be ranked on our aggregate times. Each team was allotted only 4 hours for all its members to finish the race. This added a new dimension of challenge and intensity I've never felt before.
There were eight of us competing, which allowed us to create two mixed relay teams. I was on Endure B with Hanna Sanchez, Gerard Cinco, and John Doctor. Our discussion the night before at the villa in Fontana resulted in Hanna going first, me second, Gerard third, and John as the anchor in our team relay.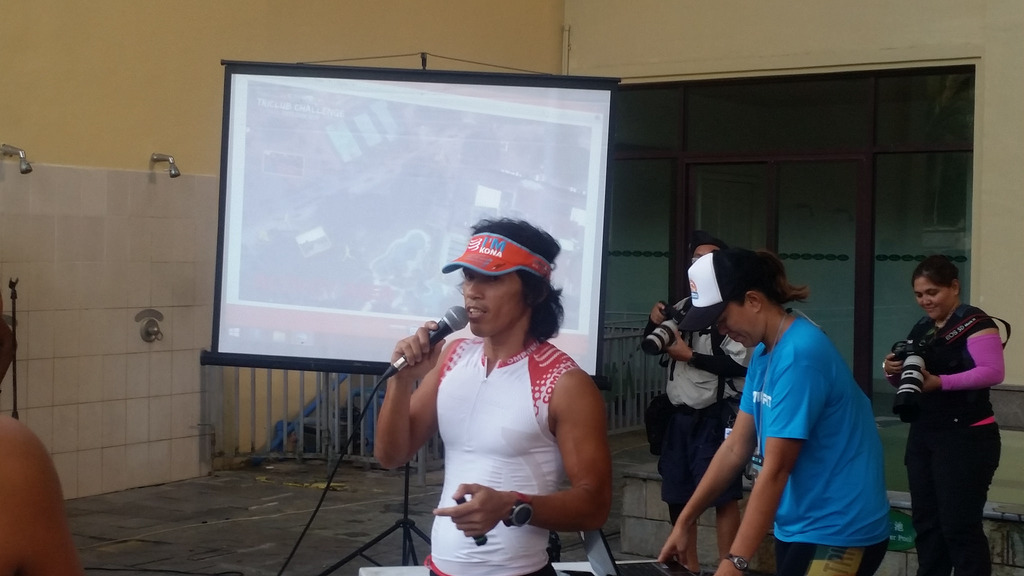 Thumbie Remigio of Adrenaline Multisport Group conducting the briefing
I've raced in Fontana once: the inaugural Triman Triathlon 2013. But that was a long sprint distance; this one was much shorter, almost as short as my first triathlon in 2010. I thought this would be easy… I have forgotten how painful and intense short-course triathlon can be!


Having a burger because we weren't the first up. (photo from JC Tee)
We saw off both starters for Endure, then settled back for a wait until our respective turns. I had a bit of a bad feeling about Hanna's bike because as I had inflated its front wheel that morning, the valve snapped off. We had to change the tire's inner tube, which wasn't easy to do because the wheel was 650cc (standard road bike wheels are 700cc) and even Hanna's spare tube was too long.
The foreboding came true when we receive reports from our friends coming in off the bike course that Hanna had gotten a flat. Fortunately, she was wearing running instead of cycling shoes and was able to jog her bike back to transition and complete her run.
I was up next. With more than 1 hour already on the clock, I had to help my team relay make up the deficit so we could beat the 4-hour cut-off.
After Hanna passed the team chip to me at the finish line, I had to run down a hill to get into the pool. My heart rate went through the roof! As I got into the pool, I could barely catch my breath and had to backstroke the first 50 meters to get my body into a better rhythm. The rest of the swim went without incident as I mostly swam on my own.
Then it was onto the bike. Because it was only 10 kilometers, I decided to use running shoes for both the bike and the run to save transition time. It would also look ridiculous to use an aero helmet, so I used my road helmet. I felt almost like a newbie who had borrowed a tri bike.


Racing almost like a newbie except for the bike. (photo from Flat Ironman)
The bike course had no real mountains, but the back half is known as The Wall to all who train in Clark because it's a gradual slope that just gets heavier and heavier to pedal over. Even if it was only 10 kilometers I was happy to get off my bike.
By the time I got onto the run, it was hot and there was barely any shade. I gulped down some water and a red liquid for its calories, but by the time I got midway, I was dry-heaving and felt like I would throw up the burger I'd had for breakfast.
I stopped by the aid station, drank some cold water, poured half a pitcher of water on my head, and said out loud, "I don't want to vomit." Then I started running again.
The difference was night and day as my body seemed to listen to my spoken words. I finished the race, ran into the finish chute, and passed the chip to Gerard. He sped through the course, then handed off to John who brought us home well within the cut-off time. I was so proud of my team and how we really pulled together and cheered each other on.


Endure B finished in 3 hours and 50 minutes!
Endure A finished five minutes later, and we all celebrated with the post-race meals and drinks, then had some lunch at a local food joint in Clark.
The team relay format is different and difficult in its own way. It was a lot of pain in a short period of time! But it was great to go all out and know I wasn't going to ruin a long race. Team Endure had so much fun at such a well-organized race that catered to athletes of all fitness and experience levels. I'm glad that the triathlon scene is growing with both short and long events.
Now, I'm heading into my off-season but need to start planning next year's big goals. 🙂