After Challenge Roth week I spent another week exploring a few cities in Bavaria, which is the federal state in Germany in which Roth is a district. While the Tri Clark boys had a rental car to drive around in (and would eventually tour some countries in Eastern Europe), I would make my journey by rail and on foot. I've always loved exploring new places with my own two feet, but this would be my longest period without a car to do so. I would be passing through the city of Regensburg for two nights, and then stay in Munich for two nights before flying home. I also planned a day trip to Salzburg, Austria, which historically and culturally is Bavarian.
In Manila we are used to motorized transport, and our city has grown so large we can't walk comfortably from one appointment to another unless we've scheduled them all within one place. Even though I'm a runner capable of covering long distances, I am still guilty of looking at one of my fellow runners askance when he said he'd walked from Ortigas to BGC. This is doable, but no one does it unless out of dire need — no taxis, shuttles, or trains available. So it was quite refreshing to be a pedestrian on those roads that had been designed not for cars, but for people.
The Trains
Germany has an extensive rail system that began with a line between Nuremberg and Furth in 1835, and it has grown to include most towns and all cities from there. In fact, there is a law that prohibits bus lines from operating a regular service between places that are already served by train lines — that's how much they trust the rail system.
Roth was served by two rail lines and a bus service. Larger cities like Nuremberg, Regensburg, and Munich had multiple bus lines, trams, and subways.
My perception of train stations has been warped by our small MRT stations that are little more than platforms to board trains from. Munich Main Station is almost like an airport!
Tickets for scheduled trains can be purchased at main train stations, but if you miss the train you bought a ticket for, then you would need to buy a new one.
If I had booked all the tickets separately, my journey from Munich airport to Roth train station would have cost this much:
Munich Airport to Munich Main Station: 10.50 euro
Munich Main Station to Nuremberg: 20 euro for regional express or 55 euro for ICE
Nuremberg Main Station to Roth Station: around 5 euro
Grand Total: 35.50 to 70 euro
To save money when traveling between cities in Bavaria, most locals recommend purchasing the Bayern ticket which is valid for unlimited travel from 9am to 3am the next day. This ticket is valid for all regional and suburban trains, trams, and buses (excluding express and fast trains). It set me back only 23 euro and comes out even cheaper for groups, because up to five people can travel on the ticket for only an additional 5 euro per person. Children under 15 years old can travel for free if with a parent or grandparent.
I booked my Bayern tickets online and printed them out so the ticket officer could punch it. I carried the credit card I used to book the ticket, because it serves as a form of identification that I'm actually the person who is on the ticket.
Traveling by rail simply requires discipline and patience: discipline to be at the station on time to catch the correct train, and patience to sit through a journey that could take up to 90 minutes longer than driving from point A to point B, depending on the stops your train makes. The good thing about the Bayern ticket is that if you miss your train, you can take other routes to get to your destination at no extra cost. I used the DB mobile app to research the rail connections I needed to make.
Oh, I also need to mention you need to pack as lightly and efficiently as possible, since you're the only one who takes your bags on and off the train and you only have about two or three minutes to get on and off a train. 🙂
In main stations, for a fee you can leave your heavy baggage in lockers that you can rent for up to three days, or at left luggage facilities for a maximum of four weeks. This was awesome on my last day in Munich when I had to check out of my hotel in the morning but my flight was still in the evening. I rented a locker, toured the city the whole day, came back for my bags in the afternoon and took the train to the airport.
(Pro tip: If you're flying out of Munich Airport, set aside 35 euro for a nice shower in Terminal 2. It actually only costs 15 euro but there is a 20 euro deposit for the shower room key. The shower room will already contain towels, liquid soap/shampoo, a hair dryer. It has a well-appointed shower and toilet, and plenty of room to open your suitcase to retrieve clothes.)
The Bicycles
Europe is known as a cycling continent, and Germany is no different. At my homestay in Roth each of the family members had a commuter bike, and in the cities I visited, cycling was cheaper and more efficient for getting around than driving. With bikes you could simply chain them anywhere at no cost, while cars had limited parking that was rarely free of charge. Additionally, the heart of each city was a pedestrian- and bikes-only area.


bikes parked in front of the Oskar Schindler house in Regensburg


only bikes and people allowed in the Marienplatz in Munich


recreational cyclists in Salzburg's nearby Lake District
If none of my tour stops had been walking distance in Munich, I could definitely have rented a bike at around 15 euro per day. As it turned out, I was mostly in buses or on foot during my stay in Munich. If I'd had more time, I would even have signed up for a bike tour of Munich. If in Manila the kings of the road are the jeepneys and buses, in Munich the kings of the road are definitely the bicycles.


bikes for rent at the Viktualienmarkt (food market) in Munich
The Buses
I had one experience using a public bus on my own. On my way to Roth, I took a bus from Munich Airport to Friesing, where I then caught the regional express train going to Nuremberg. Because of the number of stops on each bus route though, it can be daunting to navigate by oneself.
All my other bus rides came from the guided tours I purchased on Viator.com. I did the following tours during my two-week stay in Germany:
Nuremberg Old Town and Nazi Rally Grounds Tour: We started in front of Nuremberg Main Station and walked around the Old Town (Altstadt). Our guide Jason, a former history teacher, was able to summarize the city's colorful past — from its days as the center of the Holy Roman Empire to its dark history during the Third Reich and its de-Nazification. After our lunch break, we hopped on a bus (cost of ticket included in tour) to the Nazi party rally grounds. The city doesn't really know what to do with the place now, so part of it has been converted into a park, another part into festival grounds, and large sections remain empty and crumbling.
We took the bus back to the train station and the guide explained that our first bus had been late and therefore crowded. This was out of the ordinary for them, but for me? Having scheduled buses was a novel experience in itself!
Salzburg and the Lake District Day Tour: We had a double-decker bus taking off across the Munich Main Station and traveling by the highway across the border to Austria.


the old border station no longer used
Salzburg is a border city and has been historically and culturally linked to the rest of Bavaria through trade. In fact, it is one of the cities you can travel to using the Bayern ticket!
It has always been a city for the wealthy, with nobility building summer homes here and throughout the Lake District. Some picturesque lakes were created in this region at the end of the last Ice Age and we saw several on the drive through.
The one thing that stood out on the bus ride is that the driver was respectful of other vehicles and pedestrians, respected road signs, and was excellent at maneuvering through tight parking lots.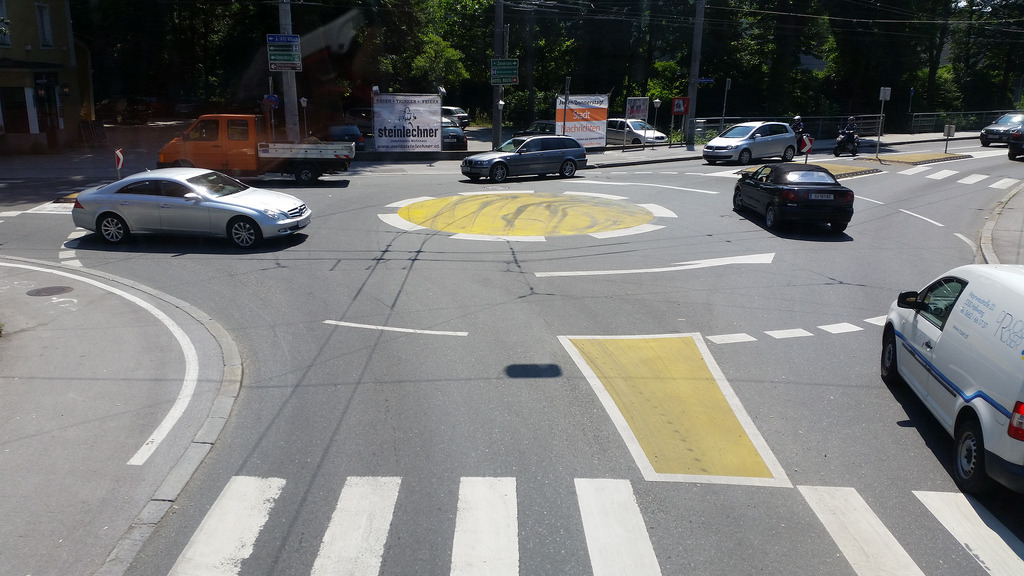 we drove AROUND this roundabout made of paint, instead of OVER it
The tour was a long 11 hours total, but the two-hour bus rides both ways were comfortable, calm, and safe — despite driving on the highways at over 100 kilometers per hour.
Munich City Hop-On Hop-Off Express Tour: On my last day in Munich I went on the Hop-on Hop-Off bus around the city. The Express tour has six stops: the Pinakoteken art museums, Odeonsplatz, Max-Josef-Platz, Marienplatz, and Karlsplatz/Stachus. The Grand tour has an additional four stops through the north of the city including the Nymphenberg Palace, the BMW Museum, the Olympic grounds, Allianz Arena, and the English Gardens.
It's a great way of seeing the city's highlights, and if you want to explore a certain area more, you can always hop off. The next bus comes around every 20 minutes.
I stayed on the open upper deck of the bus and it's a comfortable ride in the morning (first bus sets off at 9:40 from the Main Station). It can get toasty towards midday, though, so I wished I'd put on some sunscreen.
The Streets on Foot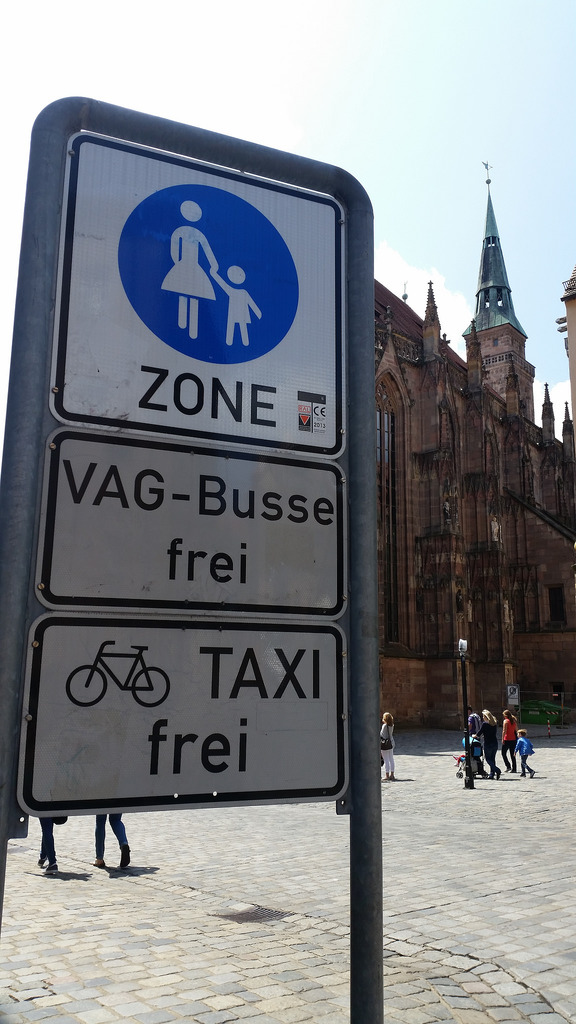 a pedestrian zone in Nuremberg
I did most of my sightseeing on foot and averaged about 10 kilometers of walking (!!!) every day. When the city centers are almost all exclusively pedestrian zones and you want to see everything in there, you really have no choice. Additionally, all the historical sights are within a small radius, usually from the train station. I booked hotels near the train station and city centers exactly for this purpose.


a road through the Old Town in Regensburg


Regensburg's Old Stone Bridge is only accessible on foot and bike


running along the banks of the Danube


a delta on the Danube where a hotel has been built


Salzburg riverbank to walk and cycle along


pedestrian love locks bridge in Salzburg
Even in the summer, the climate is conducive to walking: while it was hot under the sun, the humidity was low and it was pretty comfortable in the shade. But the city has definitely been built for pedestrians in mind, inclusive of PWD access. Sidewalks were wide, with space for commuter bikes and pedestrians to travel side-by-side. Stoplights gave enough time for us to cross the wide avenues, and drivers respected our right of way. The best part is I felt safe wandering about on my own even after dark (and it gets dark pretty late in the summer). The streets were well-lit, loitering in dark alleys seems to be discouraged, and police presence is visible.


a temporary tunnel on the sidewalk in Munich
I took two walking tours: the aforementioned Nuremberg tour, and a walking tour of Munich conducted by Sandeman's New Europe where the guide is paid on tips based on how well they did.
These tours are great value for money because although you could still walk through those parts of town yourself and maybe read information from a guidebook, nothing can replace a knowledgeable tour guide that brings the city to life. And some sights you can only see on your own two feet, like "Dodger's Alley" in Munich which is so called because during the Third Reich, Munich residents who didn't want to pay homage to a Nazi memorial around the corner took this little side street. Their resistance is now commemorated by golden cobblestones on the road.
The Marienplatz is the center of activity in Munich's pedestrian zone. It is where the New Town Hall (Rathaus) and Old Town Hall stand, so many of the city's social functions are held here. I saw about a dozen tour groups pass through this area, mostly during the hours of 11am, 12pm, and 5pm because the Rathaus-Glockenspiel chimes and re-enacts two stories from the 16th century.


the Marienplatz can be accessed by bus and rail
If you really want to see the Glockenspiel at eye level, you can try to grab a table at the Cafe Glockenspiel on the 5th floor, Marienplatz 28 just across the square. Head to the restaurant area because the cafe doesn't have the view. 😉
I got there shortly before 11am, ordered a leisurely brunch and by 11:30am I moved to a window table to catch the noon "performance".
The Sights
It was an amazing five days and I really felt like I saw each city in vivid detail. Aside from the photos above, I took so many more! Here are a few random snapshots:


people bathing on the banks of the Isar river in Munich


watching an artist paint on the banks of the Danube in Regensburg


a wall built by the Romans incorporated into a parking building in Regensburg


a closer look at the love locks on the pedestrian bridge over the Salzach river, Salzburg


cruising on the Wolfgangsee, the Lake District
I really love how most of these places I went can be accessed by public bus and rail, and exploration can be done on foot. The infrastructure was built under the assumption that people would not have private cars, and the amount of access given for persons with disability makes things really easy and simple to use for everyone else. Even a child could get around.
Given the difference in our climates, I know Manila may be miserable to navigate on foot or without a car in both the dry and wet seasons. Metro Manila is considered a mega-city of 7 million people compared to the 1 million residents in Munich and 500,000 in Nuremberg, so our public transport problems are bigger in scale and probably more complex due to our poor urban planning.
But seeing all this only strengthens my support for any initiatives to make this city more bike- and pedestrian-friendly and to make public transport more efficient (and disciplined!), readily available, and ubiquitous. That is the key to solving our urban traffic problem, reducing the number of cars in use, and freeing up the roads for runners and cyclists.
Liked this post? Share it!